Get two entrees for just $6.99 each with this Corner Bakery coupon valid through today, Sunday, January 26, 2020.
CLICK HERE for your Corner Bakery coupon. Good for 2 or more entrees for $6.99. (At least 2 entrees must be purchased to get the $6.99 special.) Choose from favorites such as the Steak and Arugula Sandwich, the California Grille Panini, Cavatappi Marinara, Turkey Avocado Cobb Salad, and more.  Enjoy!
*Valid in-cafe at participating locations only. One offer per order. Premium items and substitutions may have an additional charge. Not valid online or on delivery.
Corner Bakery AARP Senior Discount
If you're an AARP member you can get 10% off your bill at Corner Bakery by showing your AARP card and asking your server for the AARP discount.
If you're interested in other AARP discounts at your favorite restaurants like Denny's, Outback Steakhouse and more, click here to read our story.
Email Club
Also at Corner Bakery get a coupon for a free bakery sweet when you enroll in their email club. To enroll and get your Corner Bakery coupon CLICK HERE.
About Corner Bakery (from Wikipedia)
Corner Bakery Cafe is an American chain of cafes.  They specialize in pastries, breads, breakfast dishes, gourmet sandwiches, homemade soups, salads, and pasta.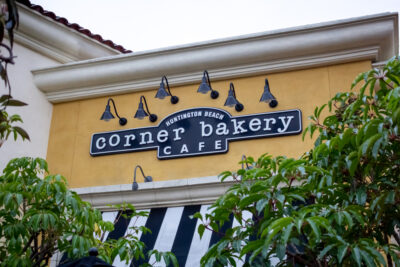 Corner Bakery Cafe is considered to be a part of the fast casual market segment of the food service industry.  Fast casual restaurants offer a somewhat higher quality of food and atmosphere than a typical fast food restaurant.  Corner Bakery Cafe offers limited table service.
The cafe has 192 locations nationwide.  The cafe has locations in major cities like Miami, Los Angeles, San Francisco, San Diego, Chicago, Houston, San Antonio, Dallas, Austin, Philadelphia, Pittsburgh, Atlanta, Denver, Salt Lake City, Phoenix, Tucson, El Paso, Baltimore, Washington, D.C., Tampa Bay and Buffalo metropolitan areas, as well as in Northern California, Mississippi, New Jersey, Virginia, Savannah, East Texas, and the Rio Grande Valley areas.