Cousins Subs Rewards Program
Download the Cousins Subs rewards app and earn points towards rewards like free cookies, fries, shakes, and subs. Plus, get a free treat on your birthday. You'll also get a coupon for a free sub with the purchase of another just for signing up for the Cousins Club!
Get the details on the Cousins website, where you can download the app, too.
More Cousins Subs Promos
Cousins Subs will often offer delivery for only $0.80 on weekends like this: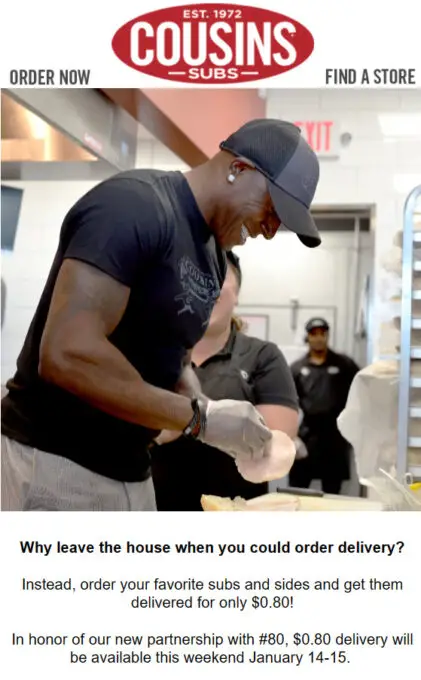 The $0.80 promo is in honor of the Cousins Subs spokesperson, Donald Driver. Driver wore #80 during his legendary career with the Green Bay Packers.
What's on the Menu at Cousins Subs?
There's more to a good sub than a few slices of deli meat between two halves of a sub roll. Cousins Subs proves this by serving up quality subs grilled to order with your choice of chicken or steak alongside classic subs like the Italian Special and deli-fresh subs like Roast Beef & Cheddar. You can even turn any sub on the menu into a bowl! Top off your meal with a side of fries or Wisconsin Mac & Cheese or Cheese Curds. Then wash it all down with a shake or float!
If you're feeding a hungry crowd, Cousins Subs offers catering options like Party Packs with 20 half subs, chips, and a dozen cookies. Box Lunches, which include a 7 1/2″ sub, chips, and a cookie, are a surefire crowd-pleaser at events and luncheons.
More Deals on Subs & Sandwiches
If you love a good sub for lunch, check out our subs tag for all of our subs and sandwiches deals in one place! From Potbelly Sandwich Shop and Subway to Which Wich and Firehouse Subs, get ready to customize your sub with your favorite meats, cheeses, toppings, and condiments.