Hardee's has a Double Deals promotion with 3 different double burgers available starting at $2.99.  Your options are the Double Cheeseburger (American cheese, onion, pickles, mustard, and ketchup), Bacon Double Cheeseburger (adding Bacon), or the California Classic Double Cheeseburger (American cheese, grilled onions, lettuce, tomato, and Thousand Island dressing).  Each comes with two charbroiled beef patties.
You can find more details on the Hardee's website at the Hardees Home Page.
Also, My Rewards members can get other Double Deals – right now it's a 6 pc Chicken Stars – for the same $2.99 price.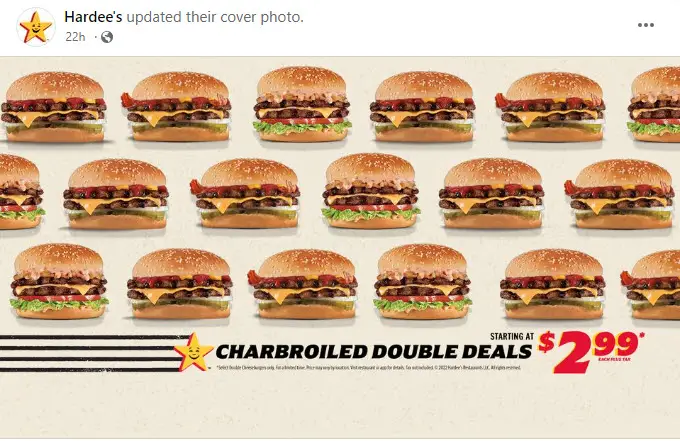 Hardee's My Rewards Deals
Hardee's has rolled out its new My Rewards program, with perks like 10% off your digital order and points to earn and use on free food!  Also, just for signing up, users can get their choice of one free Western Bacon Cheeseburger, Famous Star, or Hand-Breaded Chicken Sandwich with a purchase!  On regular purchases, you'll earn 10 Stars for every $1 spent.  Free food unlocks start at 150 Stars, with more options at 300 and 500 Stars, too.  Definitely worth signing up for.  To get your free food deal, click here for the Hardee's My Rewards page.
So, with the My Rewards program, we're aren't expecting a Hardees promo code or Hardees coupon code to come out too often.  Instead, mobile apps from Hardee's will get you the best access to the latest offers.
Hardee's $5 Meal Deals
Hardee's recently announced their new $5 meal deals, available for a limited time. Meal deal entree options include:
Big Cheeseburger Meal Deal
Hot Ham and Cheese Meal Deal
3-Piece Chicken Tenders Meal Deal
Chili Dog Meal Deal
All of these options come with a small drink and a small serving of French fries. Note that these meal deals are available only at participating locations, so be sure to check with your local Hardee's to make sure the offer is valid.
More from EatDrinkDeals
Inflation stinks!  Want to get make your money go further with the best deals, discount codes, coupons, promo codes and specials from your favorite restaurants?  Click here to see the latest and greatest from EatDrinkDeals!
$2, $3, More Menu
Get select breakfast items for a special price with the $2, $3, More Menu for a limited time.  Here's the current lineup:
Breakfast Platter with Sausage
Sausage Biscuit
Hot Cake Breakfast Sandwich
Bacon, Egg and Cheese Burrito
Available at participating locations only.  The new menu was announced on the Hardee's website homepage.
What Coupons Does Hardee's Have Right Now?
Here are the coupons currently available in the Hardee's app:
$6 Hand-Breaded Chicken Sandwich Small Combo – expires 12/14/22
$1 Sausage Biscuit – expires 12/14/22
Free Cinnamon Roll with $10 purchase – expires 12/14/22
$2 off any Angus Burger Combo – 12/14/22
Hardee's Menu
The Hardee's menu focuses on their signature Angus Beef Thickburgers, with a 1/3 lb beef patty, as well as their slightly smaller Famous Star cousins.  Hardee's also makes some mean chicken tenders and sandwiches, and offers other items like the Chili Dog and Hot Ham 'n Cheese too.  For breakfast, you've got wide array biscuits and sandwiches, plus some platter options to get you started on your day.  Click here to peruse the full Hardee's menu and let your mouth water. There are always great offers going on too with limited time menu items.
Hardee's routinely has coupon codes that will save you good money. We update our article only when we have certifiably valid Hardee's coupons that will give you the most affordable price.
Unfortunately, the chain does not have a senior discount or a student discount, but their fast service, promotional codes, and constant flow of new coupons more than makes up for it!
Hardee's Near Me
Hardee's has thousands of locations, mostly focused in the Southern and Midwestern parts of the United States. They got their start in the little town of Rocky Mount, North Carolina, but have sure grown up since then!  Its sister restaurant Carl's Jr. is more popular in other parts of the country. You can find a Hardee's location near you at: Hardee's Near Me.
Hardee's Hours
Most Hardee's restaurants open around 5-6 am for breakfast, and serve that until 10:30 or 11, then focus on lunch and dinner until closing around 10 pm.  Some Hardee's locations are open later in the larger cities.  To find the hours, address and more details for your Hardee's location, select your location from: Hardee's Near Me
Hardee's Delivery
Hardee's offers delivery through its various third-party delivery partners like Postmates and Uber Eats.  Usually there is a delivery fee of $4 – $5, not counting a tip (please be kind and tip your delivery folks!)  To start a Hardee's delivery order, visit:  Hardee's Delivery and select a location to see if it's available and which delivery service to use.
Hardee's Nutrition
Hardee's lists the nutritional information for its menu on their website.  To view the nutritional content of any menu item, click here for the Hardee's homepage, scroll to the bottom of the page and click "Nutritional Information" to download a file.
Hardee's Gift Cards
Hardee's gift cards are a popular item for online shopping.  Looking for one?  Visit the Hardee's official website here and add one to your shopping cart.  Sometimes, there are Hardees coupons that give you an extra discount on a gift card purchase.  The special offer usually comes around during the springtime and holiday season, like Black Friday and Cyber Monday.  Gift cards have no cash value, but don't have an expiration date generally.
More Restaurant Daily Deals
Daily specials, promotional codes and special deals for all days of the week can be found here:
For more daily and weekly restaurant specials like these, see:  Restaurant Daily Deals