Jack in the Box has Digital Deals when you order online or with the app.  Deals vary by location, but typical deals include::
2 for $5 Jumbo Jack Burgers
$3 off a Ribeye Steakhouse Burger Combo
$1 Large fries with $10 purchase
Free drink with $10 purchase
$4 Loaded Breakfast Sandwich
$2 Onion Rings
$5 Homestyle Ranch Chicken Club
20% off an order of $10 or more
You can find more details at the Jack in the Box website.
Jack Pack Coupons
Jack in the Box has launched its Jack Pack loyalty program and beefed up its app.  New users that download the mobile app will automatically earn 20% off their first in-app purchase!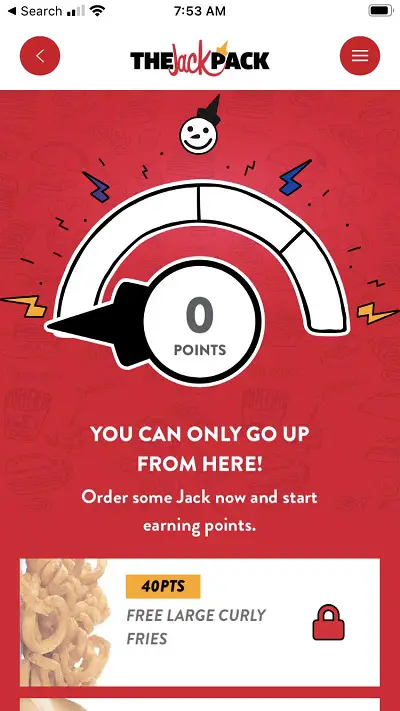 Earn one point for every dollar spent and earn free food at 40, 50 or 60 points.  Options include things like:
40 Points – Free Jumbo Jack, Large Curly Fries, 10 pc Chicken Nuggets or Tiny Tacos
50 Points – Free Jack's Spicy Chicken, Sourdough Jack, or Ultimate Cheeseburger
60 Points – Free Homestyle Ranch Club, Classic Buttery Jack with Swiss Cheese or Bacon Ultimate Cheeseburger
About Jack In The Box
Jack in the Box is an American fast-food restaurant chain that was founded in 1951 in San Diego, California. They have over 2,200 locations in the U.S., but they're primarily situated along the West Coast. So, you may have never heard of them, or they may be as ubiquitous as McDonald's in your neck of the woods. Jack In The Box offers typical fast-food fare such as burgers, chicken sandwiches, tacos, salads, breakfast items, and sides. Their signature item, the Jumbo Jack burger, has a loyal following, and it has a solid breakfast business, too. The Jack In The Box mobile app boasts lots of perks like exclusive deals, plus the chance to earn points for free food with your purchases.
Some popular menu items at Jack in the Box include:
Jumbo Jack burger
Spicy Chicken Sandwich
Tacos
Ultimate Cheeseburger
Chicken Nuggets
Bacon & Egg Chicken Sandwich
Sourdough Jack burger
Breakfast Jack sandwich
Curly Fries
Stuffed Jalapenos