Get free food and snacks, buy one get one deals and more at these restaurants to celebrate Tax Day on Tuesday, April 18, 2023.
Check out our roundup below for all the details and make Tax Day as painless as possible.  Check back later as more deals are expected.
Do you want to have great deals like these emailed directly to you? Click here to sign up for our newsletter!
Tax Day 2023 Restaurant Deals, in Alphabetical Order
Boston Market has their annual $10.40 Tax Day meal on April 18.
For $10.40 you get a half chicken individual meal with two sides and cornbread plus a fountain drink and cookie. Boston Market announced their Tax Day deal on their Home Page.
Cicis Pizza
Get the Unlimited Pizza Buffet for just $4.99 with a Cicis Pizza coupon valid on April 18. Show this Cicis coupon posted on their website to your server on your mobile device (printed copy not accepted) to get the Cicis $4.99 buffet special.
Great American Cookies
Great American Cookies is changing up their annual Free Cookie promo. The national gourmet cookie shop will instead have a buy-one-get-one-free Cookie Cake Slice deal. The chain announced the new deal in this press release.
Celebrate with $0.85 Blizzards at Dairy Queen! You'll have to use the app for the offer. You'll see it in the Deals section like this: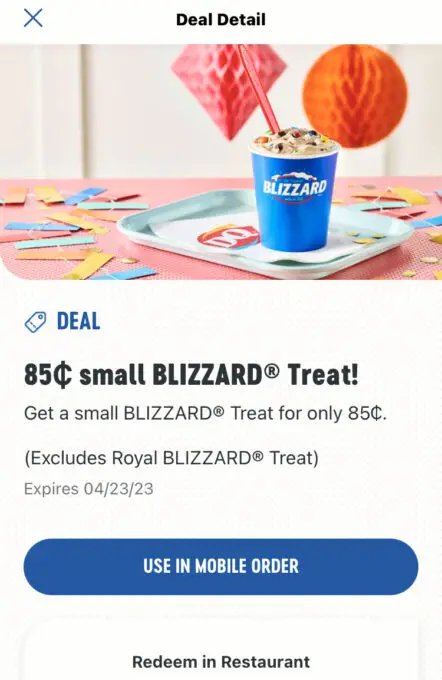 Hooters has a $10.40 Meal Deal with Tenders, Boneless or Bone-In Wings and fries. Plus, get $2 Blue Moon pints and $4 off Long Island Iced Teas.
Kona Ice trucks are giving out free shaved ice on Tax Day, which Kona calls National "Chill Out" Day. No coupon required, just ask for the free ice special.  You can find a participating location by visiting:  Free Kona Ice Locations.
Krispy Kreme is looking to bring spirits up with a sweet deal. Customers who purchase an Assorted or Original Glazed Dozen at regular price can get a second Original Glazed Dozen for just sales tax!
Potbelly Sandwich Shop has a BOGO for rewards members on April 18.  Rewards members should find this Tax Day deal in their My Perks folder:
Buy any sandwich and get one (of equal or lesser value) for free
You can download the Potbelly App for iOS app here or Android app here.
Get $5 Lobsteritas margaritas at Red Lobster! Note that the offer isn't valid in a lot of states due to liquor laws: AL, GA, HI, IL, MD, NC, NY Times Square, OH, OK, PA, PR, SC, TN after 10 p.m., UT, VA and Canada. But hey, if you're in a different spot, this is a nice deal.
Sonny's BBQ
Sonny's BBQ, the country's third-largest BBQ chain, will be offering half price St. Louis Rib Dinners on April 18, 2023.  Dinners include either Sweet and Smokey or House Dry-Rubbed St. Louis Ribs, two sidekicks, and homemade bread. Sonny's posted the offer on their website.
The Cheesecake Factory
The Cheesecake Factory will be offering $10.40 off $50 when you use promo code TAXDAY1040 at checkout from April 17-21. You can order online or through DoorDash!
Tijuana Flats
Tijuana Flats has their signature "Tuesdaze" special on Tax Day this year. Get 2 Tacos, Chips, and a drink for $6.99!
For more Tijuana Flats deals, check out our Tijuana Flats article.
Wayback Burgers is giving guests 18% off orders on April 18th. All you have to do is order on the app. Click here for the full press release.
Which Wich
Get $2 off any Wich when you order online with promo code WWTAXDAY from Which Wich. Here's a message with the code.
White Castle has 18% off your total order with this coupon good only on April 18.  CLICK HERE for your White Castle coupon.
About Tax Day (from Wikipedia)
In the United States, Tax Day is a colloquial term for the day on which individual income tax returns are due to the federal government.  The term may also refer to the same day for states, even where the tax return due date is a different day.
Since 1955, for those living in the United States, Tax Day has typically fallen on April 15. For those filing a U.S. tax return but living outside the United States and Puerto Rico, Tax Day has typically fallen on June 15, due to the two-month automatic extension granted to filers by IRS Publication 54.

Due to Emancipation Day in Washington, D.C. (observed on the weekday closest to April 16), when April 15 falls on a Friday, tax returns are due the following Monday; when April 15 falls on a Saturday or Sunday, tax returns are due the following Tuesday.