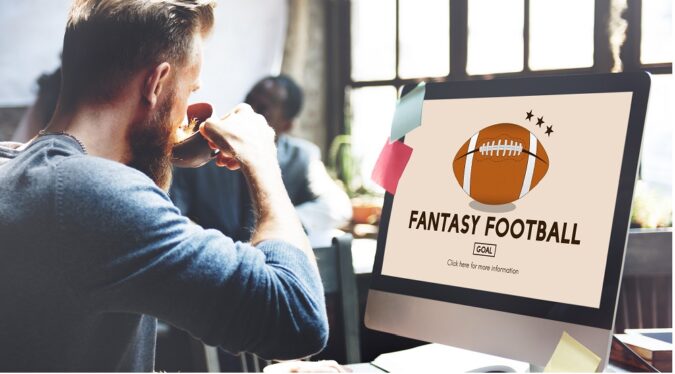 Football season is approaching.  More importantly, that means fantasy football is just around the corner! 40 million people each week will put their rosters on the line for bragging rights and maybe a little bit of money.  That also means the rest of us will once again have to constantly hear about fantasy football from our loved ones who are a part of that 40 million strong crowd.  Cheers to another four months of reduced productivity at the office and fights with your friends.  Get your league started off the right way by booking your 2021 draft party at one of these spots!
Get free draft kits, coupons for season-long savings and more deals when you host your 2021 fantasy football draft party at Buffalo Wild Wings, Carolina Ale House, Dave & Buster's, Duffy's, Fox & Hound, Hickory Tavern, Hooters, Miller's Ale House, Topgolf, and Twin Peaks.
Do you want to have great deals like these emailed directly to you? Click here to sign up for our newsletter!
Fantasy Football Deals
Buffalo Wild Wings
Enroll to host your fantasy football draft party at Buffalo Wild Wings and get coupons and specials all season. When you book your fantasy draft at Buffalo Wild Wings, the commissioner will get a free appetizer every week for the duration of the season. They can redeem the offer on Sundays and Mondays. You can also draft from home and choose from a selection of Buffalo Wild Wings' famous wing bundles.  Get more details here on the Buffalo Wild Wings Fantasy Football page.  Prices will vary by location, but generally you can purchase the following:
10 Boneless Wings and Fries for $9.99
20 Boneless Wings and Fries (varying price)
The Blazin' Challenge Set: Blazin' Challenge Sweatband, 10 Traditional Blazin' Carolina Reaper Wings, and a Scoop of Vanilla Ice Cream (varying price)
20 Boneless Wings and 20 Traditional Wings handspun in sauce or dry seasoning with fries for $39.99
LCS Bundle: 10 Boneless Wings handspun in sauce or dry seasoning with potato wedges and a Hextech chest and key emailed to you. Note that you must be a Blazin' Rewards Member to gain access to the Hextech chest and key.
For other deals info, like buy one get one free Boneless Wings on Thursdays, visit our Buffalo Wild Wings page.
Carolina Ale House
Book your draft party at the Carolina Ale House and get a full draft kit with board, roster and materials and a Carolina Ale House Swag Bag! Talk to a manager at your local Carolina Ale House for the most pertinent information!
Check out our Carolina Ale House page for info on other specials, like $0.99 Kids Meals on Tuesdays.
Duffy's Sports Grill
Duffy's is offering patrons the ability to win a Fantasy Yacht Party! All you have to do is reserve your Fantasy Draft Party at Duffy's between August 13 and September 15. Each additional guest gives you an extra entry. Even if you do not win the yacht party, you will still be able to enjoy private rooms, draft boards, and 2 for 1 drinks at Duffy's. Click here for more information and the ability to make a reservation!
Fox & Hound
The Fox & Hound offers free wifi, reserved seating, a special menu, and rewards for your draft party. Your group must be 8 persons or more to qualify for the deal.  Draft kits are available on a first come, first serve basis.  The special menu has items such as $6 Fat Tire Queso and Chips, $8 Cheeseburger and Fries, and $8 Boneless Wings, plus $8 craft beer flights, $5 New Belgium Fat Tire drafts, $6.50 32 ounce drafts of Miller Lite and Coors Light, and $7 Double Rye Whiskey Lemonade.  Every member of your league will receive an MVP reward card that offers a $10 off a $25 purchase for every month of football season (September through January).  Visit the Fox & Hound Fantasy Football website for more information.
Hickory Tavern
Book your fantasy draft party at Hickory Tavern and the league commissioner will be given a $50 gift card.  Plus, one lucky commissioner get the chance to attend a Panthers Game or watch party this season. Click here to book your draft party at Hickory Tavern.*
*This promotion is available at select locations. Be sure to contact your local Hickory Tavern in advance.
Hooters
Hooters wants to help you host your 2021 fantasy football draft party.  Sign up to host a draft party at Hooters and receive a free Official Bleacher Report Draft Kit and season-long savings worth more than $200. For the most relevant details, contact your local Hooters. Also, Hooters has partnered with FantasyDraft.com to offer guests their own league page with no setup or weekly fees.  To sign up and schedule your event, visit the Hooters fantasy draft party website.
Our Hooters page here has info on more deals, like how to get free Fried Pickles on Mondays.
Miller's Ale House
Miller's Ale House has a 2021 fantasy football draft party package until September 8.  The draft party package includes the following:
$25 Gift Card for the Commissioner
$5 off $15 Coupon for Attendees
A Fantasy Draft Kit from Direct TV
Free Wifi.
The reservation cost is $100 and must be pre-paid, but it goes towards your group check for the draft party.  So, it's more like a deposit. For more details visit the Miller's Ale House fantasy page by clicking here.
Visit our Miller's Ale House page to learn about other deals and Daily Specials.
Get a free appetizer for every 4 coaches in your fantasy league when you have your draft at Roosters now through September 7.  Just tell your server when you arrive.  Roosters sent this email with the deal info.
To learn about other deals like Appetizer Tuesdays and Happy Hour, check out our Roosters page.
Top Golf
Top Golf may not seem like the most logical place for a FOOTBALL draft party, but it's a great time nonetheless.  At Gametime Bar and Grill at Top Golf, you can choose from either a Draft Party or an Ultimate Draft Party. The former is priced at $17.99 per person (with a minimum of 10 guests) and includes:
A reserved table at Gametime Bar and Grill
A free $20 gift card for the commissioner
A free draft kit
Your choice of three food items from: Homestyle Wings, Nacho Time, Slip Slider Bar, All American, Huge Biergarten Pretzel (HBP).
While the Ultimate Draft Party is priced at $26.99 per person (with a minimum of 10 guests) and includes:
A 3-Hour Top Golf Swing Suite Bay Rental
A free $20 gift card for the commissioner
A free draft kit
Your choice of three food items from: Homestyle Wings, Nacho Time, Slip Slider Bar, All American, Huge Biergarten Pretzel (HBP).
Click here for more details and the option to book your draft party!
Twin Peaks
Twin Peaks is a fantastic spot to host your fantasy football draft party! Their fantasy football draft package has everything you might want including a draft board, player stickers, a $50 bonus commissioner card, a $5 bonus card for each league member, a premium table reservation with free Wi-Fi, and deals on Coors Light and Miller Lite buckets (at select locations). Don't miss out on Twin Peaks' signature beers and menu items, including their Double Stacked Nachos and Loaded Fries during draft night either. Twin Peaks has the details up on their website.  The deals don't stop there, on September 13, the first Monday Night Football game of the season, Twin Peaks will be offering a can't-miss deal featuring Bacon and Cheese Loaded Fries and a 22 oz. Coors Light or Miller Lite drink for $10!
How to Create or Join a Fantasy Football League
For more information about Fantasy Football, don't ask Joe from IT about it when you see him in the breakroom, or else you're gonna be stuck talking to him for at least 45 minutes.  Check out the NFL website or ESPN Fantasy Football site where you can create a league, join a league, and participate in drawings for free prizes.  If you fancy yourself and expert and want to make things interesting, check out sites like DraftKings, Fanduel or FantasyDraft and put your money where your mouth is.
More from EatDrinkDeals
Want to get info on other deals, discounts, coupons and specials from your favorite restaurants?  Click here to see the latest and greatest from EatDrinkDeals!
More Restaurant Daily Deals
Daily deals for all days of the week can be found here:
For more daily and weekly restaurant specials like these, see:  Restaurant Daily Deals
If you're an AARP member, you can get every day discounts at Denny's, McCormick & Schmick's, Outback and more places.  You can find all the details in our story, AARP Dining Discounts.
Also, many restaurant chains such as Bob Evans, Outback Steakhouse, Zoe's Kitchen and more offer discounts to the active military and veterans.  Here's the EatDrinkDeals roundup, Restaurant Military and Veterans Discounts.