National Burrito Day arrives Thursday, April 6 to spice up your life.  Lots of restaurants have great deals to help you celebrate. We've compiled a guide to help you pick out your spot for the big day! All National Burrito Day specials are confirmed from verifiable sources such as the restaurant website or social media page.  Some deals are valid for dine-in only. Others can be valid for takeout or even delivery orders.
Want to get info on all the deals, discounts, coupons and specials from your favorite restaurants?  Click here to see the latest from EatDrinkDeals!
2023 National Burrito Day Deals
California Tortilla
5 lucky winners will be getting Free Burritos for a Year at California Tortilla on April 6th. Guests who purchase a burrito or burrito bowl will be given a QR code that they can scan for a reward. Even if you don't win the grand-prize, you will win something! This promo is valid only on April 6 so be sure to redeem your code as soon as you get it!
Chevy's Fresh Mex
Get a free Burrito with an entree purchase with a Chevy's coupon valid for dine-in orders on April 6. Show this to your server for some free food: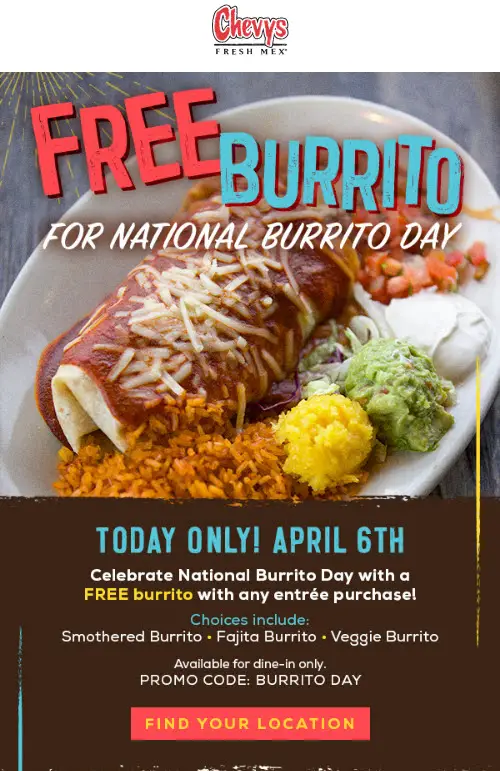 Chipotle
National Burrito Day is on April 6. What does Chipotle have in store for us? Promo codes are dropping April 5-6 for 30,000 free burritos, and they will offer free delivery on April 6! Here's what you need to know:
On April 6, @ChipotleTweets post promo codes throughout the day. The fastest folks that text the code to 888-222 get a shot at one of 10,000 free burritos.
From April 5-6, there are 20,000 free burritos on Grubhub orders of $20 or more. No promo code is necessary. When 20,000 people have taken the deal, it's gone. So, this one may not last until April 6!
$0 delivery fee for everyone on April 6 with promo code DELIVER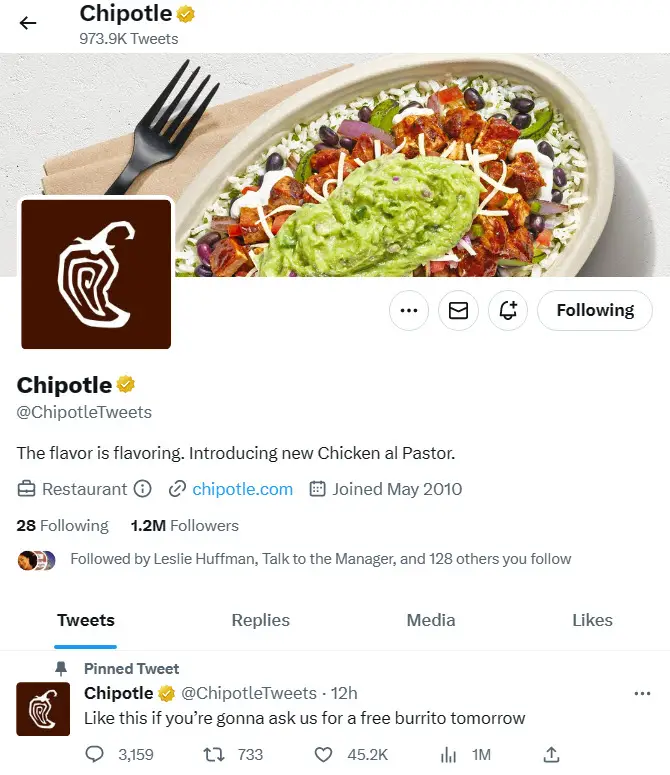 For info on this and other news, like their new Chicken Al Pastor, visit our Chipotle page here.
Chronic Tacos
Get a burrito for half-price at Chronic Tacos on April 6th. Just order through the app and use code BURRITO at checkout.  Click here to get started with that app download.  Read the details from this Chronic Tacos press release.
For more serious taco deals, like the Family Taco Kit, click here to read the EatDrinkDeals Chronic Tacos story.
Del Taco
Del Yeah! Rewards members can get a free burrito from Del Taco with a $10 purchase on April 6. You can sign up here.
El Pollo Loco
Loco Rewards Members will have access to a BOGO offer on all burritos at El Pollo Loco on April 6th. Plus, if you order online or through the app, you will also get free delivery. That's not all, though. Starting April 6th and through Cinco de Mayo, 30 lucky winners will get one million rewards points. If you're not a rewards member, this is a sign to sign up right now! Plus, if you sign up today, you can get a free Original Pollo Bowl just for your time!
Freebirds World Burrito
Get a burrito for only $6 at Freebirds on April 6. The offer is valid for in-store, online or app purchases. They've got the news up on their homepage.
Fuzzy's Taco Shop
Fuzzy's is offering a free Smother with all burrito purchases for Fuzzy's Rewards Members on April 6th at all Fuzzy's locations. Smother your burrito with queso or fire-roasted salsa all day! Click here to join Fuzzy's Rewards!
Moe's
Moe's is offering a BOGO 50% off special on burritos on National Burrito Day for orders placed online, in-store, or through the app. Note that this does not include kid's entrees, kid's meals, and meal kits.
Visit the our Moe's page to learn about the Taco Kits, Nacho Kits, and other deals like Moe Monday.
Rubio's
Get burritos for $7.99 on National Burrito Day at Rubio's. If you're ordering online or through the app, just use code BURRITO at checkout! Here is a link to the coupon: Rubio's $7.99 Burritos.
Check out our Rubio's page and learn about lunch specials, fish taco deals Tuesdays and Fridays, and more.
Taco Bueno
Get a free Party Burrito from Taco Bueno in-store on April 6. They posted the offer on their socials.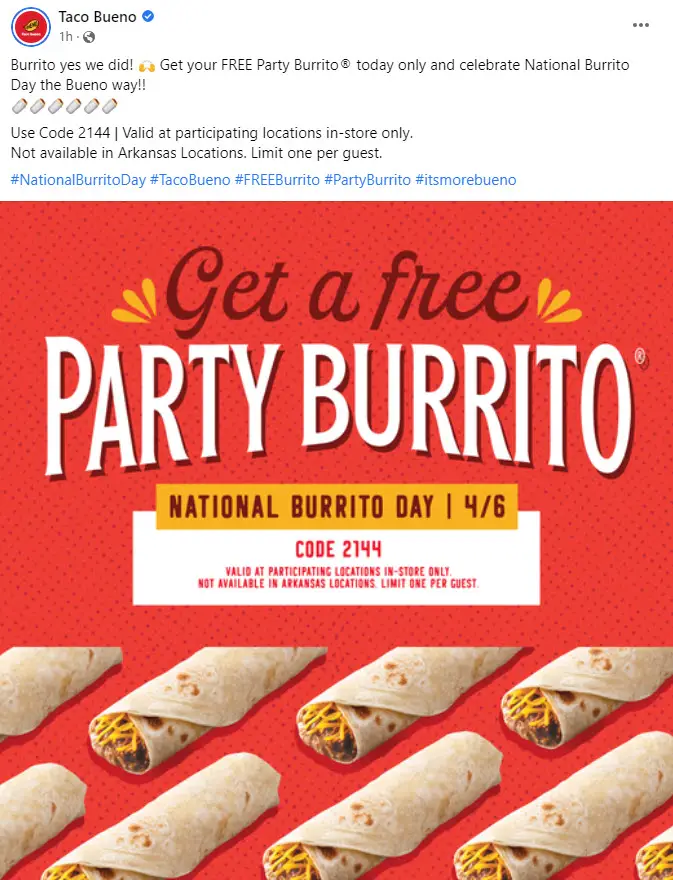 Tijuana Flats
Get a Tijuana Burrito or Burrito Bowl with chips and a drink for $7.99 at Tijuana Flats every Thursday as a part of their Thursdaze special!
For more daily deals and info on how to score a free entree, check out our Tijuana Flats article!