Chipotle has a rewards program with points for purchases and a free item on your birthday.
For more information or to enroll now, visit:  Chipotle Rewards
About Chipotle (from Wikipedia)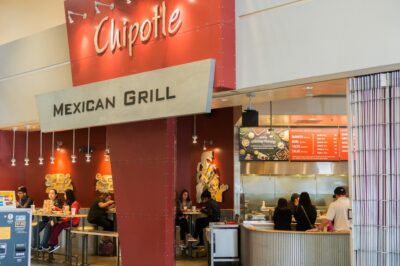 Chipotle Mexican Grill, Inc.  is a chain of restaurants located in the United States, United Kingdom, and Canada, specializing in burritos and tacos. Its name derives from chipotle, the Mexican Spanish name for a smoked and dried jalapeño chili pepper.
The restaurant is known for its large burritos, assembly-line production, and use of natural ingredients.  The company has released a mission statement called Food with Integrity, which highlights its efforts in using organic ingredients,and serves more naturally raised meat than any other restaurant chain.
Chipotle has more than 1900 locations.
Chipotle Menu
The majority of food is prepared in each restaurant. Some exceptions are the beans and carnitas, which are prepared at a central kitchen in Chicago, Illinois. None of the restaurants have freezers, microwave ovens, or can openers.