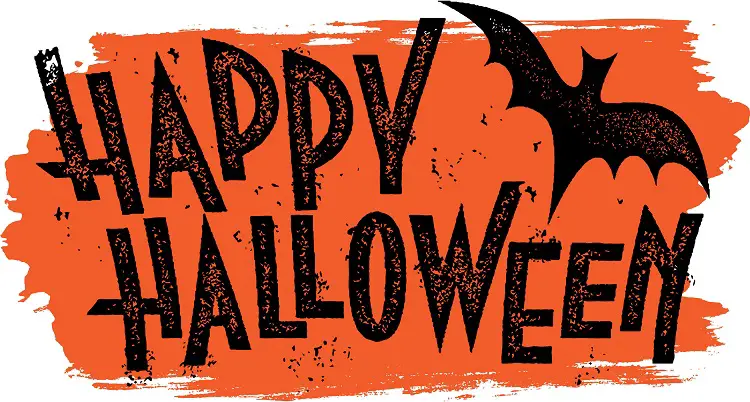 Boo!  Celebrate Halloween 2019 with free kids meals and other specials.  Here's our annual roundup of Halloween Deals from your favorite restaurants.  EatDrinkDeals has confirmed all Halloween specials from verifiable sources such as the restaurant website or social media page.  So don't be afraid!  We will continuously update this story as restaurants announce more specials, so check back before the spooktacular holiday as more deals are added.
Did we miss any?  If so please let us know in the comments or drop us a line at editor@eatdrinkdeals.com!
Applebee's
Applebee's has a $1 Vampire cocktail for Halloween.  Every day through October 31, 2019, get a Vampire made with rum, dragon fruit, passion fruit and strawberry.  And it comes with fangs!
Visit our Applebee's Drink Specials article for more details and check out our Applebee's Food Specials story as well.
Baskin-Robbins
Baskin-Robbins has it next $1.70 ice cream special on Thursday, October 31, 2019 as part of it's Celebrate 31 event.  Get all regular and kid-sized scoops for the special price of $1.70.  Also you can two quarts of prepacked ice cream for $7.99. Or get a 56-oz ice cream pack for $9.99.
Read our Baskin-Robbins article for more details on the deals and the Candy Mashup flavor of the month.
Bass Pro Shops
Bass Pro Shops traditionally has free Halloween events for kids across their approximately 100 stores in the U.S.  Events this year are on October 20 & 21 and 26–31, 2019.  You can get a free Halloween phot with Charlie Brown and the Peanuts gang to show off your costumes!  Plus, there will be crafts and games on many days, capped off with Trick or Treating on October 31 from 4 – 8 pm.  See the Bass Pro Shops Halloween website for more details.
Beef O'Brady's
Beef O'Brady's has a kids eat free deal for Halloween.   Kids in costume get one free kids meal per purchase of adult entree.  Good only on October 31, 2019.  Each child also gets a bag of goodies.  Valid for kids in costume only.  No coupon required.  Limit one free kids meal per adult entree purchase. Beef O'Brady's announced the Halloween special on Facebook.
Bubba Gump Shrimp Co.
Bubba Gump Shrimp Co.  has a kids eat free deal for Halloween.   Get one free kids meal per purchase of adult entree.  You'll need the coupon from the Bubba Gump's Halloween Page, which has more details about the promotion.
Carvel
Carvel is celebrating Halloween with its all new 31 Nights of Halloween shake in partnership with Freeform's '31 Nights of Halloween'. They also announced $3 off any Halloween-themed cakes and $2 off Lil' Screamer Novelties valid all month long.  Go to our EatDrinkDeals Carvel page for more details.
Chili's
Chili's has a $5 Fangtasic 'Rita for Halloween.  The $5 margarita is made with Lunazul Blanco Tequila, Cointreau, Monin® Blood Orange and fresh sour mix.  The $5 drink is available every day from October 1-31, 2019.
Visit our Chili's Drink Specials article for more details and also find more great offers in our Chili's Coupons and Specials page
Chuck E. Cheese
Chuck E. Cheese is giving out 50 free tickets to kids in costume every day in October. Get more mileage out of those Halloween costumes this year!  More details on this deal, plus other coupons and specials are on our EatDrinkDeals Chuck E. Cheese story.
Dunkin'
Dunkin' has their Halloween Spider Donut in shops plus a special on their Munchkins now through October 31, 2019. The Spider Donut comes frosted with orange icing with a sweet eight-legged donut creature on top, made from a glazed chocolate MUNCHKINS donut hole treat with chocolate drizzle for the spider legs and orange drizzle for the eyes.  Also at Dunkin' now through the end of October, get any 10 MUNCHKINS for the special price of $2.
For more details and for other great Dunkin' deals, read our EatDrinkDeals Dunkin' article here.
IHOP
Kids 12 and under eat free at IHOP from 4-10 pm with the purchase of an adult entree.  This deal is valid everyday for a limited time, not just on Halloween, so enjoy!  This is part of IHOP's promotion with the new Addams Family movie, and there are some neat new items on the menu to try out.  Visit our EatDrinkDeals IHOP article to learn more.
Joe's Crab Shack
Joe's Crab Shack has a kids eat free deal on Halloween.  You'll need to show your server THIS COUPON  from Joe's.  Get up to 3 free kids meals per party.  One adult entree purchase required for each free kids meal. Costumes are welcome.  Joe's announced the Halloween special on Facebook.
Krispy Kreme
Krispy Kreme has debuted their "Monster Batch" of Halloween doughnuts like Slimon the Slime Monster.  Also, if you wear a costume to Krispy Kreme on Halloween and grab a Monster Batch doughnut for free!  Get the details on this and other great Krispy Kreme deals in our EatDrinkDeals Krispy Kreme article.
McAlister's
Get up to two free kids meals for each adult entree purchase at McAlister's Deli when you show up in costume from October 26-31, 2019.  McAlister's announced the deal and listed participating locations on their Facebook page.  It looks like most of them will honor the deal.
* Valid at participating restaurants, 10/26/19 – 10/31/19 for dine-in and carry out orders only. Offer valid for up to 2 free kids meals per adult entree purchase. Free kids meal only available for kids 12 and under ordering from the kids menu. Hours vary by restaurant.
Morton's
Morton's Steakhouse has a special $36 three-course dinner for Halloween.  Entrees include a Grilled Bistro Filet, Pork Chop, and Salmon, Chicken or Shrimp dishes.  Good October 30 – November 1, 2019.   For more details see:  Halloween at Morton's.
Papa Murphy's
Papa Murphy's has brought back their Jack-O-Lantern pizza for a limited time.  Get a large 14 inch for just $9 through November 3, 2019.  Get more details on this and other great deals at our EatDrinkDeals Papa Murphy's page.
Penn Station
Go to the Penn Station Halloween Hangman Game and correctly guess the Halloween themed phrase.  If you do, you'll win coupons for free food like a BOGO sub coupon.  You can play every day.  Read more details on our EatDrinkDeals Penn Station article.
Wendy's
Wendy's has their Halloween Boo Books on sale for just $1.  The Boo Books get you 5 coupons for free Junior Frosties.  You can give them out as Halloween treats if you don't want a giant bag of candy laying around the house.  You know you'll end up eating it all and have to go back to the store for more.  Or, keep the free Frosty coupons for the days when you need to treat yourself.
Interested in other Wendy's deals?  Read our story about Wendy's Coupons here and other Wendy's Menu Specials here.
Note:  For all the deals mentioned, price and participation may vary by location.