When it comes to satisfying breakfast cravings, two popular American chain restaurants come to mind: IHOP and Denny's. Known for their extensive menus filled with delicious breakfast classics, these two eateries have become staples for many people looking for a comforting meal to start their day. However, the question remains — which one offers better taste and value?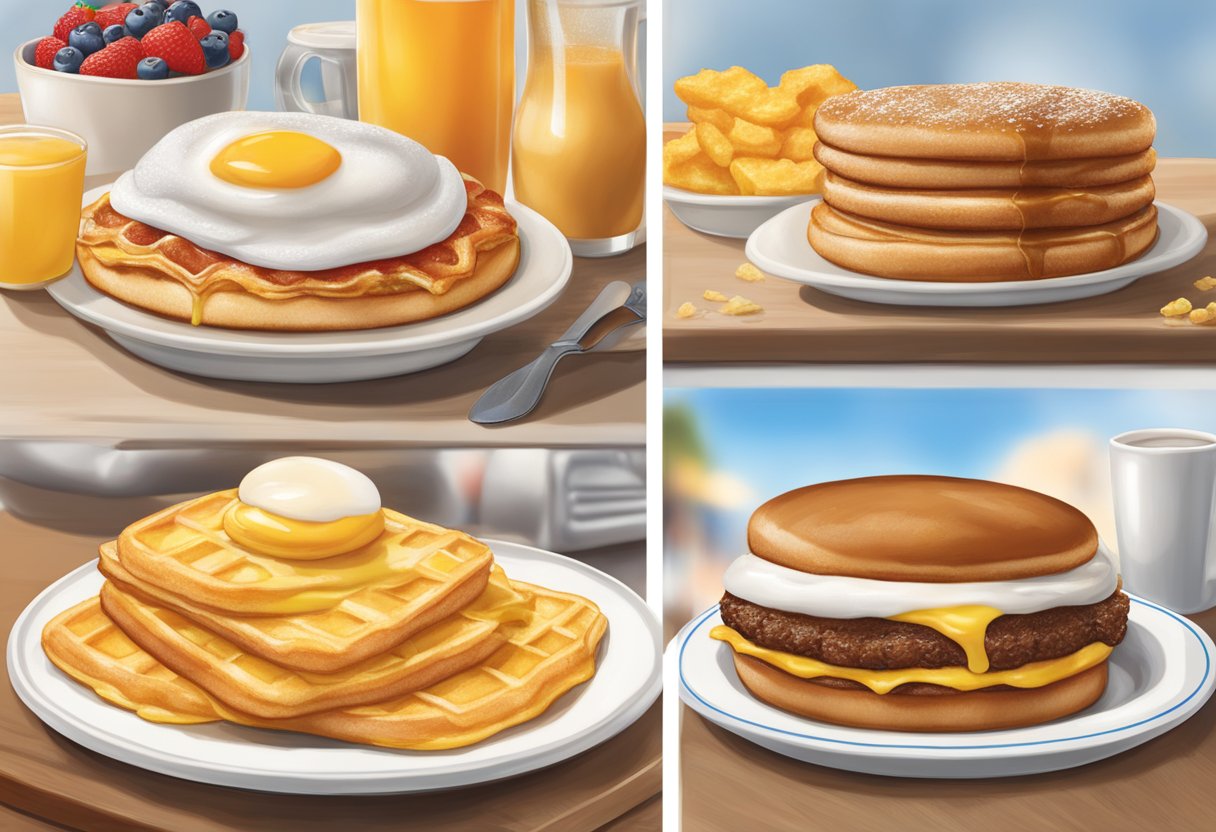 To compare IHOP and Denny's, one must consider several factors, such as the initial overview of their offerings, product quality and taste, convenience and accessibility, and overall dining experience. This article delves into the topic, weighing the pros and cons of each restaurant to help you decide where to enjoy your next breakfast feast.
Key Takeaways
Dining experience and product quality are crucial elements in determining which chain tastes better.
Value for money and convenience play a significant role in choosing between IHOP and Denny's.
Analyzing the breakfast offering, overall atmosphere, and accessibility can ultimately guide your choice between the two.
The Initial Overview
When comparing two popular restaurant chains, IHOP and Denny's, it is essential to take a closer look at their offerings, taste, and value for money. Both establishments are well-known for their breakfast options and have gained a loyal customer base over the years.
IHOP, or International House of Pancakes, was founded in 1958 and has since expanded to over 1,800 locations worldwide. They specialize in various breakfast items, including their famous pancakes, omelettes, and waffles, with a limited lunch and dinner menu. The chain is known for its diverse pancake selection, often offering creative limited-time flavors and combinations.
Denny's, on the other hand, started as a small donut shop named Danny's Donuts in 1953 and later transformed into a diner-style restaurant. With more than 1,700 locations across the globe, Denny's serves breakfast, lunch, and dinner, allowing patrons to enjoy various meals throughout the day. Their menu is more extensive, featuring well-known options like the Grand Slam breakfast, burgers, sandwiches, and salads.
Which one tastes better? Of course, this is subjective, but IHOP seems to have an edge over Denny's for breakfast items like pancakes, french toast, and omelettes. We gotta agree with the crowds on this one. The pancakes and omelettes, in particular, stand out, in our opinion. In taste comparisons historically, IHOP's food outperformed Denny's with significantly better taste and quality.
In terms of value, both chains offer reasonably priced meals, with options for budget-conscious customers as well as those looking for a more indulgent experience. IHOP and Denny's also have a range of promotions and discounts that provide added value to their customers.
Looking for the best deals going on right now at Denny's and IHOP? Go to our Denny's Specials page here or check out our IHOP Deals page here.
While both IHOP and Denny's have their strengths and weaknesses, the choice ultimately depends on individual preferences and expectations. For those who seek a more specialized breakfast experience with a focus on pancakes and related items, IHOP might be the better option. However, Denny's offers a broader range of dishes throughout the day, catering to those who prefer variety and the convenience of all-day dining.
The Breakfast Offering
Pancake Varieties
IHOP and Denny's both have a wide selection of pancakes to please every palate. IHOP is known for its Original buttermilk pancakes, with a fluffy and chewy balance that's perfect for absorbing syrup. They also offer unique flavors, such as blueberry and red velvet. On the other hand, Denny's excels in its "Stack" pancakes, with a similar texture, and they also complement their pancakes with a range of syrups.
Eggs and More
When it comes to eggs and other breakfast foods, both chains offer a variety of options. IHOP and Denny's serve breakfast platters with customizable options such as scrambled eggs, sunny side up eggs, bacon, sausages, and hash browns. They also offer omelettes with different fillings to satisfy diverse tastes.
Additionally, both restaurants provide all-day breakfast options, so customers can enjoy their favorite breakfast foods at any time of the day. Denny's is known for its Grand Slam breakfast, which includes pancakes, eggs, bacon or sausages, and hash browns. In contrast, IHOP offers breakfast platters that combine eggs, pancakes, and various breakfast meats.
Product Quality and Taste
Food Quality
Both IHOP and Denny's are renowned for their breakfast offerings, with each chain striving to provide customers with delicious and satisfying meals. IHOP is known for its fluffy pancakes and variety of syrups, while Denny's stands out for its hearty breakfast platters and classic diner feel. In terms of taste, it ultimately comes down to personal preference.
One area where the food quality might differ between the two chains is in the ingredients used. While both offer a similar range of dishes, IHOP's Brioche French Toast might seem more appealing to some customers due to its use of premium brioche bread, as opposed to the more traditional bread used at Denny's.
Menu Exclusives
IHOP and Denny's each have their own unique menu items that could appeal to different taste preferences. For example, IHOP offers a variety of pancake stacks and omelettes exclusive to their brand, while Denny's boasts their signature Grand Slam breakfast and the popular Mammoth Muffin.
In addition to their classics, both IHOP and Denny's regularly add limited-time promotions and seasonal items to their menus. This keeps the dining experience fresh and interesting for regular customers and provides opportunities for the chains to experiment with new flavors and combinations. Based on our experience, IHOP tends to be more active with the limited-time menu offerings and rotations. As a result, their menu feels a bit more robust than Denny's.
At the end of the day, the quality and taste of food provided by IHOP and Denny's are on par with one another. While each chain has its own niche offerings, such as the Brioche French Toast at IHOP or the Pumpkin Spice Pancakes at Denny's, they put effort into ensuring they deliver delicious, satisfying, and affordable options for their customers. The choice of which chain to visit will ultimately come down to individual preferences and taste.
Check out a rundown of Denny's menu with our research on prices here. You can check out IHOP's here.
Value for Money
Pricing and Affordability
When comparing IHOP and Denny's, it's essential to consider their pricing and affordability. Both restaurants are known for offering an extensive menu, with a focus on breakfast items. In terms of pricing, the costs at the two establishments are quite similar, but some differences can be found depending on the specific items you select.
You have a great value play at Denny's with the Super Slam, with two buttermilk pancakes, two eggs cooked to order, two bacon strips, two sausage links, and hash browns. That oftentimes runs for $9.99, but sometimes you'll see it on special for $7.99.
IHOP has a nifty IHOPPY hour from 3 pm – 10 pm every weekday with $6 entrees and $4 Snacks and Sides. Options for $6 include omelettes, burgers, and pancake platters. Snacks options for $4 have french toast, mozzarella sticks, and more.
IHOP may have a slightly higher price for pancakes than Denny's, while Denny's may have a slightly higher price for certain lunch and dinner items. It is worth comparing the prices of specific items that you are interested in at both restaurants to determine which offers better value for money.
Value Meals
When considering value for money, it's important to look at the value meals offered by both IHOP and Denny's. These are meal options that provide a complete dining experience at a special, lower price, allowing customers to get more for their money.
For example, Denny's is popular for its Grand Slam breakfast, which includes pancakes, eggs, bacon, and sausage. On the other hand, IHOP has the Breakfast Sampler, which features eggs, bacon, sausage, ham, and hash browns, served alongside their famous pancakes. The Breakfast Sampler may be more expensive than the Denny's Grand Slam breakfast, but it offers a wider variety in the platter.
When comparing value meals, it's essential to look at the cost, the quantity of food provided, and the variety of items in the meal. This will help you determine which restaurant offers the most satisfying dining experience at a reasonable price.
By carefully considering the pricing, affordability, and value meal options at both IHOP and Denny's, customers can make an informed choice about which establishment offers the best value for their money.
The Dining Experience
Overall Atmosphere
Both IHOP and Denny's are known for their casual dining experiences. Their locations are typically found along highways and near parking lots, making them convenient stops for travelers and locals alike. The service and staff at both establishments tend to be friendly and efficient, ensuring a pleasant dining experience for patrons.
Walking into either an IHOP or a Denny's, customers can expect a bustling atmosphere, as these establishments are usually quite crowded during peak hours. However, the mood in each of the two chains can differ slightly. IHOP is often known for its patterned wallpaper and brighter color schemes, while Denny's leans more towards a classic American diner feel. Regardless of personal preference, both chains strive to create a comfortable and enjoyable atmosphere for diners.
Family and Kid-Friendly Features
When it comes to family-oriented dining, both IHOP and Denny's cater well to parents and their children. Many of their locations can be found near family-friendly attractions, such as Walt Disney World, making them convenient options for families on vacation or enjoying a day out.
Both chains offer kid-friendly features in their dining rooms, such as coloring pages and crayons, to keep young diners entertained. These amenities are often appreciated by parents looking for a restaurant that caters to their children's needs. Both often have a kids eat free night, usually in the middle of the week, that definitely brings families in the door.
In terms of menu options, both establishments have a variety of choices that cater to the tastes of young diners. From classic pancakes and waffles to more savory offerings, there are ample options for even the pickiest eaters.
In conclusion, both IHOP and Denny's offer a comfortable and enjoyable dining experience for families and individuals alike. With their convenient locations, friendly staff, and family-oriented atmospheres, these establishments continue to draw in customers seeking a casual and delicious meal.
Convenience and Accessibility
When comparing IHOP and Denny's regarding convenience and accessibility, both chains have a significant presence across the United States. They are often located along major highways and travel stops making them ideal choices for road food on a high travel day or during a journey.
Both IHOP and Denny's have a reputation for being open 24/7, meaning diners can visit them at any hour of the day. In terms of locations, IHOP has around 1,800 restaurants globally, while Denny's boasts over 1,600 locations in the United States alone. This means that travelers are likely to find either of these options relatively easily when seeking a place to eat on the go.
Both chains offer a wide range of menu options to accommodate various dietary preferences and restrictions. From classic breakfast staples like pancakes, eggs, and bacon, to club sandwiches and burgers, both IHOP and Denny's provide a diverse selection for their patrons.
In summary, IHOP and Denny's both excel when it comes to convenience and accessibility, making them popular choices for diners seeking a casual and readily available meal option on the road.
Final Comparison and Verdict
When comparing IHOP and Denny's, both restaurants offer similar breakfast menus, providing a range of choices for customers. IHOP, known for their original buttermilk pancakes, has a well-deserved reputation for delivering delicious stacks. On the other hand, Denny's matches this quality, with their pancakes even outperforming IHOP's version in a taste test.
In terms of value, you've got good options at both establishments. Overall, though, Denny's often offers more affordable options and outperforms IHOP in this aspect. Budget-conscious diners might find Denny's to be the better choice when comparing costs.
The atmosphere at both IHOP and Denny's can vary greatly depending on location, but generally, both establishments aim to create a comfortable and welcoming environment for diners. Cleanliness and design play a critical role in shaping the overall ambiance. Same with service quality. It really just boils down to the individuals working at your local spot. Great people go a long way for the customer experience!
Overall, IHOP and Denny's stand as strong contenders in the world of breakfast dining. While IHOP holds a special place in people's hearts for their classic pancakes, Denny's has proven to offer great value and savory dishes as well. Choosing between them might simply be a matter of personal preference, but regardless of the choice, one thing is certain: they remain popular destinations for breakfast lovers.
Frequently Asked Questions
Which restaurant has a wider variety of breakfast options?
Both IHOP and Denny's offer an extensive range of breakfast options. IHOP is known for its variety of creative pancake flavors and omelettes, while Denny's boasts a diverse selection of classic breakfast dishes as well as their customizable Build Your Own Grand Slam. It ultimately depends on your preference for traditional diner fare or more innovative dishes.
Who offers better value meal deals – Denny's or IHOP?
When it comes to value meal deals, Denny's Build Your Own Grand Slam allows customers to choose 4 items from a list of options, offering flexibility and customization according to their preferences. IHOP, on the other hand, typically has special promotions and limited-time offers on their pancakes. It's hard to say which chain offers better value overall, as it depends on the individual's preference and order.
How do the prices compare between IHOP and Denny's?
The prices at both IHOP and Denny's are relatively similar, with most menu items falling within the same price range. However, specific meal selections, such as limited-time offers or promotional pricing, may result in price differences at each restaurant.
Do both Denny's and IHOP offer all-day breakfast menus?
Yes, both IHOP and Denny's offer all-day breakfast menus, allowing customers to enjoy their favorite breakfast dishes any time of the day.
Who serves higher quality ingredients, IHOP or Denny's?
Comparing the quality of ingredients between IHOP and Denny's is difficult, as both chains claim to use fresh and high-quality ingredients in their dishes. Some customers may prefer the taste of IHOP's bacon while others enjoy the flavor of Denny's eggs. Ultimately, it's a matter of personal preference and may vary depending on individual taste buds.
Which chain has a better diner atmosphere between IHOP and Denny's?
Denny's is often praised for its cozy diner atmosphere, while IHOP is known for its bright and family-friendly environment. The atmosphere at each restaurant caters to different preferences, with Denny's offering a traditional diner vibe and IHOP having a more modern and inviting ambiance.