National Margarita Day is on February 22, 2022, and we'll show you which restaurants have the best deals to help you celebrate in style!  You know it's gonna be a good Margarita Day when it falls on Taco Tuesday!  Please drink responsibly, don't drink and drive, and share the savings by tipping your server generously!
EatDrinkDeals includes links to restaurant websites where you can confirm the deal and find further information.  We won't post deals that cannot be verified from a source such as the restaurant website, social media account, or press release.
Do you want to have great deals like these emailed directly to you? Click here to sign up for our newsletter!
Margarita Day Deals For February 22, 2022
Abuelo's
Abuelo's is continuing its support of making America a better place this National Margarita Day.   The El Jefe Margarita will be $2 off, and for each Cerveza Rita, El Jefe, Platinum Hand Shaken and Skinny Margarita sold, the chain will donate $2 to No Kid Hungry, a non-profit dedicated to providing nutritious meals to over 200,000 children in America.  Margaritas + contributing to a good cause = win!
Bahama Breeze has two specials lined up for you on "2sday" February 22. You can get $5 Classic Margaritas all day or you can opt for a Margarita "TWO-GO" with a seven-ounce pour of the Classic Margarita in a to-go pouch. The chain announced this special on their Instagram page.
Read ourBahama Breeze article for info on other specials, like Happy Hour and Empanada Tuesdays.
Beef 'O' Brady's
Each customer can get 50% off one margarita at Beef 'O' Brady's on February 22.  No one's telling you that you can only have one, though!  Here's the deal we spotted on their social accounts.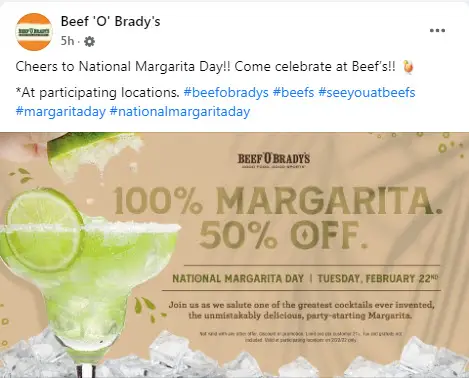 Chili's
Chili's is bringing you a cocktail party on National Margarita Day. On February 22, you can get $3 House Margaritas, $6 Presidente Margaritas, and $7 Premium Margaritas. Plus, their margarita of the month – the Grand Romance 'Rita – is $5 all February!
Go to our EatDrinkDeals Chili's page for info on other specials, like their 3 course for $10 and 2 dine for $25 deals.
Chevys Fresh Mex
Get $3 House Margs or go top shelf with $5 Cadillac Margaritas at Chevys Fresh Mex on February 22.  Chevys sent this email with the deal.
Chuy's
Chuy's is all about some margaritas all year long, so you know they are celebrating big for Margarita Day!  For just $2 more, make any regular House Rocks or Frozen Rita a Grande, and keep the commemorative cup.  Or, get a Floater for $1 more – an extra pour of tequila. You can also take advantage of their new $5 Queso appetizers special weekdays from 3-6 PM. You can add seasoned ground beef, guac, and pico for just a dollar extra. Here is the announcement on their Facebook page:
Duffy's Sports Grill
Get $5 El Jimador Margaritas all day long at Duffy's Sports Grill when you dine-in!  Duffy's announced the event on their website.
Visit our Duffy's page for info on Happy Hour and other daily specials.
Fuzzy's Taco Shop
Get $5 18-ounce House Margaritas – on the rocks or frozen – all day at participating Fuzzy's Taco Shop locations. The chain posted the deal on their website.
Greene Turtle
Score $1 Margaritas all day long at The Greene Turtle!  Here's the details.
Miller's Ale House
Miller's Ale House's is offering 50% off individual house, strawberry, and watermelon margaritas. Unfortunately, this offer will not be valid in Georgia (sorry to all of you in the Peach State!). Miller's announced the deal on their Facebook page and on their website.
For more info on daily specials and other deals, go to the our Miller's Ale House page.
O'Charley's
It's not specific to Margarita Day, but you can get House Margaritas at O'Charley's for $4 all day, every day.  Not bad. O'Charley's announced the deal on their website
Want info on more O'Charley's deals?  Read our O'Charley's article here.
On The Border Mexican Grill & Cantina is celebrating National Margarita Day with $5 House Margaritas for guests all day long frozen or on the rocks! Plus, you can top off your margarita with their Grand Marnier Meltdowns for 40 cents – in honor of the chain's 40th birthday!
To get info on more On the Border promotions and deals, like Endless Tacos and more, go to our EatDrinkDeals On the Border story.
Ruby Tuesday
Get $2 Mini Margaritas or $6 full grown ones at Ruby Tuesday, in addition to a bunch of other $2 items as part of its 2's Day celebration on February 22.  Ruby Tuesday has the details here.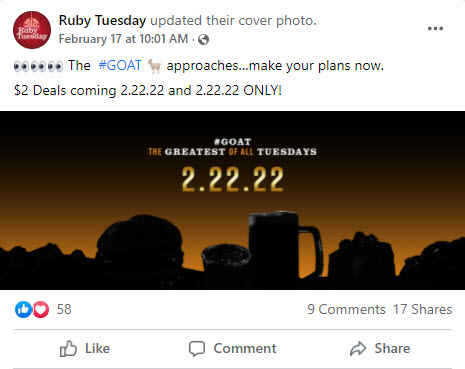 Get $2 margaritas all day long at Taco Cabana on February 22, and actually all day every day!  Choose from Lime, Mango, Strawberry flavors and more – maybe grab a couple?
For info on other specials like Happy Hour deals, visit our Taco Cabana page.
Uncle Julio's
Get a $5 Margarita at Uncle Julio's on February 22 from 3-6 PM during their happy hour.  Or, go premium style with the Strawberry Hibuscus Margarita for $12.50.  Uncle Julio's posted the news in this press release.