Looking for some pizza that's open near you?  We've all been there.  Sometimes, you just need some pizza.  Whether it's for celebrating an occasion, comfort food after a long day's work, or just getting something delivered to your door that you can eat with as little work as possible, pizza is always there for you.  And, pizza chains are constantly fighting for your business and your hard earned cash.  We've compiled the best pizza deals available right now!
Some ground rules:  We aren't including local coupons for pizza chains, because they can vary widely.  We are including coupon codes and daily deals that have been around for awhile and should last – there are often deals valid for only a day or two that we aren't going to include.  You'll see links to restaurant websites where you can confirm the deal and find further information.  We won't post deals that cannot be verified from a source such as the restaurant website, social media account, or press release.
Do you want to have great deals like these emailed directly to you? Click here to sign up for our newsletter!
Want to get info on other deals, discounts, coupons and specials from your favorite restaurants?  Click here to see the latest and greatest from EatDrinkDeals!
What Are The Best Pizza Deals You Can Get Right Now?
Papa Murphy's $6.99 Medium Pizzas
For a limited time, get Medium 2 Topping Pizzas from Papa Murphy's for $6.99 apiece.  No limit!  We spotted the deal on the Papa Murphy's online ordering page and on Facebook.
You should find this Papa Murphy's deal in the Classics and Specials section near the top.  The price is $10.99 in Alaska and Hawaii.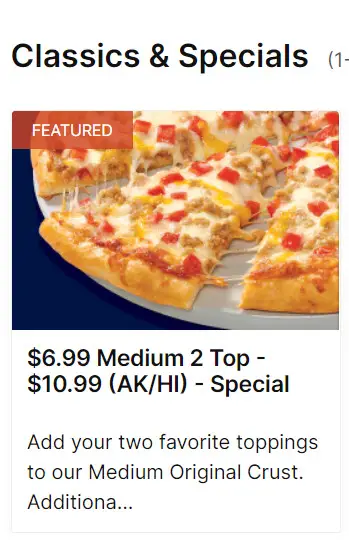 Papa Murphy's Pizza also has discount codes for a $10.99 special for any pizza on Tuesdays, and a $5.99 Large Thin Crust pizzas on Fridays.
For more info on these and other Papa Murphy's deals, click here for our Papa Murphy's page!
Pizza Hut's $6.99 Medium Pizzas
Pizza Hut has a new carryout deal where you can get 2 Medium 1 Topping Pizzas for just $6.99 each.  They've got the deal up on their homepage.
Click on the $6.99 deal and you should see this come up on your screen when ordering.  You can also try to ask for the deal when ordering over the phone, but the policy on this will vary by store.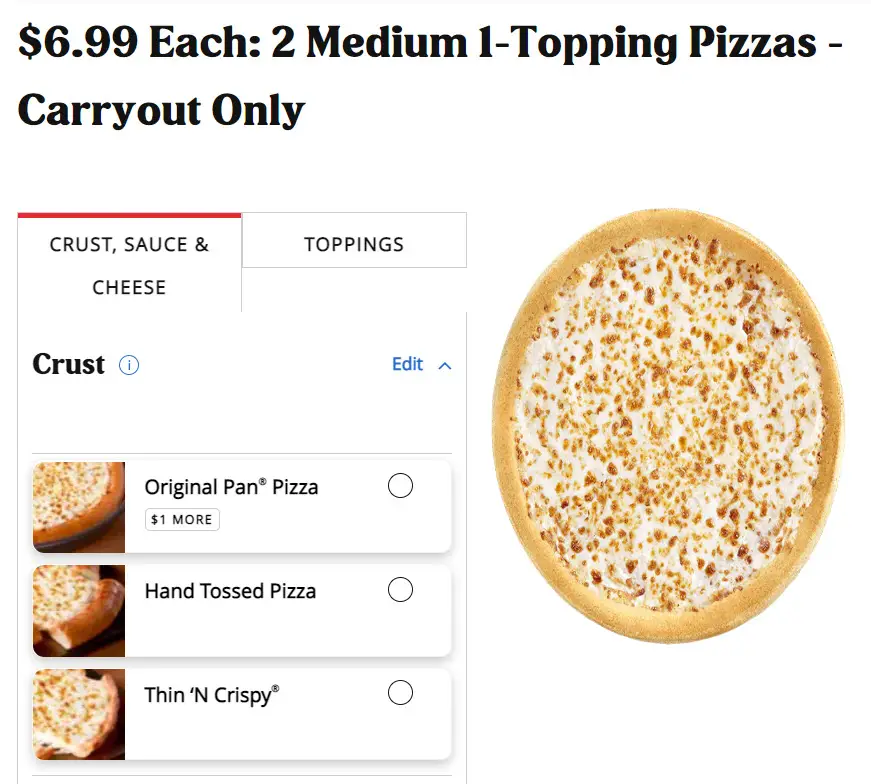 For more specials and deals at The Hut, click here to read our Pizza Hut story.
Domino's $7.99 Large 3 Topping Carryout and $5.99 Mix and Match
Domino's has a large three-topping pizza deal for carryout for $7.99 each every day, mix and match deals at $5.99 each like medium pizzas, and local coupons to help you save on pizza night!
To get the Domino's $7.99 special on a Large 3 Topping Pizza, an 8 piece order of Wings or Boneless Chicken, or a Dip and Twist Combo, you'll need to place your order online.  They won't honor the deal for phone orders anymore.  For more info and to place an order, click here for the Domino's website.
Also, mix and match two or more items from a select menu and get each item for $5.99 each.  For delivery orders, that's bumped up to $6.99.  Choose from medium 2-topping pizzas, 8-piece chicken (boneless or wings), Specialty Chicken, Stuffed Cheesy Breads, pastas and Oven Baked Sandwiches.  There's a two-item minimum order, and Handmade Pan Pizzas and bread bowls may be extra.  But other than that, this is a great way to get a variety of items to please everyone without breaking the bank!
For more info on these and other Domino's deals, click here for our Domino's Pizza page.
Marco's Pizza $8.99 Large 1 Topping Pizzas
Carryout unlimited $8.99 Large 1 Topping pizzas from Marco's Pizza!  They were rated America's favorite pizza chain recently, so chances are you'll like it.  Use coupon promo code 899TOGO to get the deal.  Marco's Pizza posted the deal on their website.
Blaze Pizza Online Specials Large Pepperoni for $8.95 and More
Blaze Pizza has online specials available every day like a pizza and fountain drink for $8.95, a $22 Meal Bundle and more.
To view the Blaze Pizza specials, Click here for the Blaze Pizza ordering page.
Select your location and click to start an order.
You'll see these offers in the Specials section of the menu in the left hand column (may vary by location):
$8.95 Party of One – 11 inch 1 topping pizza and fountain drink (pick up only)
$12 Large 1 Topping Pizza
$22 Cheesy Bread Bundle – Cheesy Bread, a 2 Topping Large Pizza, and 2 20 oz bottled drinks
$26 BFF Bundle – 2 BYO 11-inch pizzas + 2 fountain drinks + 2 Desserts
$27 Two Large 2 Topping Pizzas
For the full lineup and other deals, click here to go to our Blaze Pizza page!
Papa John's $6.99 Papa Pairings, 25% Off with Visa Card and Other Specials
Try the Papa Pairings at Papa John's for $6.99 each when you pair up two or more items.  Mix and match to your heart's desire with these items:
Medium 1 Topping Pizza
Papadias
Wings
Bread sides
Desserts
Or, save 25% at Papa John's when you enter promo code CHOOSEBETTER with your order!  Note this is off the "regular menu price" and can't be used in conjunction with other offers.  There are plenty of other ways to save, too – for full details and to place an order, go to the Papa John's Specials website here.  No coupon is necessary to score any one of these deals.
Catch up on all the deals here at our Papa John's page!
Little Caesars Hot-N-Ready Specials And Promo Codes
Little Caesars has Hot-N-Ready specials like a $3.49 Stuffed Crazy Bread, $5.55 Classic Hot and Ready Pizzas (with more Pepperoni), a $6.55 ExtraMostBestest Pizzas and other favorites.
Prices vary by location but typical Little Caesars deals include:
$3.49 Stuffed Crazy Bread
$3.99 Crazy Bread and Crazy Sauce
$5.55 Classic large Cheese, Pepperoni or Sausage (Classic Pepperoni Pizza now comes with 33% more Pepperoni)
$5 Lunch Combo from 

11:00 a.m. to 2:00 p.m.

 The lunch combo features four slices of Detroit-style DEEP!DEEP! Dish pizza, paired with a 20-ounce Pepsi product.
$7.50 Caesar Wings – Oven Roasted, BBQ, Buffalo, or Garlic Parmesan
$6.55 ExtraMostBestest Pepperoni, Cheese or Sausage Pizza
$12 Ultimate Supreme or Veggie Pizza
Here are some more promo codes from Little Caesars valid for online and app orders:
FANCYDEAL – get $1 off the Old World Fanceroni Pepperoni Pizza – valid through 11/6/22
CRAZY99 – get an order of Crazy Bread for just $0.99 with any pizza purchase – valid through 11/6/22
1599DEAL – get any large Specialty Pizza, Crazy Bread and sauce and a 2 Liter for $15.99 – valid through 11/6/22
For more details visit our Little Caesars page.
Hungry Howie's Pizza $6.99 Pizzas For Mix & Match
Get 2 Large 1 Topping Pizzas and 3 Cheeser Howie Bread for $20, $6.99 pizzas and other deals with these Hungry Howie's Promo codes.
$6.99 Mix and Match: Place an online order and enter promo code  MIXITUP to get 2 or more of these items for $6.99 each:  Medium one-topping pizzas; Antipasto; Greek Salad; Chef Salad; 8-piece wings and more items.   The price will be higher in certain metro locations.  You can start your order at:   https://hungryhowies.hungerrush.com/Account/LogOn/?promocode=MIXITUP (the promo code will be prefilled for you).
2 Large Pizzas and a 3 Cheeser Howie Bread $20: Place an online order and enter promo code  2LG3CB20 to get 2 Large 1 Topping Pizzas and a 3 Cheeser Howie Bread for $20.   You can start your order at:   https://hungryhowies.hungerrush.com/Account/LogOn/?promocode=2LG3CB20 (if you're logged into your Hungry Howie's account, the promo code will be prefilled for you at that link).
For a full listing of all the Hungry Howie's promo codes working right now, visit our site here.
Casey's Pizza Coupons And Promo Codes – $7 Off
Get $7 off 2 Large Specialty Pizzas, $5 off when you buy 2 Large 1 Topping Pizzas and more deals with these Casey's coupon codes.  Click here for Casey's Deals page, and click "Deals" to view this deal and others.  Then, you'll pick your location and put in your order.  It should look like this once you've selected your location: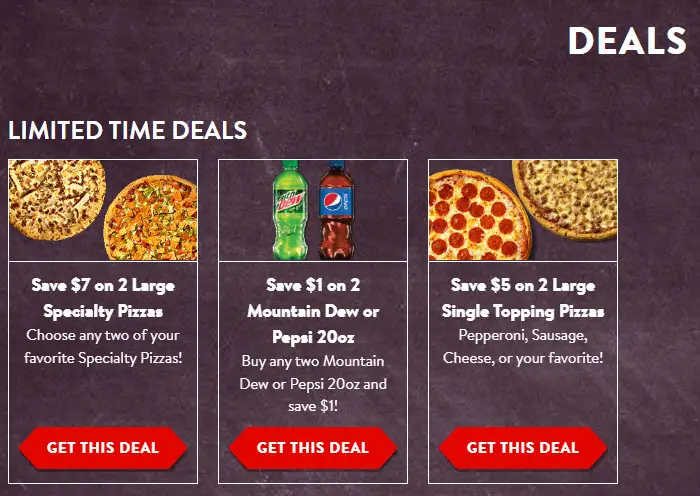 Jet's Pizza Deals, Promo Codes and Coupons
Jet's Pizza has 2 slices of pizza and a drink for $6.49, large pizzas for $13.99 and more deals.
Here are some typical Jet's Pizza deals (deals are local and will vary):
2 slices of Detroit style pizza and a 20 oz drink for $6.49
Large 3 Topping thin style Pizza for $13.99
Best of Jet's Pizza for $17.49
Large 1 Topping NY Style 1 topping Pizza for $14.29
Large Detroit-Style BBQ Chicken Pizza for $15.99
Best of Jet's Party Tray (3 Large Pizzas) for $41.97
You can find your local Jet's Pizza deals by entering your zip code in the Order Online for Hot Deals box on the Jet's Pizza Home Page.  Then click Order Online and click Hot Deals to view your local Jet's Pizza specials.
More Pizza Restaurants Open Near You
These are our favorite pizza deals open near you from all the major chains, but there's plenty more out there if we didn't cover your go-to joint.  Click here to visit the EatDrinkDeals Pizza Coupons, Promo Codes and Deals section and find the latest pizza coupons and pizza promo codes from favorite pizza chains near you.  We check codes and update our site every day!  You might find special promo codes and deals better than what we've listed here that are only good for a day or two.  We've seen the likes of 51% off at Hungry Howie's, $0.29 pizzas at Topper's Pizza, $3.14 pizzas at Blaze Pizza and tons of other places on March 14 (Pi Day… get it?) and more! Pizza deals can change on a dime, so here at EatDrinkDeals we update our website multiple times daily to ensure you've got access to the latest.