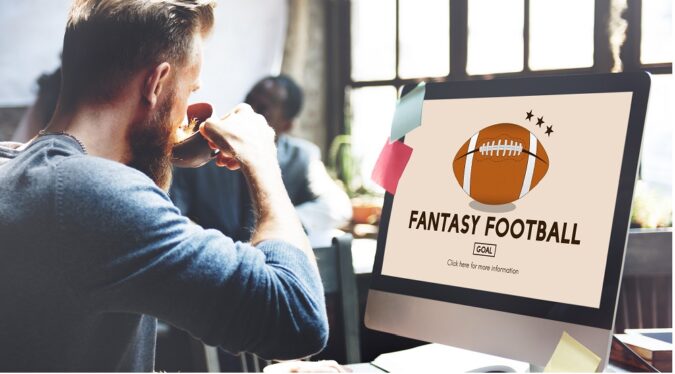 Football season is approaching. More importantly, that means fantasy football is just around the corner! 40 million people each week will put their rosters on the line for bragging rights and maybe a little bit of money. That also means the rest of us will once again have to constantly hear about fantasy football from our loved ones who are a part of that 40 million strong crowd. Cheers to another four months of reduced productivity at the office and fights with your friends. Get your league started off the right way by booking your 2019 draft party at one of these spots!
Get free draft kits, coupons for season-long savings and more deals when you host your 2019 fantasy football draft party at Buffalo Wild Wings, Carolina Ale House, Dave & Buster's, Fox & Hound (and related company Bailey's), Hooters, Hurricane Grill & Wings, Miller's Ale House, Primanti Bros., Topgolf or Wild Wing Cafe.
Here are current 2019 fantasy football specials from the nation's top sports bars, in alphabetic order. Check back soon for more specials.
Buffalo Wild Wings – Enroll to host your fantasy football draft party at Buffalo Wild Wings and get coupons and specials all season. The Bronze Bundle for $30 will get you 30 traditional or 40 boneless wings, plus 2 soft drinks. The Silver Bundle is $60, and gets you 2 orders of large wings, 3 shareables, unlimited soft drinks, and a VIP Commissioner Card that will give you 15% off your future visits throughout the entire season, with a $50 minimum purchase. The Gold Bundle for $100 gets you the VIP card, 4 orders of large wings, 4 shareables, and unlimited soft drinks. The VIP card is a great way to meet up with your leaguemates during the season to mock each other's pathetic rosters.
Carolina Ale House – Book your draft party at the Carolina Ale House and get a full draft kit with board, roster and materials, a Carolina Ale House Swag Bag, and a free order of nachos for every 3 people in your group.
Dave & Buster's – If you want to cool the tension of draft day by mixing things up with some video games, try planning your party at Dave & Busters. For 2019, the draft party deals come in two flavors. Valid Sundays through Thursdays from August 19 to August 30, 2019 you can get an unlimited wings and video games package for $19.99 per person. Or, valid anytime through the season kickoff on September 5, 2019 you can get 10% off food, games and non-alcoholic beverages. You need a 10 person minimum to qualify for either deal. Each package comes with a free draft kit and room rental. Visit the Dave & Buster's Fantasy Football website to book a party at your nearest location.
Fox & Hound and related company Bailey's Bar and Grill has free wifi, reserved seating, a special menu, and rewards for your draft party. Your group must be 8 persons or more to qualify for the deal. Draft kits are available on a first come, first serve basis. The special menu has items such as $6 Fat Tire Queso and Chips, $8 Cheeseburger and Fries, and $8 Boneless Wings, plus $8 craft beer flights, $5 New Belgium Fat Tire drafts, $6.50 32 ounce drafts of Miller Lite and Coors Light, and $7 Double Rye Whiskey Lemonade. Every member of your league will receive a reward card that offers a $10 off a $25 purchase for every month of football season (September through January). Visit the Fox & Hound Fantasy Football website or the Bailey's Bar and Grill Fantasy Football website for more information.
Hooters – Hooters wants to help you host your 2019 fantasy football draft party. Sign up to host a draft party at Hooters and receive a free Official Bleacher Report Draft Kit and season-long savings worth more than $200. Hooters draft party specials include said draft kit, Hooters swag (we could always use more koozies!) and coupons totaling more than $200 in savings all season long. Also, Hooters has partnered with FantasyDraft.com to offer guests their own league page with no setup or weekly fees. To sign up and schedule your event, visit the Hooters fantasy draft party website.
Hurricane Grill & Wings – Book your 2019 fantasy football draft party and get the complete kit featuring draft boards, sheets and timers for your draft, reserved tables, and as yet unnamed food and drink specials. To schedule your party, visit the Hurricane Grill & Wings website.
Miller's Ale House – Miller's Ale House has a 2019 fantasy football draft party package for $170. The draft party package includes the following food and drink items:
50 Chicken Wings
2 Tex-Mex Chile Chicken Nachos
2 Warm Bavarian Pretzels
2 Flatbreads
2 Fully Loaded Cheese Fries
2 Zingers of Mountain Melt
6 Pitchers of Miller Lite
Fantasy Draft Kit
Free Wifi.
Note that Miller's locations in GA, IL, MA and NJ instead have a $135 package that removes the pitchers of beer. But no one's saying you can't add that when you arrive!
Available through September 4, 2019. Minimum 8 persons. To sign up and schedule your event, visit the Miller's Ale House fantasy draft party website.
Primanti Bros. – For $15 per member of your draft party, guests will receive a Classic Primanti Bros. Sandwich, a draft kit, unlimited Loaded Nachos (for the whole table), and access to the Coors Light Pounder Buckers 4 for $8 deal. Also, for PA and WV locations, you get a VIP Fantasy Card which will get you a free beer with purchase every Sunday! Free beer = win. For more details visit the Primanti Bros. website or Facebook page.
Top Golf – Top Golf may not seem like the most logical place for a FOOTBALL draft party, but it's a great time nonetheless. For $300, you get a reserved indoor table for your draft of 8-16 guests, two craft beer quesos, two warm pretzel bites, two boneless wing trios, two flatbreads, unlimited coffee, tea and soft drinks, and a $120 bar tab credit. We confirmed this pricing at multiple Top Golf locations and dates, but check with your local spot to confirm. You can book your party at the Top Golf website.
Wild Wing Cafe – On Sunday, August 25th, participating locations will host Fantasy Draft Day at 4 pm. With a minimum party of 6, you can get all of the following FOR FREE: 30 Wings or Nuggets, 1 appetizer, and a Draft Board with Stickers. There will be prizes and giveaways during the party as well. Click here to view participating locations and call ahead to book your party. You can also call ahead and book a draft party on a different day to get other wing and appetizer specials without the prize giveaways.
How to Create or Join a Fantasy Football League
For more information about Fantasy Football, don't ask Joe from IT about it when you see him in the breakroom, or else you're gonna be stuck talking to him for at least 45 minutes. Check out the NFL website or ESPN Fantasy Football site where you can create a league, join a league, and participate in drawings for free prizes. If you fancy yourself and expert and want to make things interesting, check out sites like DraftKings, Fanduel or FantasyDraft and put your money where your mouth is.
About Fantasy Football (from Wikipedia)
Fantasy football is a game of skill in which the participants serve as the general managers of virtual pro football teams. The competitors choose their team rosters by participating in a draft in which all players of a real football league are available. Points are based on the actual performances of the players in real-world competition. The game typically involves the National Football League, Canadian Football League or college football.
There are two main types of fantasy football:
Traditional, in which the competition can run either for an entire season or many seasons if it is a keeper league, or
Daily, an accelerated version in which the contests are conducted over shorter periods, such as a week or a single day.
Daily fantasy football is managed by commercial internet companies who charge a percentage of each betting pool. In the US, the two largest of these firms are FanDuel and DraftKings.