National Margarita Day is on February 22, 2023, and we'll show you which restaurants have the best deals to help you celebrate in style!  Please drink responsibly, don't drink and drive, and share the love by tipping your server generously!
EatDrinkDeals includes links to restaurant websites where you can confirm the deal and find further information.  We won't post deals that cannot be verified from a source such as the restaurant website, social media account, or press release.
Do you want to have great deals like these emailed directly to you? Click here to sign up for our newsletter!
Margarita Day Deals For February 22, 2023
Abuelo's
Abuelo's is continuing its support of making America a better place this National Margarita Day. From February 15-22, Abuelo's will be emphasizing its premium margaritas:
El Jefe: Blend of ultra-premium, hand-selected Maestro Dobel Diamante Tequila, Agavero Orange Liqueur, and fresh citrus, topped with a grilled orange and kosher salt rim.
Skinny Margarita: Milagro Silver, fresh lime, zero-calorie sweetner, and kosher salt rim.
Platinum Hand-Shaken Margarita: El Jimador Silver Tequila, Agavero Orange, fresh citrus, and kosher salt rim.
Bahama Breeze has a margarita special lined up for you on February 22. Guests can get classic margaritas for $2.22 all day long when they dine-in at participating locations. Bahama Breeze posted the offer on their website.
Read ourBahama Breeze article for info on other specials, like Happy Hour and Empanada Tuesdays.
Chili's
Chili's is bringing you a cocktail party on National Margarita Day. On February 22, you can get the Tequila Trifecta, Straw-Eddy Rita, and Grand Romance Rita for $5 all day long. Plus, guests who order one of the $5 margaritas will also get an exclusive cup to keep!
Go to our EatDrinkDeals Chili's page for info on other specials, like their 3 for Me $10.99 offer and $10 LunchBreak Combos.
Chevys Fresh Mex
Chevys is offering their new Margarita Flight for $10 on National Margarita Day. You will get three of their classic House Margaritas: Strawberry, Mango, and Signature. Note that this offer is for dine-in only.
Chuy's
Chuy's is all about some margaritas all year long, so you know they are celebrating big for Margarita Day!  For just $2 more, make any regular House Rocks or Frozen Rita a Grande, and keep the commemorative cup.  Or, get an extra pour of tequila or orange liqeur for a dollar more.
Plus, from February 20-26, Chuy's will be serving their newest margarita: The Rock's Spicy 'Rita. This margarita is made with Dwayne "The Rock" Johnson's 100% Blue Agave tequila, Teremana Blanco, infused with jalapenos and served with fresh lime and pineapple juice on the rocks. If you order on February 22, you also get the giveaway cup! Chuy's posted about Margarita Day on their Facebook page.
Fuzzy's Taco Shop
Get $5 18-ounce House Margaritas – on the rocks or frozen – all day at participating Fuzzy's Taco Shop locations. The chain posted the deal on their website.
Glory Days Grill
Glory Days is offering $3 Homerun Margaritas from February 20-22. You will also get a special collectible cup!
Greene Turtle
Score $1 Margaritas all day long at The Greene Turtle!  Here's the details.
Hooters has some margarita specials for both Fat Tuesday on February 21 and Margarita Day on February 22. Get $5 Hurricanes on Fat Tuesday, or this lineup on Margarita Day:
Legendary Margarita Pitcher $12.50
Patrón Shots $5
Perfect 10 Margarita $5
Legendary Rita $5
Bosscal Mezcal Tequila $5
Miller's Ale House
Miller's Ale House's is offering House Margaritas for $2.22 on National Margarita Day. Guests can also ask to upgrade their House Margarita to a Sauza Hornitos Tequila for just $2.22 more. Unfortunately, this offer will not be valid in Georgia (sorry to all of you in the Peach State!). Miller's announced the deal on their website.
For more info on daily specials and other deals, go to the our Miller's Ale House page.
O'Charley's
It's not specific to Margarita Day, but you can get House Margaritas at O'Charley's for $5 all day, every day.  Not bad. O'Charley's announced the deal on their website.
Want info on more O'Charley's deals?  Read our O'Charley's article here.
On The Border Mexican Grill & Cantina is celebrating National Margarita Day by offering guests their signature Grande House Margarita for $5. You can also get the returning Sangria Swirl Margarita for $6 and Meltdown Specials for 99 cents more.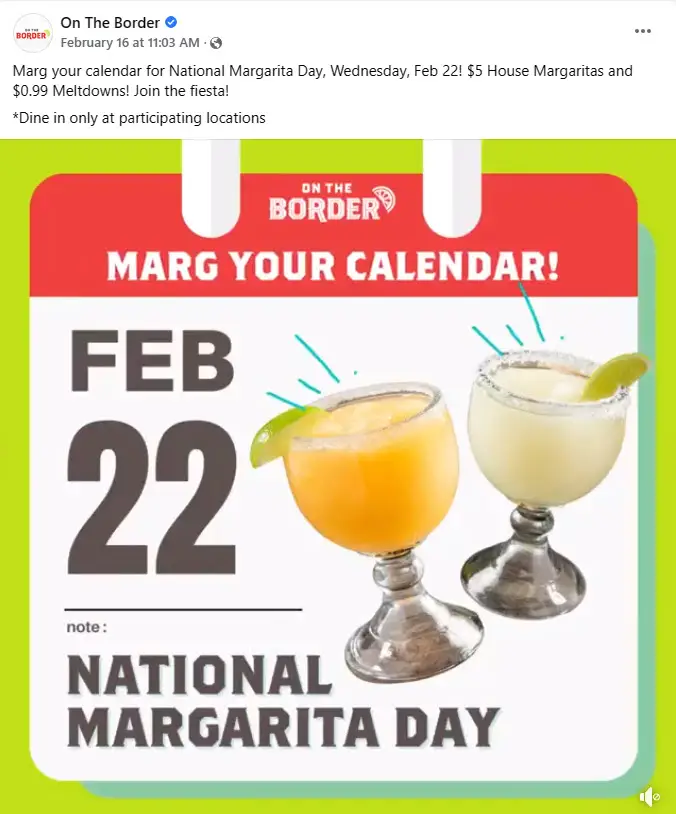 To get info on more On the Border promotions and deals, like Endless Enchiladas and more, go to our EatDrinkDeals On the Border story.
Ruby Tuesday
Ruby Tuesday is offering margarita specials from February 17-22. You can get $5 Ruby-Ritas available in lime, strawberry, raspberry, peach, mango, and wild berry. You can also get their Top Shelf Margarita for $8 which is available in traditional lime and served either with a float of Grand Mariner or one of their strawberry, raspberry, peach, mango, or wild berry fruit flavors.
On February 21 and 22, Taco Cabana will be offering guests a Double Crunch Pizza & Margarita Bundle for $6.99. Guests can choose any one of Taco Cabana's 12 margarita flavors and couple it with a Double Crunch Pizza flavor of their choosing. Pick from Shredded Chicken, Chorizo, Egg, or Original Ground Beef.
For info on other specials like Happy Hour deals, visit our Taco Cabana page.