St. Patrick's Day is Friday, March 17, and we all know what that means.  Get ready for green beer, and bagels, and milkshakes, and everything else imaginable.  Or, you can stick with more traditional fare like corned beef and cabbage.  Plus, wear green to avoid being pinched, of course. Having the holiday on a Friday is sure to bring some extra shenanigans to the whole affair. Some of these deals are valid only on St. Patrick's Day, and others are valid for a few more days before or after the holiday to give you a better chance at taking advantage of them.  Don't spend your whole pot 'o gold – use our St. Patrick's Day Restaurant Deals Guide and save some cash!
Do you want to have great deals like these emailed directly to you? Click here to sign up for our newsletter!
St. Patrick's Day Restaurant Deals
99 Restaurants has a special St. Patrick's Day menu to celebrate the holiday. The lineup has appetizers like Irish Fries Are Smilin', entrees like Fish & Chips and the Corned Beef Dinner, and cocktails like the Irish cream Martini. You can get this menu for dine-in or to-go at 99 Restaurants on March 16 and 17. Beverages cannot be purchased to-go and pricing and participation may vary depending on location.
Arby's
Arby's is now serving their Corned Beef Reuben Meal with 7 oz. of thinly sliced corned beef to celebrate the season. They've also got the Mint Chocolate Shake if you need some more green in your meal to get into the St. Patrick's Day spirit!
For other deals and coupons, like their 2 for $6 Value Menu of sandwiches, here's our  Arby's page.
Auntie Anne's
Auntie Anne's has some March Madness that align perfectly with St. Patrick's Day! Firstly, they have new combos like a Bucket of Original Nuggets with 2 Medium Drinks, Bucket of Cinnamon Sugar Nuggets with 2 Medium Drinks, and Bucket of Mini Dogs with – you guessed it – 2 Medium Drinks. Auntie Anne's is also offering free delivery on all gamedays for orders placed online or through the app (yes, March 17 is a gameday). Rewards members can also partake in the Auntie Anne's Pretzel Mania Challenge. Rewards members who order twice between March 9 and April 5 will get a free Original or Cinnamon Sugar Pretzel. Guests who order 3 times in that same period will be entered to win a prize pack featuring a Pretzel Bucket and Auntie Anne's and Coke swag.
Bar Louie
Bar Louie has drink specials on St. Patrick's Day. Options include $3 Bud Light Green beer, $4 Jameson Sidecar, $5 Guinness Draught, and an $8 Irish Old Fashioned. That's made with Jameson Irish Whiskey, house-made Guinness infused syrup and cocoa bitter, and garnished with an orange slice.
Get 20% off your order of $15 or more with a Boston Market coupon valid through March 18. Show this coupon to your server, or use promo code 30731 for online orders.
Carrabba's
It's Family Week at Carrabba's! Order an adult entree and get a free Kids Meal for ages 10 and under. Just mention the offer to your server when ordering. Carrabba's sent this message with the deal, which is valid through March 19.
Go to our Carrabba's page for info on other specials, like their ever-popular wine dinners held monthly.
Enjoy drink specials like $4.50 Guinness pints and $5 Jameson shots at Carolina Ale House.  They posted the news online.
Chili's
Chili's is in the St. Patrick's Day mood with the Lucky Jameson Margarita available now through March 31.
Read our Chili's article here for info on other specials, like their 3 courses for $10.99 menu.
Culver's
Culver's is serving their Mint Shake made with fresh vanilla frozen custard hand blended with milk and mint flavoring.
Dave & Buster's
Dave & Buster's has Happy Hour specials Monday-Friday and St. Patrick's Day should be no different.  To view the Happy Hour times and menu for your Dave & Buster's, select your location here for specific info.  For more details on this and other deals, like Happy Hours, read our Dave & Buster's story here.
Dairy Queen is now serving their new Mint Brownie Blizzard with the perfect amount of green and deliciousness to get you in the St. Patrick's Day spirit! You can order one now by clicking here!
Check out our Dairy Queen page here for more deals and specials like their 2 for $4 Menu and $6 Meal Deal, and app coupons for more savings!
Duffy's
Duffy's is offering Irish favorites all day long on St. Patrick's Day. They have Corned Beef and Cabbage for $14.99, Green Miller Lite Pints for $3, Guinness Pints for $5, and Jameson Shots for $5. They also have Irish-themed menu items like Loaded Potato Soup, Irish Potato Skins, Reuben Burger, and Shamrock Pie through April 3. Click here to find a Duffy's near you!
To learn about more specials at Duffy's, like their Thursday Rib Special, click here.
Through March 18, order $15 or more from Dunkin' via Grubhub and you can get a free beverage up to a $5 value. No promo code is required, and you can get the deal once per day. Start your order here. To view the full terms of the offer, check out the Grubhub page here.
Check our Dunkin' page for info on other specials, like $1 doughnuts and free coffee all month long.
Kids eat free with a Genghis Grill coupon valid through March 17! Show this coupon to your cashier and get up to two free kids meals per adult meal. Only kids 10 and under qualify. The offer is only valid for dine-in or takeout orders (just mention it when you call ahead), but not online.
Greene Turtle
Get drink specials like $3 domestic pints, $5 Jameson whiskey and more at The Greene Turtle. Here are the St. Patrick's Day details.
IHOP
IHOP is putting the spotlight on its Crepes with a buy one, get one free deal valid through March 26. Get two Crepes entrees for the price of one when you dine-in. Just mention the offer posted on the IHOP website to your server. You can't get this special on takeout or delivery orders. Sweet crepes options include Lemon Ricotta Blueberry, Cinnamon Bun, and Fresh Berry. If you're not feeling sweet, there are Savory Crepes such as Chicken Pesto and more options.
Jamba
Get a buy one, get one 50% off special at Jamba on green smoothies on March 17. You need to be a Rewards member to get the deal. Try it out on the limited time smoothie of the month – the Luck of the Tropics Smoothie. This delicious drink features passion mango juice, oat milk, kale, and mangoes. As a part of Jamba's Mystery Menu, you can only order it online or through the app!
Jimmy John's
Get $5 off an order of $20 or more with a Jimmy John's promo code. Start an online order here and promo code 5OFF20.
Here's what the code looks like after you've applied it at checkout: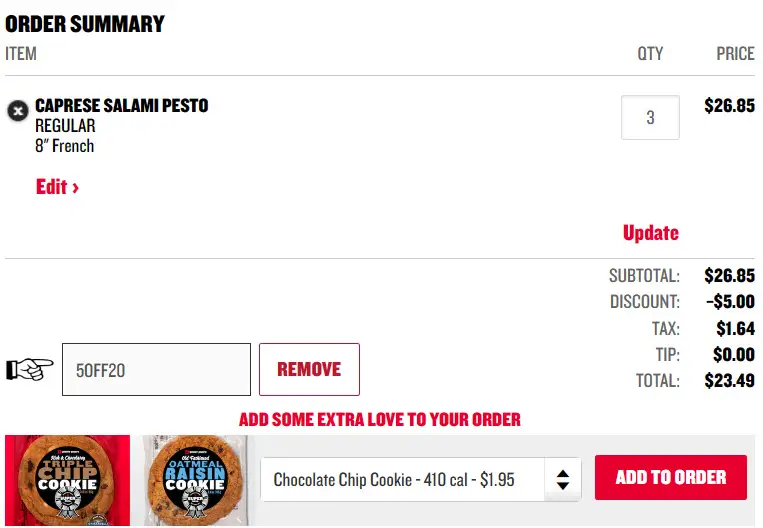 On March 16 and 17, Krispy Kreme will be bringing back their O'riginal Glazed Doughnut (a green Original Glazed doughnut), available to be purchased as a dozen. You can snag one for free if you show up wearing green on the 16th or 17th!
Krispy Kreme also has a limited-time St. Patrick's Day Collection. This will feature four festive doughnuts in a custom St. Patty's Day box:
Golden Cookies & Kreme Doughnut: A golden cookie Kreme filled doughnut shell dipped in white icing and covered in golden cookie pieces and a gold sprinkle blend.
Hat O' Gold Doughnut A chocolate iced doughnut decorated with a plaid green icing pattern and topped with a leprechaun hat sugar piece.
Golden Sprinkle Doughnut – An Original Glazed doughnut dipped in green icing and topped with a gold St. Patrick's Day sprinkle blend.
Rainbow Kreme Filled Doughnut – An unglazed shell filled with Kreme™, topped with green icing and decorated with a rainbow sugar piece, vanilla buttercream, and gold coin sprinkles.
Find more details on this and other deals and limited time doughnuts on our Krispy Kreme page.
Long John Silver's
When you order online at Long John Silver's, you can get $5 off an 8-piece Family Meal or get a second platter for free when you buy one. Use code LENTFAM to get the Family Meal deal and use code LENTBOGO for the platter deal.
For other coupons and promotions, read our Long John Silver's story here.
McDonald's
Yup. The green Shamrock Shake that we all know and love is back at McDonald's for some Irish kinda treats, and the Oreo Shamrock McFlurry is back too.
Get more details on the Shamrock Shake and other menu deals on our McDonald's Menu page here.  For app coupons to help you save even more, read our McDonald's Coupons article here.
Miller's Ale House
Miller's Ale House has food and drink specials available through March 26 in celebration of St. Patrick's Day. Here's the lineup:
Irish Egg Rolls ($11.99): Egg rolls stuffed with corned beef, sauerkraut, bistro sauce, and Swiss cheese. Comes with a side of bistro sauce.
Miller's Ale House Reuben ($15.99): Thinly sliced corned beef, Swiss cheese, sauerkraut, and 1000 Island dressing served on Rye bread.
Irish Mule Pitchers ($13.95)
Irish Breakfast and Green Tea Shots ($5)
Guinness 20 oz. Draft ($5.99)
For more info on daily specials and other deals, check out our Miller's Ale House story.
Noodles & Co
Noodles & Company Rewards members can get $5 off $25 now through March 23. To sign up and get in on the savings, visit Noodles & Company Rewards.  There's also other perks that are changing all the time.Noodles & Co posted the offer on its socials.
O'Charley's
Get $10 entrees and $1 beers at O'Charley's on March 16-17 to celebrate St. Patrick's Day! Entree options are the Fish & Chips, Chicken Tenders and Fries and the Classic Cheeseburger. O'Charley's posted the deals online.
Panera
Get 25% off an order of $5 or more, up to a savings of $5, with a Panera promo code valid for online or app orders through March 31! Click here to start an online order on the Panera website and click Order Online at the top. You'll have to create a MyPanera account with your email to use the code (it only takes a minute). At checkout, use promo code PANERA25.
Note that not all locations participate, but it worked for us about 3/4 of the time. Also note that it's a one-time use, per MyPanera account. Here's how it looks at checkout with the code:
Raising Cane's
Raising Cane's will be offering Leprechaun Lemonade for St. Patrick's Day – it's the same Raising Cane's lemonade you know and love, just green! Even better, get a FREE Green Lemonade with a promo code valid through March 17! Start an online order here and use promo code FEELINGLUCKY to scoop the free drink. Here's what the code looks like when applied at checkout:
Get 50% off Green Bowls and Smoothies with a Rush Bowls promo code valid online through March 19. Start an online order here and use promo code LUCKY. Rush Bowls sent this message with the code.
Get 17% off your order with a Slim Chickens promo code valid on March 17 for St. Patrick's Day. Start an online order and use promo code GIMMEGOLD at checkout and get your party going. You'll have to sign up for a Slimthusiast account for the code to work, but that only takes a minute. Read below for more info on that. Slim Chickens posted the promo on their social channels.
Smashburger
Buy one Battered Pacific Cod Sandwich and get one free at Smashburger on St. Patrick's Day! CLICK HERE for the list of participating locations listed on the Smashburger website.  Most locations are honoring the deal. For online orders, use promo code FISHFRIDAY at checkout.
TGI Fridays
TGI Fridays has drink deals on the "Happy Every Hour Menu" for St. Patrick's Day. Some specials include $2 beers, $4 cocktails, and $5 wine. You can also get deals on Miller Lite Drafts, Dark Horse Chardonnay, and Canyon Road Cabernet Sauvignon along with cocktails such as Electric Lemonade, Whiskey Sour, and Tequila Sunrise.
The Greene Turtle
The Greene Turtle is celebrating St. Patty's Day with drink specials. Get $3 Domestic Pints, $5 Guinness Pints, $5 Jameson, $5 Turtle Crawl, $5 Irish Car Bombs, and $4 Greene Tea Shooters! Plus, The Greene Turtle will also be offering Battered Fish N' Chips! Be sure to confirm these offers with your local restaurant before going.
Wendy's
The Wendy's app always has coupons running to save you some cash.  Maybe the best one going right now is a Dave's Single for just $1 when you order via the app. For more details on this and other offers, check our Wendy's coupons page.
White Castle has a coupon on tap for St. Patrick's Day. Buy 2 Cheese Sliders and get 2 for free on the special day. You can find it here: https://www.whitecastle.com/value-offers
Yard House is the place to be on St. Patrick's Day if you're a beer lover. Guests can order draft pours of fresh Guinness or order it blended with a choice of House beers which includes: House Honey Blonde Ale, House IPA, or House Cuvee. A festive cocktail option is the Dublin Mule, which is Jameson Irish Whiskey blended with Guinness Dry Irish Stout, citrus agave, and ginger ale.
More details on other great Yard House specials, like 1/2 priced apps during Happy Hour, can be found in our Yard House article here.
Zaxby's
Spend $15 or more in the app and get a free Chicken Bacon Ranch Loaded Fries with a Zaxby's coupon on St. Patrick's Day. You can get the app here. The Fries are normally $7.99 apiece, so this is a nice pickup. Zaxby's sent this message with the news.
St. Patrick's Day Dining Statistics
St. Patrick's Day is a cultural and religious holiday that is celebrated annually on March 17th. The holiday is named after Saint Patrick, who is the patron saint of Ireland. St. Patrick's Day is a public holiday in Ireland, and it is also widely celebrated in other countries around the world. The origins of St. Patrick's Day can be traced back to the early 17th century when it became an official feast day in the Catholic Church. The holiday is associated with many traditions and symbols, such as wearing green clothing and shamrocks, which are considered to be lucky.
St. Patrick's Day celebrates Irish culture and heritage. Many people take part to enjoy traditional Irish foods, drinks, and music. Corned beef and cabbage, Irish soda bread, and Guinness beer are all popular foods and drinks associated with the holiday.
St. Patrick's Day has also become an excuse to have a big party. Lots of people dress up in green costumes and go to parades and other festive events. Restaurants and bars love it. According to statistics from the U.S. Census Bureau, 46% of adults plan on celebrating St. Patrick's Day, while 20% of adults plan on having a drink to celebrate.  We would submit to the viewing public that about 80% of adults don't respond truthfully in surveys!