National Cheeseburger Day is Monday, September 18.  Where can you get a great deal to celebrate?  Read our Cheeseburger Day Deals roundup to learn more!
Also, you can find lots of every day burger deals here on EatDrinkDeals.
National Cheeseburger Deals In Alphabetical Order
Applebee's
Get a Classic Handcrafted Burger with fries for just $8.99 at Applebee's on September 18 to celebrate National Cheeseburger Day. Choose from a Classic Burger, Classic Cheeseburger, or Classic Bacon Cheeseburger. The deal will be available in-restaurant and for online orders.
"Applebee's fresh, never frozen Handcrafted Burgers are an American favorite – and the perfect way to celebrate National Cheeseburger Day," said Joel Yashinsky, Chief Marketing Officer at Applebee's in this press release. "Whether dining in or ordering To Go through Applebees.com or our mobile app, we can't wait to celebrate National Cheeseburger Day with our guests via this unbeatable deal!"
For info on other deals like All  You Can Eat Boneless Wings, click here for the EatDrinkDeals Applebee's page.
National Cheeseburger Day arrives on September 18, and BurgerFi is offering $3 Double Cheeseburgers with the purchase of a Coca-Cola Freestyle Beverage.
"As America's favorite better burger brand, our guest's love for our sensationally indulgent burger continues to resonate," said Carl Bachmann, Chief Executive Officer of BurgerFi in this press release. "There's no better way to celebrate National Cheeseburger Day than with our great product, great service, and great experience. It's a win for the guest, a win for our team members who are passionate about serving this great product, and a win for our stakeholders."
On Monday, September 18th get a free cheeseburger with any $1 purchase at Burger King. You'll need to be a Royal Perks member and order online or in the app for the free burger.   Sign up for Royal Perks here.
Get a free Cheeseburger with any other purchase of $1 or more with a Dairy Queen coupon valid for online or app orders for National Cheeseburger Day. Sign up for Rewards to get ready for the big day.
Rewards members can also get $0.85 Blizzards now through September 24! Read our story here to learn more.
Celebrate National Cheeseburger Day on September 18 with a $5.99 Cheeseburger at Dog Haus. That's about half off the normal price. Just text "Cheeseburger" to 833-440-1110 and they'll text you back with a coupon, like this:
Duffy's Sports Grill
Get the Duffy's Original Cheeseburger with fries for $6.99 for dine-in or takeout with the purchase of any beverage on September 18.  Here's the Facebook post with the deal.
Frisch's Big Boy
Buy one burger and get another free at Frisch's Big Boy on September 18. Mention this offer posted on their Facebook page.
Get Classic Burgers for $7.99 or Specialty Burgers for $9.99 at Glory Days Grill on Cheeeseburger Day. This is actually a deal you can snag EVERY MONDAY for dine-in orders. Here are the details from the sports bar chain.
Islands Restaurants
Rewards members can get the Double Stack Cheeseburger with fries for only $10.99 at Islands on September 18. You can sign up here if you want to get in on the fun.
Get $1 Cheese Krystals on September 18 when you order online or in the Krystal app to celebrate Cheeseburger Day. Here are the details.
McDonald's
Get a $0.50 Double Cheeseburger on September 18 at McDonald's with an app coupon! You can download the app and get more details on the McDonald's Weekly Deals at the McDonald's App Site. Open up your app to the Deals section and you should see this: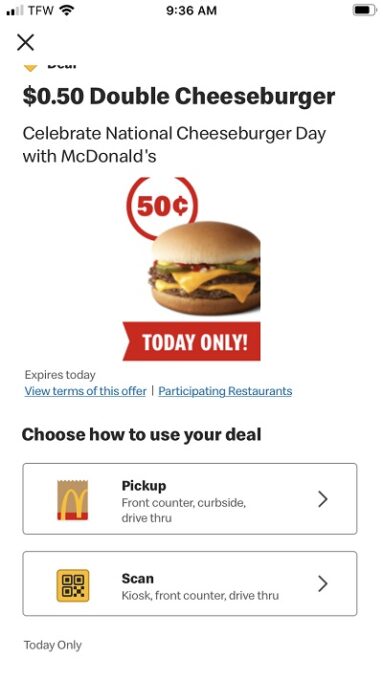 Click here to read our McDonald's story for more info on their $3 and under menu deals and more.
Miller's Ale House
Get the Classic Cheeseburger paired with perfectly seasoned french fries for just $9.99 at Miller's Ale House.
Our Miller's Ale House story has info on other specials, like their weekday daily deals – click here to check it out.
MOOYAH
Get a free build-your-own cheeseburger with purchase of fries and a drink or shake for MOOYAH's Cheeseburger Day.  You'll need to download the Rewards App to score the free cheeseburger.  Click here to download the app.  MOOYAH posted the deal on Facebook.
99 Restaurants
Dine in at 99 Restaurants on September 18 and enjoy $6.99 Cheeseburgers all day. Mention the offer posted on their social media here to your server.
O'Charley's
Get a Classic Cheeseburger, Better Burger or Patty Melt for only $6 when you order a beverage at O'Charley's on September 18. Here are the details.
For more specials like $7 Tenders and Fries on NFL Gamedays, go to our O'Charley's story here.
Smashburger is turning National Cheeseburger Day into a 3 day party – get $5 Classic Singles from September 18-20. You can get the deal for online orders with promo code CLASSIC23. Choose from Classic Singles, Classic Single Turkey Burgers and Classic Single Black Bean Burgers. Smashburger has the deal news posted on their deals page.
Veggie Grill
Do veggie burgers count? Sure, why not! Buy one VG Classic Burger made with a Beyond Meat burger patty and get one free at Veggie Grill on September 18 – here are the details.
Celebrate National Cheeseburger Day at Wayback with buy one, get one free Classic Burgers on September 18. The offer is valid for in person or online orders. We spotted the good news on their social media channels.
Wendy's
Wendy's will offer a free Jr. Bacon Cheeseburger with any other purchase with a coupon valid for online or app orders from September 18-22.
Wendy's Rewards members get all sorts of other perks all the time – check out our story here to learn more.
Buy one Original Cheese Slider and get one free with a White Castle coupon valid from September 18 – 20. Three days to grab this deal! Get the coupon here on the White Castle offers page.
Learn more about other offers here on our White Castle page – like their new French Toast Sliders.