National Cheeseburger Day is Friday, September 18, 2020.  Where can you get a great deal to celebrate?  Read our Cheeseburger Day Deals roundup to learn more!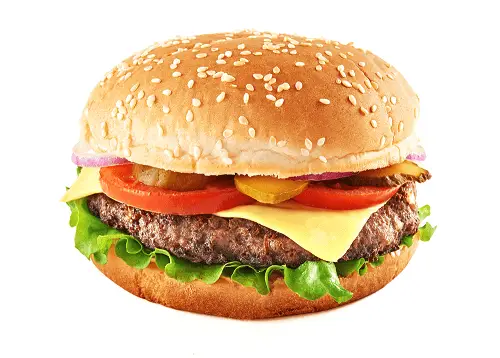 EatDrinkDeals has confirmed all National Cheeseburger Day specials from verifiable sources such as the restaurant website or social media page.  We won't leave you hanging on such a special day!  We constantly update the page as restaurants announce more specials, so check back before the 18th.
Also, you can find lots of every day burger deals here on EatDrinkDeals.
Email us at editor@eatdrinkdeals.com if we've missed any!
Want to get info on all the deals, discounts, coupons and specials from your favorite restaurants?  Click here to see the latest and greatest from EatDrinkDeals!
Do you want to have great deals like these emailed directly to you? Click here to sign up for our newsletter!
National Cheeseburger Deals In Alphabetical Order
Applebee's
Get a Burger Bundle with your choice of any Handcrafted Burger, classic fries and a soft drink for just $8.99 on National Cheeseburger Day at Applebee's.  The offer is valid for dine-in, to go or delivery.  Normally a burger with a drink would be about $14 – $15.
"This year, we've taken National Cheeseburger Day to the next level," says Joel Yashinsky, Chief Marketing Officer at Applebee's in this press release. "It was too hard to pick just one burger to celebrate the holiday, so we're letting our guests choose from any one of our Handcrafted Burgers in a Burger Bundle with classic fries and a soft drink. We're making it easy to enjoy our best-in-class burgers, with all the fixin's included."
If you're ordering online (click here to start an order) on the 18th, pick the Burger Bundle option to get the deal.
For info on other deals like how to get $5 off your first online order, or the Family Bundles, click here for the EatDrinkDeals Applebee's page.
BurgerFi
Now through September 30, get a BurgerFi Cheeseburger and an order of Fresh-Cut Fries for just $10. Normally, that'd run you about $12 depending on your location. BurgerFi announced the deal on their website and on Facebook. Now, here's the good part – if you order in the BurgerFi app (or scan it in-store) and spend at least $10 on September 18, you'll get a $10 Reward valid from September 19 – October 11!  We don't have any math whizzes around here, but we thinks that equates to a FREE burger and fries…
Burger King
There's lots of options at Burger King for Cheeseburger Day.  You can get 2 Whoppers for $5 from the Mix n' Match menu, or the $3 Value Meal Deal with a Double Cheeseburger and value sized fries and drink.  Click here for the EatDrinkDeals Burger King deals page to learn about these and other BK specials.
Dog Haus
Celebrate National Cheeseburger Day on September 18 with a $5 Cheeseburger at Dog Haus.  That's about half off the normal price.  You can get the deal when you order order pickup or delivery through the Dog Haus app, or in-store if you scan with your app.  So, you're gonna need this Dog Haus app for the deal.  Click here and enter your email, and Dog Haus will send you a link to get the app for your mobile device.
Domino's
If you want to get a little crazy on Cheeseburger Day, how about the Cheeseburger Pizza at Domino's for $11.99?  It's made with a ketchup-mustard sauce, American cheese, hamburger, onions, tomatoes, and shredded provolone and cheddar cheeses.
To learn more about other specials like $7.99 large 3 topping pizzas for carryout, and $5.99 Mix and Match deals, click here to read our EatDrinkDeals Domino's Pizza article.
Duffy's Sports Grill
Get the Duffy's Original Cheeseburger with fries for $5.99 for dine-in or takeout 11 am – 3 pm on September 18.  Here's the Facebook post with the deal.
For more Duffy's deals like Early Bird deals and Daily Specials, click here to read the EatDrinkDeals Duffy's article.
Farmer Boys
Get The Big Cheese cheeseburger at Farmer Boys for just $2 from 2 pm – 5 pm.  You can get up to 4 at the special price.  Not all locations participate, so check the website to make sure your spot honors the deal.  Also, if you're a member of the VIF Loyalty Club, scan your Farmer Boys receipt in from National Cheeseburger Day and you can get another $2 Big Cheese offer loaded into your account.  Farmer Boys posted the deal on their Facebook page.
Click here to visit the EatDrinkDeals Farmer Boys page and learn about other deals, like their Happiest Hour specials from 2-5 pm.
Friendly's
Friendly's will be celebrating National Cheeseburger Day with a free small sundae with any burger purchase. You'll need to be in the BFF club to get the deal, which is valid on dine-in only.  Sign up for the BFF club on or before 9/18 for the deal.  Click here to get signed up for the free ice cream. 
Halo Burger
Halo Burger is celebrating their 97th birthday on National Cheeseburger Day.  Get a QP Burger for $1.97 if you're a Halo Rewards member before September 18.  To signup, click here to go to the Halo Burger website.
McDonald's
We've got a twofer for you at McDonald's!  Be like Travis Scott and get his favorite combo – a Quarter Pounder with Cheese, Bacon, and Lettuce, Fries with BBQ Sauce to dip, and a Sprite – for just $6 at McDonald's.  McDonald's posted the news on their website and on their Youtube Channel.
Click here to read our EatDrinkDeals McDonald's story for more info on the new Spicy McNuggets, $3 and under menu deals and more.
OR, get a $0.50 Double Cheeseburger on September 18 at McDonald's with an app coupon!  Open up your app to the Deals section and you should see this: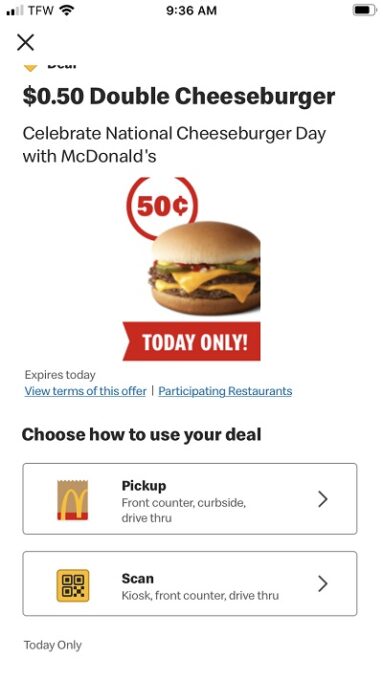 You can download the app and get more details on the McDonald's Weekly Deals at the McDonald's App Site.
Miller's Ale House
Get the Classic Cheeseburger paired with perfectly seasoned french fries for just $5.99 at Miller's Ale House.  The offer is available from 11 AM – 3 PM for dine-in, takeout and delivery.  Miller's has the Cheeseburger Day deal announcement up on its website.
Our EatDrinkDeals Miller's story has info on other specials, like their weekday daily deals – click here to check it out.
MOOYAH
Get a free build-your-own cheeseburger with purchase of fries and a drink or shake for MOOYAH's Cheeseburger Day.  You'll need to download the Rewards App to score the free cheeseburger.  Click here to download the app.  MOOYAH posted the deal on Facebook.
O'Charley's
Get a Classic Cheeseburger with a beer or soft drink for just $10 at O'Charley's through September 18.  The deal is in honor of National Cheeseburger Day on Friday, September 18, but O'Charley's wants to celebrate all week long.  Here's the info from the O'Charley's Facebook page.
* Dine-in only.  Valid for 14-oz Bud Light, Miller Lite or Michelob Ultra.  Selection may vary by location.  At participating locations.
For more specials like $5.99 lunch deals and Family Meals to-go or for delivery, click here to read our EatDrinkDeals O'Charley's story.
Red Robin
National Cheeseburger Day is September 18, but Red Robin is starting the party early with a buy one, get one 50% off all Gourmet and Finest Burgers now through September 20!  Red Robin sent word of the 50% off deal in this email.  Just mention BOGO to get the deal if you're dining in.  If you're ordering online, use coupon promo code BOGO at checkout for the deal.  Click here to start an order online – you'll have to select your location first.  
For more Red Robin specials info, like $2.99 Kids Meals on Wednesdays, click here for the EatDrinkDeals Red Robin page.
Ruby Tuesday
Get a $5 Cheeseburger served with Fries or Tots at Ruby Tuesday on Cheeseburger Day.  The offer is valid for dine-in or to-go.  Here's an email from Ruby Tuesday with the good news.
For more deals like Kids Eat Free nights and Classic Twists specials, click here for the EatDrinkDeals Ruby Tuesday page.
Smashburger
Get a $5 Double Classic Smash at Smashburger on September 18.  Click here for the list of participating locations on the Smashburger website – it looks like most will honor the deal.
https://www.facebook.com/smashburger/photos/a.100144223227/10160483147598228/
Steak 'n Shake
Loyalty app members can get 50% off the Double 'n Cheese Steakburger at Steak 'n Shake on September 18 – 24.  To download the app, click here for the Steak 'n Shake Rewards Page and get to savin'.
Click here for the EatDrinkDeals Steak 'n Shake story for info on other goodies, like free fries everyday, straight up!
Twin Peaks
Get Cheeseburgers and Fries for $6 at select locations at Twin Peaks on September 18.  Here's the Facebook post with the deal.  We recommend checking with your local Twin Peaks to confirm it.  For a list of Twin Peaks locations, click here.
Wayback Burgers
Wayback Burgers has the Cheesy Quarantini for $6.99 – $7.49 on September 18, with two beef patties and spicy pepper jack cheese.  Here's the announcement on Facebook.
Whataburger
Buy one Patty Melt and get one free with a Whataburger online coupon valid through September 20!  You'll need to sign up for a My Whataburger account, if you haven't already.  Click here to sign up. Then, once you're signed in, go to https://whataburger.com/account. You'll see your BOGO offer just waiting for you! You can do all of this in the app, too, if you're a mobile inclined type of person.  Click here for the app on iPhone / ios or click here for Google Android.
Whataburger posted the deal on their website homepage.
White Castle
Want to try a White Castle slider made with Impossible plant based meat?  Click here for a Buy One, Get One Free coupon from the White Castle website.
Plus, if you're a Teacher or Educator, get 20% off your order through September 24 – learn more about that here on the EatDrinkDeals White Castle page.