Valentine's Day is Tuesday, February 14.  Right after the Super Bowl, too.  How romantic!  Are there any restaurant specials?  Sure are.  What about takeout or delivery? You bet!  We've found a bunch of Valentine's deals for dining in or celebrating at home.
Do you want to have great deals like these emailed directly to you? Click here to sign up for our newsletter!
Whether you want to dine out or celebrate at home, you can find a great Valentine's Day deal here.
2023 Valentine's Day Deals
Applebee's $6 Smoocho Mucho Cocktails
Get all cute and cuddly with the
$6 Smoocho Mucho Sips
at
Applebee's
!  Whether you're paired up or flying solo, you have some options for $6 in the Tipsy Cupid or the Date Night Daiquiri.  The Tispy Cupid is a Vodka Lemonade made with Tito's Handmade Vodka and shaken with strawberry and lemonade.  The Date Night Daiquiri is a Swirled Strawberry Daiquiri made with Bacardi Superior.  Pair them up with the 2 for $25 Menu and you've got yourself a date night!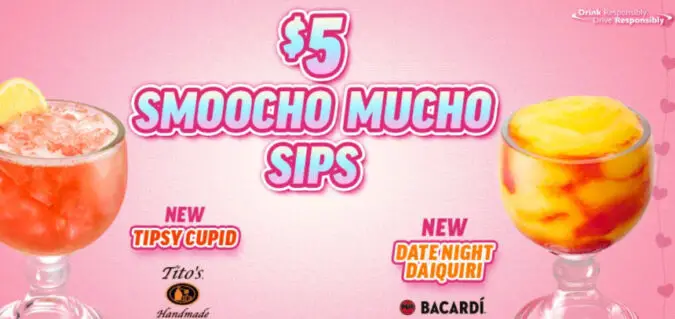 Visit our Applebee's page to learn about other deals, like the $14.99 All You Can Eat promotion!
Auntie Anne's
Auntie Anne's has a couple Valentine's Day deals for rewards members this year. The first is a BOGO offer on Cinnamon Sugar and Original Pretzels – valid on February 14th only. You can also get $5 off on any Pretzel Bucket (again, only on the 14th). Auntie Anne's is also offering rewards members a free Original Pretzel with the purchase of Mini Pretzel Dogs and a drink, now through April 30. It's a great time to be an Auntie Anne's rewards member – click here to sign up now!
Baskin-Robbins Valentine's Cake and Ice Cream
Baskin-Robbins is taking orders for their Valentine's Cakes, which are a great way to share a delicious treat and a personalized message with your loved ones.  This year, Baskin-Robbins has a new Crazy For You Cake, a heart-shaped cake with chocolate, fudge and OREO toppings. Visit the Baskin-Robbins Cakes website for more details and to start your order.  Baskin-Robbins' February flavor of the month is Love Potion #31 – it's a mix of chocolate and raspberry ice cream with raspberry-filled chocolate hearts, raspberry swirls, and chocolate-flavored chips.
Bertucci's Valentine's Dinner For Two For $40
Bertucci's has a $40 Valentine's dinner for two on February 14.  The dinner special includes two salads, two entrees, and a Mini Cannoli dessert to share.  Add on a large cheese pizza for just $10 or a Kid's Meal for $5 if you're bringing more folks along.  Visit Bertucci's Valentine's Dinner for two page for the full menu, more details and to make a reservation.
For more Bertucci's deals, like their BOGO Pizzas on Tuesdays, read our Bertucci's story.
Black Angus Valentine's Feast
Black Angus Steakhouse has a $58/person Valentine's Feast for Two on February 14.  The dinner special includes one appetizer to share, two Filet Mignon and Lobster Tail entrees, four sides, one dessert, molasses bread, and two Prosecco Splits.  The feast is available for takeout or dine-in.  Visit the Black Angus Home Page for more details and to make a reservation.
Black Angus posted the offer on their Facebook:
Bob Evans
Get $3 off a $25 check, or $2 off $15 with a Bob Evans coupon valid through February 16. Show this Bob Evans coupon to your cashier at checkout.
Bonefish Grill Valentine's Dinner Specials
Bonefish Grill has a Surf n' Turf Valentine's Dinner special from February 2-15.  You can get the Shrimp and Scallop Scampi Filet, which features a 7 oz. wood-grilled Filet Mignon topped with Baja bay Scallops and shrimp tossed in garlic scampi sauce with two sides, for $32.90. For dessert, try Bonefish Grill's decadent Chocolate Lava Cake which is topped with berries and whipped cream. Click here to make a reservation!
For the complete menu, online orders or reservations, visit: Bonefish Valentines Menu. Bonefish also has Family Takeout specials. Prices vary by location.
Buy one Individual Meal and a drink and get one free with a Boston Market coupon valid through February 15.  Show this Boston Market coupon to your cashier when ordering.  For online orders, use promo code 33300. The maximum discount is $12. Individual meals start at around $9 depending on your order. You can't use this for Baby Back Ribs meals when you order online – in person is ok. Options include Rotisserie Chicken, Roasted Turkey Breast, and more.
Buca di Beppo Valentine's Weekend Dinner For Two
Buca di Beppo has a Valentine's Weekend dinner for two for $59.99.  Good for dine-in or takeout on February 14.   The meal includes Heart-Shaped Lasagna for two, Buca Small Garlic Bread, Buca Small Mixed Green or Caesar Salad, and Mini Cannoli, all for $59.99.
Visit the Buca di Beppo Valentine's special site for more details or to make reservations.  
Find more deals on the our Buca di Beppo Specials page.
California Pizza Kitchen has a Valentine's Sweet Deal for Two menu available February 9-14 for dine-in or takeout.  
On the dine-in menu, choose an appetizer to share, two entrees and a dessert to share for just $40, or a premium version for $50.  Entrees include pizza, pasta, and full-size salads.   Visit the CPK Valentine's Day Dinner site for the menu and more details.   
California Tortilla
California Tortilla is giving guests free Love Chips and Sweet Cream with every order along with a coupon for a free taco! You can use that coupon on your next visit or gift it to a friend or loved one.
Carrabba's Valentine's Dinner For Two
Carrabba's Italian Grill has a dinner for two for Valentine's Day for $65 that can be enjoyed for dine-in or to-go from February 9-19.  The meal comes with the following:
First Course (one to share) – Calamari, Shrimp Scampi, or Tomato Caprese with Fresh Burrata.
Second Course (one per person) – Creamy Parmesan House, Caesar or Italian Salad, Mama Mandola's Sicilian Chicken Soup or Soup of the Day.
Third Course (one per person) – Lasagne, Fettucine Carrabba, Chicken Bryan, Chicken Marsala, Simple Grilled Salmon and 7 oz. Tuscan-Grilled Sirloin.  You can upgrade for a few dollars more to a 9 oz. Tuscan-Grilled Sirloin. Salmon and chicken dishes come with one side and steak dishes come with two.
Fourth Course (one to share) – Sogno Di Cioccolata featuring a rich fudge brownie with chocolate mousse, fresh whipped cream and chocolate sauce, Cannoli Cake for two, or Tiramisu.
Enjoy the holiday with your special someone as best you can in 2023!  For more details or to reserve, visit:  Valentine's at Carrabba's
Carvel
Carvel is offering a $5 reward to guests who purchase a $25 gift card online. You have until February 28 to purchase and redeem. Give the gift of free ice cream to your significant other this Valentine's Day! Carvel also has a variety of desserts inspired by Strawberry Kit-Kat DUOS. These pink treats are a perfect addition to any Valentine's or Galentine's celebration!
Chart House 3-Course Sweetheart Couple Dinner
Enjoy a 3-Course Sweetheart Couple Dinner for $160 for two from February 10-14 at Chart House.  Each guest gets a starter and an entree, then you share a dessert.  Add a Potion D'Amour cocktail if you're getting real fancy.   For the full Chart House Valentine's menu, visit the Chart House Valentine's page.
Show how you care in an edible way with Heart Shaped Trays from Chick-fil-A!  Pick from a 10 pack of Chick-n-Minis at breakfast time for about $9.50, a 30 pack of Chick-fil-A Nuggets for about $14.50, 12 Chocolate Brownie Halves for $15, or a 6 pack of Chocolate Chunk Cookies for about $13.50.  Prices can vary by location.  For more information, click here for the Heart-Shaped Trays page.
Cinnabon
Cinnabon has a special bundle with two Classic Rolls and Cold Brew Coffees for $15 through March 1st. Rewards members will also get double points on Cinna-Packs through April 3rd. If you're looking to stock up on rewards points, now is definitely the time! Lastly, Cinnabon is also offering free delivery for orders placed through the app from February 12-19.
Cotton Patch
Cotton Patch is giving a free Dr. Pepper Cake to guests who order off the 2 for $23 menu from February 10-14. Note that this offer is valid for dine-in only at participating locations.
Cracker Barrel
Cracker Barrel is offering five couples free food for an entire year. There's a catch, though. You have to propose in the restaurant, post the video on Instagram, caption why they chose to propose at Cracker Barrel, and tag Cracker Barrel.
If you don't (understandably) want to go to such great lengths, Cracker Barrel is also offering free dessert to guests who order two entrees from the Valentine's Day menu from February 10-14.
Del Frisco's Grille Filet Duo Dinner
Del Frisco's Grille has a Filet Duo dinner for Valentine's Day February 9-14.  The dinner includes Tuna Tartare Crostini, Shrimp Cocktail, a Prime 22 oz. Bone-In Ribeye to share and topped with 2 Lobster Tails, a Signature Side Sampler and Godiva Chocolate Cheesecake for dessert.  Prices vary by location.   For the complete menu visit Del Frisco Grille Valentine's Dinner
Dunkin's Valentine's Menu
Dunkin' is bringing back their Cocoa Mocha Signature Latte and Pink Strawberry Refresher for Valentine's season.  Dunkin' is also debuting their first Member Exclusive beverage – the Brownie Batter Signature Latte. Pair one of the drinks up with the Brownie Batter Donut filled with chocolate brownie batter-flavored buttercream filling, or the Cupid's Choice Donut filled with Bavarian Kreme and topped with strawberry-flavored icing and pink sprinkles. Dunkin' has also partnered with Frankford Candy to offer guests Dunkin' Chocolates and Iced Coffee Flavored Jelly Hearts.
For more details on the full Valentine's lineup and other Dunkin' specials, read our EatDrinkDeals Dunkin' article here.
Fazoli's
Fazoli's is offering customers a Valentine's Day meal from February 10-16. Enter the code HAPPYVALENTINE in the promo section of the Fazoli's app to get 2 Baked Spaghettis, 2 Small Drinks, and 2 Cheesecakes for $18.
Firebirds Wood Fired Grill
Firebirds will have a special lunch and dinner menu to celebrate Valentine's Day through February 28. The dinner menu is a 3-course special with a starter, main course, and dinner, while the lunch menu features an entree and dessert. Firebirds also has drink specials and a happy hour Monday – Friday from 4-7 PM. Click here for the full menus and drink offerings.
Firehouse Subs BOGO Coupon
Buy one Medium or Large Sub, Chips and a Drink and get a free Medium Sub with a Firehouse Subs coupon valid on February 14, after 4 PM. Firehouse Subs posted the coupon on their social channels. Just show this to your cashier when ordering.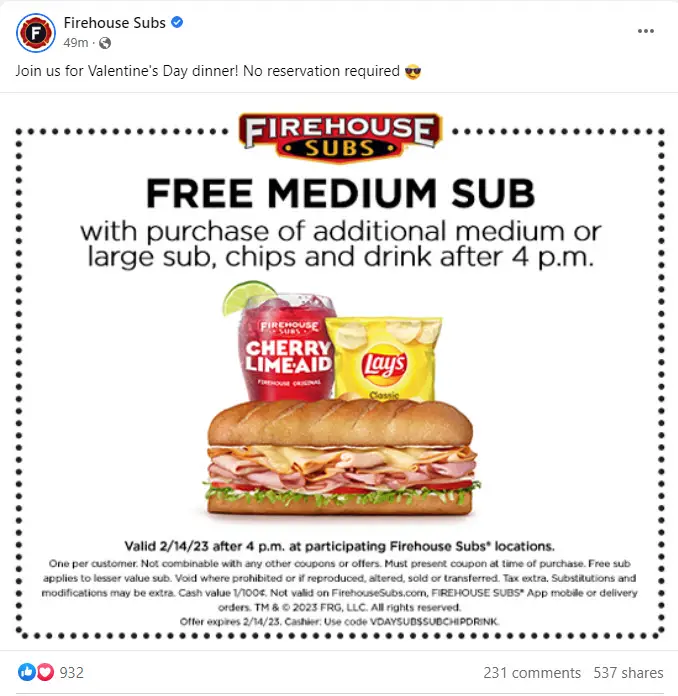 Fleming's Valentine's Dinner
Fleming's Prime Steakhouse is serving their annual three-course Valentine's Day dinner featuring a Filet Mignon with your choice of Lobster Tail Scampi or Crab-Stuffed Shrimp.  The dinner is available on February 10-14.  Prices start at $85 per person.  You can also get a special Surf & Turf for two featuring a 35oz Prime Tomahawk steak, Lobster Tail Scampi, and Crab-Stuffed Shrimp for $230.  Visit the Fleming's Valentines' Dinner website for more details and to make a reservation.
Fogo De Chao is taking reservations for Valentine's Day. The Brazilian steakhouse offers guests a unique churrasco experience that includes filet mignon, picanha, bone-in ribeye, and lamb with various sides, a Market Table with fruits and veggies, and delicious desserts. Plus, if you dine-in for the churrasco experience on Valentine's Day, you will get a free churrasco experience for a future visit.
Giordano's Valentine's Pizza
Giordano's has its special Heart-Shaped Pizzas.   Go to the Giordano's website to start an order.
Hardee's Heart-Shaped and Cherry Filled Biscuits
You can say "I Love You" with biscuits! Hardee's is offering Heart-Shaped biscuits from February 11-14 individually for $2.99 or as part of a combo for $4.99. They also have a Cherry Filled biscuit that you can get from February 8 – March 14.
For more Hardee's deals, like their Happy Pick 4 Special, check out our Hardee's Deals and Coupons article.
Happy Joe's Heart-Shaped Pizza
Happy Joe's will be selling heart-shaped pizzas this Valentine's Day for roughly $13.79. You can also opt to attach a note to your pizza order. Note that pricing and participation will vary depending on location.
Hooters Shred Your Ex And Buy 10, Get 10 Free Boneless Wings
Alright, admittedly not what most of us would think of for Valentine's Day, but Shred Your Ex is back at Hooters this year on February 14, and that means 10 free Boneless Wings when you buy 10!  Valentine's Day for those who have been spurned will sting a little less when there's free food involved.  Hooters has the details up on its website.  You can visit and get the deal emailed to you, or you can get the full cathartic experience and bring a photo of your ex into Hooters on Valentine's Day for some real-life shreddin'.
Hungry Howie's Heart-Shaped Pizza  and Howie Bread For $7.99
On February 12 – 14, get a Medium 1 Topping Heart-Shaped Pizza for just $7.99 from Hungry Howie's. You can also get a 3-Cheese Howie Bread for the same price.
Read our Hungry Howie's page here to learn about other promo codes and specials for more savings on your pizza cravings.
Insomnia Cookies Buy 12, Get 6 Deal
Ship 12 Classic Cookies and get 6 Red Velvet Cookies more for free with an Insomnia Cookies deal valid on delivery orders for a limited time.  No promo code is needed, but you should see the deal online on the menu when you order.
Jamba
Jamba is offering rewards members $2 off on smoothies, juices, and bowls on Valentine's Day only. Jamba also has a limited-time Chocolate Covered Strawberry Smoothie for the month of February. You can only order it through the app or online.
Joe's Crab Shack 4 Course Valentine's Dinner
Joe's Crab Shack has a four-course Valentine's dinner for two for $75 on February 11-14.  The dinner includes a choice of shrimp or calamari, salad, a choice of entree, and two desserts to share.  For the full menu and more details visit the Joe's Crab Shack Valentine Dinner page.
Krispy Kreme's Valentine's Day Doughnuts
Krispy Kreme recently announced a brand new Hershey's Valentine's Day Collection for the upcoming holiday.  This isn't a bad way to be sweet to your special someone.  Some new doughnut options include:
HERSHEY'S Chocolate Chip Caramel KREME™ Doughnut: Unglazed, heart-shaped doughnut filled with KREME, dipped in Hershey's caramel flavored icing, covered in semisweet chocolate chips, heart sprinkles, and Hershey's chocolate icing drizzles.
HERSHEY'S Double Chocolate KISS Doughnut: Heart-shaped doughnut filled with Hershey's milk chocolate filling, dipped in Hershey's chocolate icing and covered in Hershey's mini milk Kisses.
HERSHEY'S Strawberry Dream Doughnut: Heart-shaped doughnut filled with Hershey's strawberry flavored KREME, dipped in red icing, and covered in white chip and heart sprinkle blend.
HERSHEY'S I Pick You Doughnut: Heart-shaped doughnut filled with KREME, dipped in Hershey's chocolate icing, and decorated with a buttercream and icing rose.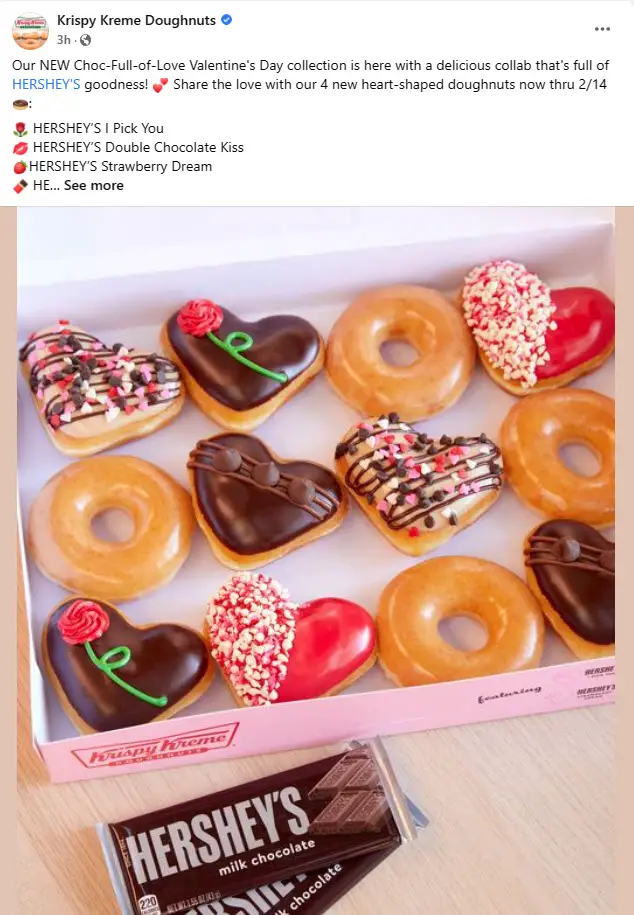 You can snag these doughnuts through February 14, so head out and get a couple [dozen] for yourself and a loved one.
Maggiano's Valentine's Dinner
Maggiano's has a Valentine's Day "That's Amore" menu from February 9-15.
Appetizer: Start the meal off with two side salads or any starter.
Entree: Pick two entrees from the following – Chicken Marsala, Chicken Parmesan, Chicken Piccata, Spaghetti & Meatball, Mom's Lasagna, Shrimp Scampi, Our Famous Rigatoni "D," Steak and Ravioli, Salmon and Calabrian Shrimp, and Snapper with Lobster Cream Sauce.
Dessert: Choose two desserts from the following – Warm Apple Crostada, Gigi's Butter Cake, Creme Brûlée, Vera's Lemon Cookies, Tiramisu, New York Style Cheesecake, and Chocolate Layered Cake.
Drinks: Choose two beverages as well (6 oz. pour) – Pomegranate Martini, Ruffino Prosecco, Juggernaut Cabernet, and Imagery Chardonnay.
Click here to view the full details and make a reservation!
For more Maggiano's molto bene specials and offers, go to our EatDrinkDeals Maggiano's article!
Marco's Pizza Heart-Shaped Pizzas
Marco's Pizza will be selling heart-shaped pizzas in honor of Valentine's Day. You can get a one-topping heart-shaped pizza for $9.99 when you order through the app and use code HEART at checkout.
McDonald's Cardi B and Offset Meals
McDonald's celebrity meals have been a hit the past few years, so this time they're doubling down with two – the Cardi B and Offset Meals. This is a meal for two available starting February 14, with:
Cardi B's Meal – a McDonald's Cheeseburger, BBQ sauce and a Large Coca-Cola;
Offset's Meal – a Quarter Pounder with Cheese and a Large Hi-C Orange Lavaburst
A Large Fries and an Apple Pie to share.
The Melting Pot has special deals available during the week of Valentine's Day.  Specials vary by location but a typical deal is a 4-course menu for $99 per person.  Reservations are strongly recommended. To find the Valentine's specials for your local Melting Pot:
Find and click on your Melting Pot from the list of locations at   https://www.meltingpot.com/restaurant-locations.aspx
At the top of the next web page click Events.  All the local specials will be displayed.  Click on Valentines Day Weekend.
Morton's Steakhouse Valentine's Dinner
Morton's Steakhouse has a Valentine's dinner special on February 10-14. For $179, get a three-course feast with a starter, a Chateaubriand entree, sides to share, and a choice of dessert.  You can find more details at the Morton's Valentines Menu page. Morton's also has a signature Valentine's Day cocktail – the Love in Bloom – available from February 10-19. The Love in Bloom is a blend of Tito's Handmade Vodka, Cointreau, Hibiscus, and Prosecco.
For details on the Morton's Power Hour specials and other deals, read our Morton's article.
Mountain Mike's Heart Pizza
Mountain Mike's Pizza has heart-shaped pizza all month long.  Get a large 1 topping for about $22 if you want to keep the Valentine's thing low key, but still show your love!
Mrs. Fields has cookie cakes, chocolate bouquets and more treats for Valentine's.   To start your order visit the Mrs. Fields Home Page. You can also get 30% off select Valentine's Day gifts. Plus, sign up with your email address and mobile phone number for texts and you'll get a 20% off coupon to sweeten the deal.
Naf Naf Heart-Shaped Pitas
Naf Naf Middle Eastern Grill will be offering heart-shaped pitas on Valentine's Day with every bowl and plate. Also, 20% of all sales on Valentine's Day will be going to a national heart health organization.
Newk's Free Cake
Newk's is offering 2 free slices of cake to guests who spend $25 or more at participating locations. Take care of dinner and dessert by heading over to Newk's this Valentine's Day!
Old Chicago Pizza & Taproom
Old Chicago is offering a heart-shaped pizza from February 1-14. You can get it as a whole or cut down the middle – whatever your relationship situation may be.
Orange Leaf Frozen Yogurt BOGO 50% Off
Orange Leaf is giving customers a second cup of froyo for half off when they buy one for regular price at participating locations. Treat yourself and your significant other to some delicious dessert after date night!
Outback Valentine's Menu for Two
Enjoy a 4-course meal for two at Outback Steakhouse February 9 – 14 with Grilled Shrimp on the Barbie to share, two salads of your choice, two entrees of your choice with sides, and a slice of Cheesecake to share for dessert.  Pricing varies by location, but in our testing it was around $32 – $35 per person.  The higher amount is if you upgrade to a 6 oz. Filet Mignon as your entree.  The less expensive options are an 8 oz. Sirloin Steak, Grilled Salmon, or Alice Springs Chicken.  You can get the Valentine's Four Course Feast for dine-in, takeout or delivery – any way you want to celebrate the occasion!  Outback posted the Valentine's offer on their website.
Papa Murphy's HeartBaker Pizzas
The HeartBaker Pizza is back at Papa Murphy's through February 14!  You can get one for $11 (or a few bucks more in some markets), or get a Sweeheart of a Deal and get the HeartBaker Pizza AND Chocolate Chip Cookie Dough for $14.  Papa Murphy's posted the limited time pizza online.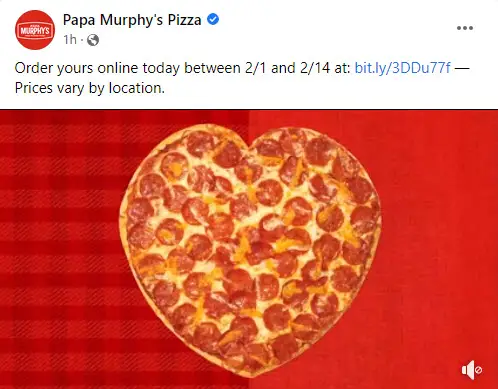 Read our Papa Murphy's story here for more specials, like a buy one, get one free deal on Mondays.
PJ's Coffee Valentine's Day BOGO
PJ's Coffee has a BOGO special this Valentine's Day. Buy a Frozen Hot Chocolate, Hot Chocolate, or Mocha Latte (iced or hot) and get a second one free.
Pokeworks BOGO 50% Off Bowls
Pokeworks will be offering a buy-one-get-one-half-off deal for regular-sized poke bowls on Valentine's Day! Make sure the relationship lasts by making sure you last – snag a healthy poke bowl for you and your partner this Valentine's Day at a reduced price.
Qdoba
New and existing Rewards Members can get a buy one, get one free entree coupon valid on February 14 from Qdoba. For more info or to sign up, visit the Qdoba Rewards page. Alternatively, you can text JOIN to 73622. The BOGO offer will hit your account on Valentine's Day. Qdoba sent this message with the offer details.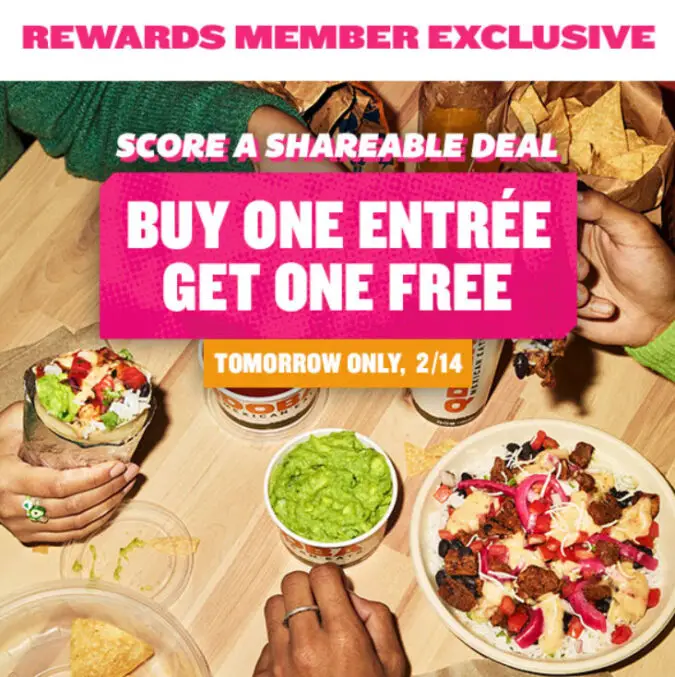 Red Mango Frozen Yogurt BOGO 50% Off
Red Mango is giving guests a second cup of froyo for 50% off on Valentine's Day. Take advantage of the offer and treat yourself and your significant other on the 14th.
Buy one Bowl or Smoothie and get a free Bowl from Rush Bowls on February 14. Use promo code LOVE for the free food for online or app orders, or mention the offer in-store.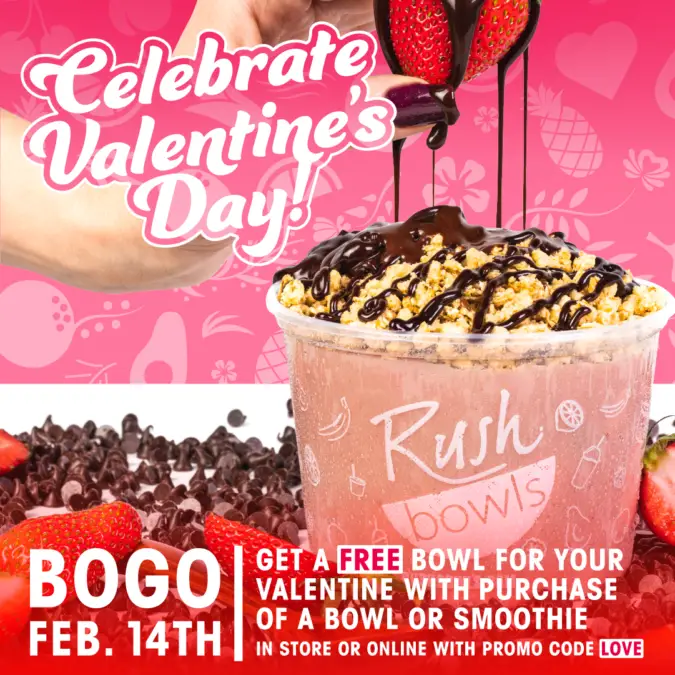 Ruth's Chris Steakhouse Valentine's Dinner
Ruth's Chris Steakhouse 4-course prix fixe Valentines menu for roughly $160. You get 2 starters, a Chateaubriand entree for 2, 2 sides, and a Chocolate Sin Cake dessert for two. You can find more details on the Ruth's Chris Valentines Dinner Special page.
For more Ruth's Chris deals, read our Ruth's Chris story.
Shoney's Two Can Dine for $24.99 Deal
Shoney's has a Valentine's Day menu for two for $24.99 available from February 12 – 14.  You can both choose from Chicken Alfredo, Sirloin Steak, or Seafood Bar entrees, and then you'll get a Hot Fudge Cake to share for dessert.  Shoney's put the deal up on their website.
Starbucks 50% Off Promo Code
Starbucks is celebrating Valentine's Day with a 50% off promo code valid for Uber Eats orders! Use promo code VDAY50OFF when you are putting your order together online. Order via Uber Eats here for either pickup or delivery and enjoy the 50% off.
STK Steakhouse will be serving up Valentine's specials from February 10-14.  They're open for brunch on the weekends and the regular dinner menu, or get a takeout special for two.  For more details visit the STK Steakhouse Valentine's Special Page.
Taco John's Taco Tuesday
Taco John's has specially priced tacos every Tuesday for Taco Tuesday. For $1.19, you can get a crispy taco with seasoned American beef, mild sauce, all-natural cheddar cheese, and lettuce.
The Fresh Market Valentine's Day Meals
The Fresh Market has you covered for Valentine's Day with prepped, ready-to-cook meals available to pick-up from February 10-14  – as long as you order by February 13th at 2 PM. Here are the options:
Valentine's Meal for Two – $59.99 – Choice of two: Premium Choice Chateaubriand Cut Filet Mignon, Ultimate Lump Crab Cakes, Wild North Atlantic Lobster Tail. Get one of each: Mascarpone Whipped Potatoes with Rosemary, Asparagus with Red Peppers and Sea Salt Butter Steamer Bag, Hand-Dipped Chocolate Strawberries (8), Dozen Roses, and The Fresh Market Reusable Shopping Bag
Valentine's Prime Rib Meal for Two – $49.99: Includes Fully Cooked Prime Rib, Mascarpone Whipped Potatoes with Rosemary, Green Bean Medley, The Fresh Market Horseradish Aioli, The Fresh Market Reusable Thermal Tote
Valentine's Day Brunch for 4 – $25: Includes Quiche Lorraine, Broccoli Cheddar, or Spinach Tomato Quiche; Market Style Bacon, Tropical Fruit, Blueberry Muffins, The Fresh Market Reusable Shopping Bag
Sweetheart Ribeye: The Fresh Market's Premium Choice Sweetheart Ribeye is hand-cut and butterflied into the shape of a heart, aged at least 14 days for maximum tenderness.
Heart-Shaped Crab Cake: Made exclusively for The Fresh Market, these Valentine's-themed delicacies are made from the retailer's perfectly seasoned, ready-to-cook Maryland Crab Cake.
You can get other goodies like freshly made in-store fruit tart, mini cheesecakes, and more.  For the complete menu visit: Fresh Market Valentine's Menu.
Waffle House is now accepting Valentine's Day dinner reservations for its 15th annual Valentine's Dinner.  A unique Waffle House experience with tablecloths and candlelight!  Visit the Waffle House Valentines Dinner page for a list of participating locations and more details.  For more Waffle House deals, visit our Waffle House Specials article.
Which Wich
Buy one Wich (sandwich) and get one free with a Which Wich offer valid on Valentine's Day! Which Wich has the offer up on its homepage; just mention it to your cashier. You'll have to get the deal in-store, as it's not valid for online orders.
White Castle Valentine's Fine-Dining Experience
After a two-year hiatus, White Castle is accepting reservations for Valentine's Day this year! From 4-9 PM on February 14, participating White Castles will be transformed into fine-dining restaurants with tableside service and Valentine's decorations.
Notes on the EatDrinkDeals Roundup
The EatDrinkDeals roundup above represents the current state of Valentine's Dinner deals from the nation's top restaurant chains.  We'll add new deals every day or so, as they become available.  Note that every deal we list includes a link to the restaurant website where you can confirm the deal and find further information.  We won't post deals that cannot be verified from an official source such as the restaurant website, social media account, or press release.
As you prepare to dine out, you should probably click on the provided link for each restaurant to verify the special you want is available at your location.
Note that some deals above are good for several days before and after Valentine's Day.  You might consider celebrating Galentine's Day the day before.
Email us at editor@eatdrinkdeals.com if we've missed any good deals.  If you want to have great deals like these emailed directly to you, Click here to sign up for our newsletter!
Valentine's Day Dining Statistics
The second most popular holiday for dining out after Mother's Day, Valentine's Day is expected to be busy for restaurant operators across the nation. Not only will millions of Americans dine out on that day, but many are also choosing takeout to celebrate the occasion.  You should probably make your plans at least a few days in advance.
According to the National Retail Federation, consumers will spend an average of $192 on their loved ones for Valentine's Day 2023. That's just short of the all time high of $196 in 2020.