Your team is playing today and you've got a group together to watch it with.  Want to find a good watering hole so you can enjoy it on a budget?  Or, if you're staying home, get some good takeout or delivery deals on game day eats?  We've compiled a guide to the best game day deals around.  Most of these revolve around college and/or pro football games played on the weekends, but we'll make sure you've got a few options for the Monday and Thursday night games, too.
Want to get info on all the deals, discounts, coupons and specials from your favorite restaurants?  Click here to see the latest and greatest from EatDrinkDeals!
Do you want to have great deals like these emailed directly to you? Click here to sign up for our newsletter!
Game Day Deals for College and NFL Season 2022
99 Restaurants
99 Restaurants has Football Frenzy specials all season long. Dine-in specials are available every Sunday (only at the bar) and include 6-Pack Bone-In Wings, $6.99 Full Size Appetizers, and the new Pork Carnitas Burger for $15.99. To go specials include Bone-In Wings by the Dozen and the ability to purchase six packs of Bud Light, Budweiser, Michelob Ultra, House Cuervo Margaritas, Pepsi, Diet Pepsi, and Aquafina. For more details, click here!
To learn about 99 Restaurants' Happy Hour, Family Meals, and more, check out our 99 Restaurants page.
Bar Louie
Bar Louie is a prime spot for football Sunday. They will have mimosa specials, beers, cocktails, and bar bites all day long! If you want to watch at home, you can also snag over 40 wings for $40. For pricing and availability at your local Bar Louie, enter your location on their website.
Chili's
For the 2022 season, when football is on, Happy Hour is on at Chili's.  Specials will vary by location, and are subject to state and local alcohol laws, some of which prohibit specials on drink pricing.  In this press release, Chili's is sure talking a big game.
Drink options include a 16 oz. Bud Light for as low as $3, Modelo for $4, margaritas like the Tequila Trifecta and Straw-Eddy 'Rita for $6, and the new Chili's Ranch Water for a basic cocktail. Food items include 10 new Bar Bites and favorites like wings in 9 different flavors, White Queso Curly Fries, Chili's Philly Cheesesteak, and more. Click here for our Chili's article which includes more details!
Dave and Buster's
Dave and Buster's has always been a great spot for Sunday football – 40-foot TV's, games, and an endless supply of food, what could possibly be better? Dave and Buster's recently debuted 6 new wing flavors including Hot! Garlic Parmesan, Sriracha Honey, Jamaican Jerk, Cajun, and Old Bay. Plus, you can get $3.99 Domestic Pints, Tailgate Towers, and Gameday Shots.
Domino's Pizza
Domino's has large three-topping pizza and 10 piece wings deals for carryout for $7.99 each every day, mix and match deals at $5.99 each like medium pizzas, and local coupons to help you save on pizza night!
To get the Domino's $7.99 special on a Large 3 Topping or a 10 piece order of Wings, ask for it on the phone, or just place your order online.  For more info and to place an order, click here for the Domino's website.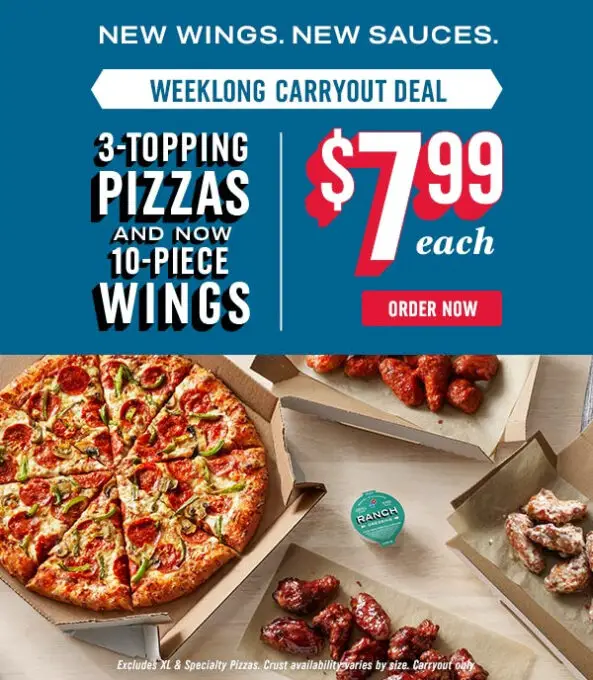 For more Domino's deals and coupons, click here for the EatDrinkDeals Domino's Pizza article.
Duffy's Sports Grill
Duffy's has new Football Features for the season! Menu items including Cheeseburger Sliders, Potato Skins, Buffalo Cauliflower, Gridiron Nachos, and more will be available on gameday. Click here for the full menu and pricing at your local Duffy's! The grill posted about their new Football Features on their Facebook page:
Glory Days Grill has Thursday Game Day drink deals for the football fans. You can get $5 Crushes until 9PM, which are sold in three flavors: Orange, Grapefruit, and Strawberry-Lemon. Drinks aren't all though, half-orders of Chili Nachos are specially priced at $6.99. Glory Days posted this poster on their Facebook page: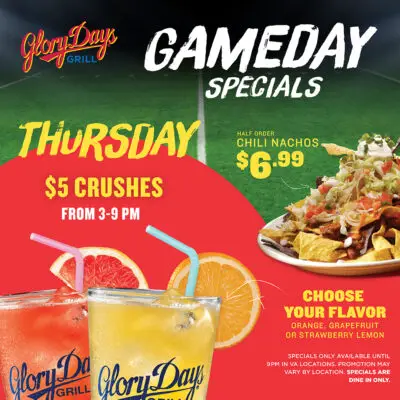 On Mondays and Thursdays, you can get deals on Burgers and other food, too.  Click here for the EatDrinkDeals Glory Days Grill article to learn more about it.
Granite City Brewery
Granite City has Burger Monday every Monday. You can get $6 Burgers and Chicken Sandwiches, $5 Pitchers, $5 Barrel Aged Old Fashioned, and $6 GC Crowler Fills – perfect for Monday Night Football.
For more weekday specials at, check out our Granite City page!
Hooters
Hooters has game day specials like 20 oz. beers for $6-$8 on Thursday, Friday and Saturday, and $6-$7 on Sundays and Mondays.  Specials can vary by location, but here is a sample game day deals menu.
Islands Restaurants
Happy Hour at Islands is even happier during the NFL season – get food and drink specials from 3 pm – close Mondays and Thursdays and all day Sundays!  Islands posted the good news on their social media.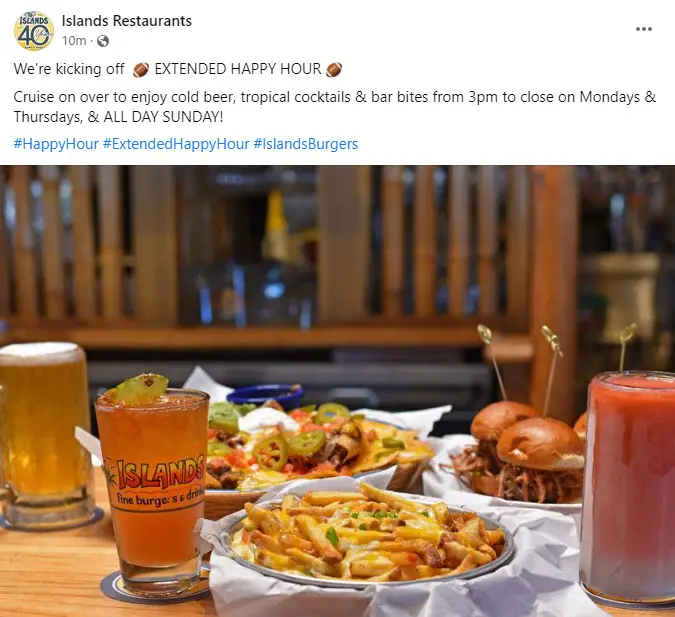 For more Islands deals, like a $7 off coupon, check out our Islands Restaurants page!
Little Caesars
Little Caesars recently became the official pizza sponsor of the NFL, so naturally, you can expect some great gameday deals. Right now, you can get a free Large Classic Pepperoni Pizza with an online order of $20 or more with a Little Caesars promo code valid on Mondays, Thursdays, and Sundays in September.  Click here to start an online order, and use promo code CLASSICPLAY6 for the free pizza.  Add a Large Classic Pepperoni, and if you've got at least $20 worth of other items in your cart, the price of it will drop to $0 once you apply the code.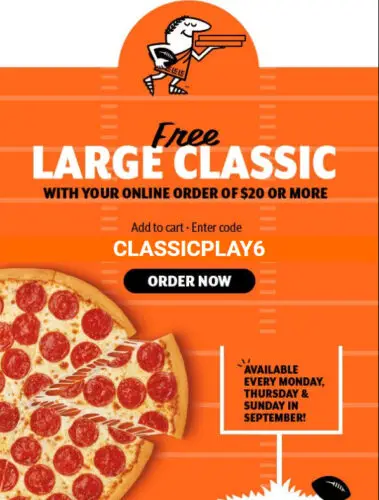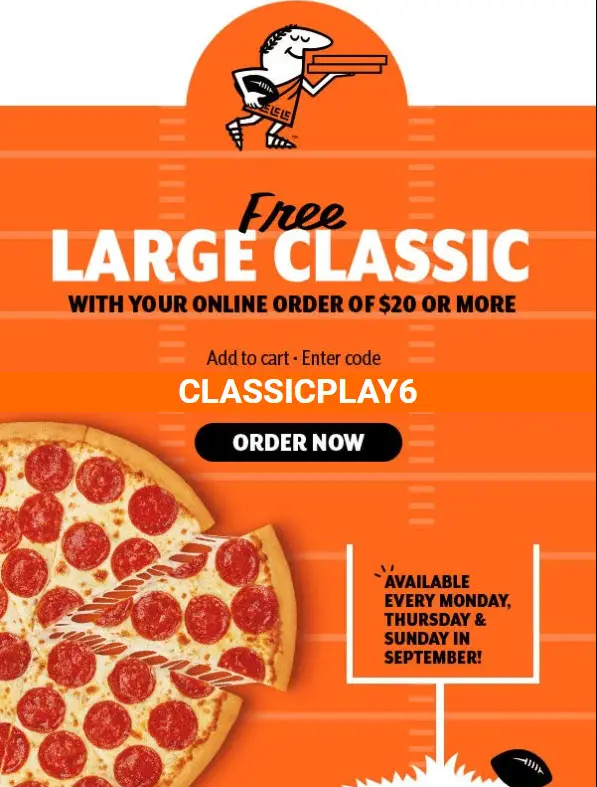 O'Charley's
O'Charley's has some daily drink specials going to help you kick back on your next visit.  The specials change each day, but on Saturdays, Sundays and Mondays, you can get $3 14 oz. Domestic drafts and $4 14 oz. Craft and Import Drafts.  On Throwback Thursdays, get $5 Tito's, Jim Beam & Jack Daniels.
For more details on other specials on their food menu, here's our O'Charley's story.
Primanti Bros. has been offering a BOGO pizza deal on 14 and 18 inch pizza (including toppings) on Thursdays since the beginning of football season. Keep an eye out on their social media channels for when to use code FREEPIZZA on online orders. They also provide a link to a coupon valid for one day that you can redeem in-store. For the coupon and to learn about other specials, click here for our Primanti Bros. page.
Rooster's
Rooster's offers happy hour food and drink specials from 3-9 PM Mondays, 3-7 PM Tuesday-Friday, and 11 AM- 7 PM on Saturdays and Sundays. With the exception of Sunday and Monday Night Football, Rooster's happy hour aligns very well with the NFL schedule during the season. For a sample happy hour menu, check out our Rooster's article. Highlights include $1 off appetizers and drink deals.
TGI Fridays has Wing Mondays from 5 pm – close with $0.50 wings and $2 Miller Lite draft beers.  Options for wings are:  Buffalo, Garlic Parmesan, Nashville Hot, Dragon-Glaze, Apple Butter BBQ or Chile-Lime Sauce.  TGI Fridays has the deal up on its homepage.
Wingstop has 70-cent boneless wings on Mondays if you want a good deal for Monday Night Football.  You can get this deal every Tuesday, too.  The restaurant announced the special on the Wingstop website.
For info on other spicy deals from the wing chain, click here for the EatDrinkDeals Wingstop page.
Every Monday Night Football game in 2022 from kickoff to the final play, get 1/2 price appetizers at Yard House. Be sure to enter your location on their website to view the latest offers and promotions they are having this season!
Click here for our Yard House article to learn about other specials, like their "normal" Happy Hour weekday afternoons / evenings and more.