Hooray for Pi Day!  Math isn't so bad when it gives us great deals on pies and pizza pies, right?  Pi Day is an annual celebration of the mathematical constant π (pi). Pi Day is observed on March 14 (3-14) since 3, 1, and 4 are the first three significant digits of π.   Many pizza places traditionally celebrate the day with $3.14 pizzas, $3.14 off a pizza, and other deals.  We might find some deals on the other kinds of pies, too.  Marketers are so clever.  And nerdy.
Here's our roundup of deals for Pi Day on Tuesday, March 14, 2022.  As always, EatDrinkDeals includes links to restaurant websites where you can confirm the deal and find further information.  We don't post deals that cannot be verified from a source such as a restaurant website, social media account, or press release.
Do you want to have great deals like these emailed directly to you? Click here to sign up for our newsletter!
Pi Day 2022 Deals
7-Eleven
7Rewards and Speedy Rewards Members can get whole pizzas for just $3.14 at participating locations on Pi Day!  7-Eleven sent this press release with the news.
For more great deals check out our 7-Eleven page.
BJ's Restaurant
At BJ's Restaurant, get a mini one-topping pizza for $3.14 on Pi Day.  Valid for dine in only.
Go to our BJ's Restaurant page for info on other deals, like their Happy Hour and Monday-Thursday Specials.
Blaze Pizza
At Blaze Pizza, you can get one 11-inch pizza for just $3.14! You must sign up for their Blaze Rewards program to access the offer. The promotion will last until March 31 at participating locations so grab it while you can! For more information, click here.
For info on other Blaze Pizza deals, go to our Blaze Pizza page.
Cici's
Cici's is offering a $3.14 buffet nationwide on Pi Day. If you'd prefer to celebrate at home, you can get two Large one-topping pizzas for $5.99 each.
Domino's Pizza
Domino's has a $7.99 carryout special on a Large 3 Topping Pizza, an 8 piece order of Wings or Boneless Chicken, or a Dip and Twist Combo every day.  You'll need to place your order online, and it's for carryout orders only.  For more info and to place an order, click here for the Domino's website.  This offer isn't specific to Pi Day.  It's been around for awhile, but if it ain't broke…
Or, read our Domino's Pizza story and learn about other offers, like their $5.99 Mix 'N Match deals and coupons for your local Domino's.
Hungry Howie's
From March 13 – 20 at Hungry Howie's, get 40% off any pizza when you use code FORTY for online carryout orders at participating locations.  The code is valid on carry out and delivery orders. You enter the promo code at the top right of the screen before you get to checkout.  Click here to start an online order.  Here's what you'll see once you've entered the code:
Mountain Mike's Pizza
Get a small one-topping pizza for $3.14 when you order with the Mountain Mike's app.
Mountain Mike's has offers all throughout the month of March. Click here to view them all and save on your next pizza night!
Papa John's Pizza
Get 25% off a $15 or more order and more deals with some promo codes that Papa John's Pizza is running.  Also, you can get a 1 Topping Large NY Style Pizza for just $13 now through March 13.  Click here for our Papa John's rundown with the details.
Papa Murphy's Pizza
Get 31.4% off your order of $25 or more with a Papa Murphy's Pizza promo code valid on Pi Day!  Click here to order online, and use coupon code PIDAY22 for the deal.  Papa Murphy's sent this email with the promo code.
Papa Murphy's Pizza also has a Buy One Get One Free deal on Mondays, a $10.99 special for any pizza on Tuesdays, and a $5.99 Large Thin Crust pizzas on Fridays.  Check out our story for more info.
Pie Five Pizza
Pie Five is offering $5 off Personal Pizzas from March 14-20 in celebration of Pi Day. All you have to do is download the Pie Five App and join their Circle of Crust program.  Pie Five posted this offer on their Facebook page:
Pieology
Pieology is beginning the Pi Day festivities this Friday, March 11 when the chain will begin their "Free Pizza Friday" promotion on social media. There will be three winners on Friday and 14 on Pi Day – each will get a free pizza! To enter, just comment how many toppings you like on your pizza on the Pieology's Instagram. If you don't win, don't fret: Pieology will be offering double points to all Pie Life Reward members on Pi Day.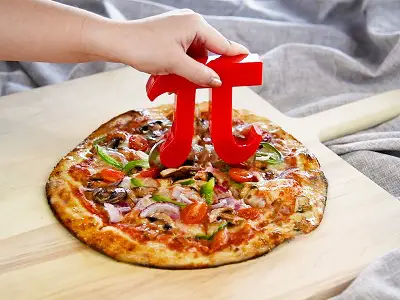 Go to our Pieology page to learn about other promotions, like their Family Pack Takeout.
Pizza Hut
Pizza Hut's everyday deal for a large, three-topping Tastemaker Pizza for $10 is still going strong.  They also have a new Spicy Lover's Pizza for $15 and other specials. To get the Tastemaker $10 deal, go to the Pizza Hut Deals page click on "Add to Order" under the $10 Tastemaker section.
For more info on this and other specials, go to our Pizza Hut page.
Red Robin / Donatos Pizza
At Red Robin / Donatos Pizza, get $3.14 off your large pizza when you use code PI at checkout on the 14th.
Read our Red Robin story to learn about other great deals!
Round Table
Round Table is celebrating Pi Day by offering guests a $3.14 Personal Cheese Pizza. Simply join the Round Table Pizza Royalty rewards program to receive this offer and access to other deals!
White Castle
Get a free Dessert on a Stick with any purchase at White Castle with a coupon valid on March 14.  Click here for your White Castle coupon.
Your Pie
Get 10 inch individual size pizzas for just $3.14 at Your Pie to celebrate Pie Day on March 14, 2022.  You'll need to get the Your Pie Rewards app to get the deal. The chain posted this offer on their Facebook page.
Go to our Your Pie story here for details on how to get the app to score your cheap pizza.
More Pizza Coupons
For more deals like this including coupons and promo codes from Domino's, Pizza Hut and Papa John's, see the EatDrinkDeals Pizza Coupons page.
About Pi Day (from Wikipedia)
Pi Day is an annual celebration of the mathematical constant π (pi). Pi Day is observed on March 14 since 3, 1, and 4 are the first three significant digits of π.  In 2009, the United States House of Representatives supported the designation of Pi Day.
Pi Day has been observed in many ways, including eating pie, throwing pies and discussing the significance of the number π.
Massachusetts Institute of Technology has often mailed its application decision letters to prospective students for delivery on Pi Day. Starting in 2012, MIT has announced it will post those decisions (privately) online on Pi Day at exactly 6:28 pm, which they have called "Tau Time", to honor the rival numbers pi and tau equally.
Princeton, New Jersey, hosts numerous events in a combined celebration of Pi Day and Albert Einstein's birthday, which is also March 14.  Einstein lived in Princeton for more than twenty years while working at the Institute for Advanced Study. In addition to pie eating and recitation contests, there is an annual Einstein look-alike contest.