Easter Sunday is April 17, and most chain restaurants are bringing back their traditional dine-in Easter specials.  However, there's still a lot of takeout and delivery specials for those who want to have Easter dinner at home.
Here are the top Easter dinner deals for dine-in, delivery and takeout from the nation's leading chain restaurants.  We hope you and your loved ones have a happy and healthy Easter.  We hope you can use these deals to save a few bucks too!
Want more restaurant deals for any day of the week?  Click here to go to visit EatDrinkDeals for the latest and greatest!
Do you want to have great deals like these emailed directly to you? Click here to sign up for our newsletter!
Easter Restaurant Deals April 2022
Baskin-Robbins
Every year, Baskin-Robbins brings out special cakes for Easter.  This year's choices include:  Fluffy Bunny Cake, Bunny Face, Bunny Stripe, Bunny Roll, Hopscotch Bunny Cake, and Speckled Egg Cakes.  Hopscotch the Bunny Cake serves 6-8 people and costs $34.99 in most locations.  You can view the entire selection and order at:  Baskin-Robbins Holiday Cakes
From April 1-15, you can get $5 off your ice-cream cake purchase of $30 or more when you use code BEHOPPIER at checkout. From April 16-30, use code SAVE5. Note that these offers are only valid for app or online orders and cannot be combined with other coupons.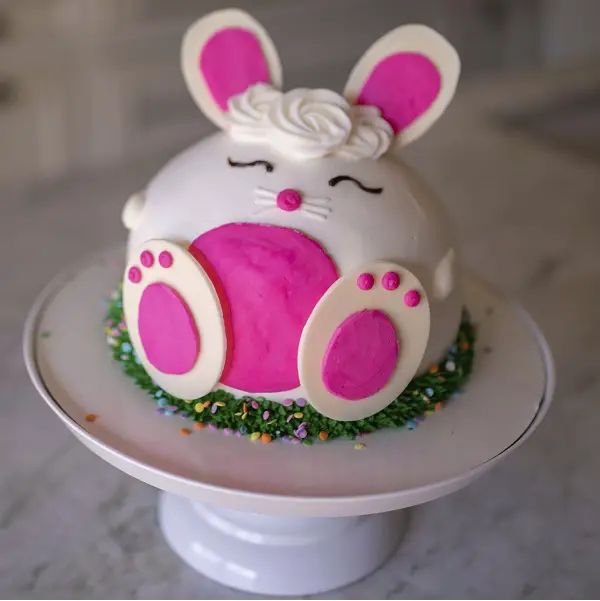 Bertucci's
Most Bertucci's restaurants will be open for dine-in on Easter Sunday and the chain also offers two different Easter choices for takeout or delivery on Easter weekend.
For about $12 per person, get a salad, Cannoli, and your choice of a large brick oven pizza or these entrees: Spaghettie and Meatballs, Chicken Parmesan and Spaghetti, Chicken Piccata & Fettuccine, Shrimp Rossini, or Rigatoni Abruzzi.  For details and to place an order, visit Bertucci's Easter website.
For more Bertucci's deals, like their BOGO Pizzas on Tuesdays and Kids Eat Free Wednesdays, read our EatDrinkDeals Bertucci's story.
Bob Evans
Bob Evans restaurants are serving inside on Easter Sunday and the chain offers several Farmhouse feasts for an at-home Easter dinner.  Bob Evans Farmhouse Feasts are fully cooked, heat-and-serve homestyle meals, packed cold.  You can order the Farmhouse Feast for takeout or delivery at  https://www.bobevans.com/menu/farmhouse-feast
For $139.99 get a Premium Feast.  This extra special meal is packed cold and includes BOTH a slow-roasted whole boneless turkey breast and sliced hickory smoked ham.  Also comes with bread & celery dressing, homestyle mashed potatoes, buttered sweet corn, green beans with ham, cranberry relish, gravy, dozen rolls, macaroni & cheese, a whole apple pie, a strawberry supreme pie, and a loaf of banana nut bread.  There are other options, too, like a Farmhouse Turkey Feast that serves 4 for $69.99, or for $99.99 get a Turkey Feast that serves 8.
For more Bob Evans deals, like their $7.99 Dinner Bell Plates and coupons to save on your other trips, go to our EatDrinkDeals Bob Evans page here.
Bonefish Grill
Bonefish Grill has seasonal Easter specials this year including a Caprese Dip, Wood-Grilled Jumbo Shrimp Skewers with a light citrus-herb marinade, and a Wood-Grilled Salmon Caprese with Gnocchi. The dip is usually around $11.50, while the two entrees are usually $17.90 and $21.90 respectively. You can pair these with the Smoked Old Fashioned drink or try their new Strawberry Citrus Martini. Finish your meal off with a Carrot Lava Cake, which is usually priced at around $8.50.
Plus, during Lent, you can order Bonefish's Angler's Catch for just $18.90 until April 8 in-restaurant.
For more Bonefish deals, check out our Bonefish Grill article.
Boston Market
Boston Market has several heat and serve options for Easter takeout.
For takeout or delivery, get a complete Heat and Serve ham or turkey dinner for 12 for $139.99. The dinner package includes a whole ham or two boneless turkey breasts, mashed potatoes, cinnamon apples, sweet potato casserole, cornbread and two apple pies. Take the meal home chilled, then just heat and serve.  Boston Market also offers a la carte choices including main dishes, sides, and extras, or smaller feasts.  Pick up your feast between April 13 – 17.
For more details on the Easter dine-in menu and Easter Takeout menu, visit:  Easter Meals at Boston Market
BRIO
Get Easter Dinner to go for about $23.50 per person from BRIO to enjoy at home from April 15 – 17.  The Easter Weekend Package come with a choice of Salad, Main Courses like Chicken Limone, Pasta Brio and more, and Mini Easter Cannoli for dessert.  For more info and to order, visit the BRIO Easter page.
Go to our BRIO article to learn about Happy Hour and other deals available.
Bubba Gump Shrimp
Bubba Gump Shrimp Co. has most dining rooms open on Easter plus the chain has Easter meals available for takeout.  Also, if you dine in on Easter Sunday on April 17, kids 10 and under can get a free Ice Cream Sandwich for each Kid's Meal and Adult Entree purchased.  For more details visit:  Bubba Gump Easter Menu
Buca di Beppo
Buca di Beppo plans to be open for Easter lunch and dinner with Italian favorites starting at 11 am.  For more details see: Easter at Buca di Beppo 
To learn about other deals, like buy one get one free pastas on Tuesday, click here for our Buca di Beppo story.
Capital Grille
The Capital Grille has a $49 Easter Brunch with entrees like NY Strip Steak and Eggs, Filet Mignon, and Sea Bass, with a starter and salad.  The brunch is priced at just $15 for children.   The Easter Dinner at Home package includes a salad, rolls, a Whole Rack of Bone-In Filet, Grilled Asparagus and Mashed Potatoes, and a Chocolate Espresso Cake for dessert.  For more details, visit:
Easter Brunch at Capital Grille – $49 adults, $15 Children
Carrabba's
Carrabba's has some special dishes for Easter this year. Entree options include Tuscan-Grilled Lamb Chops, Filet with Marsala, and Champagne Pasta with Shrimp. The former two will cost you at least $20 at most locations, while the pasta usually is around $19, but prices may vary. You can pair your entree with a Tramonto in Tuscany cocktail, which includes Lunazul Blanco Tequila, fresh sour mix, and orange juice shaken and topped with Bonizio Russo. To end your meal, you can order their Berries and Butter Cake, which is usually between $9 and $10.
To learn about more specials and offers at Carrabba's, like their Family Bundles, check out our Carrabba's page.
Carvel
Carvel Ice Cream is featuring a lineup of Easter Cakes.  Choose from Bunny Cakes, Chocolate Bunny Cakes, and Easter Egg Cakes.  Click here to view the full selection of cakes and start your online order.
Chevy's Fresh Mex
Chevy's Fresh Mex has a $34 brunch special on Easter Sunday. From 8 am – 3 pm, get a starter of fresh fruit, a beverage like bottomless Bloody Marys, Mimosas, coffee, tea or soda) an entree and dessert.  Entrees include Chilauiles, Steak Diabla and Eggs, and Shrimp and Crab Omelettelude Steak la Diabla & Eggs, Shrimp and Crab Omelette, and Churro Pancakes.   The regular brunch menu will also be available.
For the complete Easter brunch menu see:  Easter Brunch at Chevy's
Note that Bottomless Mimosas aren't available in some locations.  Check with your local Chevy's.
Chuck E. Cheese
Visit Chuck E. Cheese now through April 24 for their Spring-tastic Celebration with special deals and new items on the menu!  Enjoy free game play, limited time menu items and other new entertainment options.  The deals available include extra game play Monday – Thursday, the new Unicorn Cupcake dessert for $4.99, and more.  Chuck E. Cheese has all the details on their website.
Cracker Barrel
Most Cracker Barrel locations will be open for dine-in on regular hours on Easter Sunday.  The chain also has their traditional Heat n' Serve Easter Feasts To-Go available April 14 – 17.
The Cracker Barrel Easter Feast serves 4-6 for about $100, or 8-10 people for about $150.  Each feast comes with sugar cured ham, Mashed Potatoes, Roasted Gravy, Sweet Yeast Rolls, and a choice of 2 to 3 additional sides.  Like last year, Cracker Barrel is offering a Prime Rib Easter Feast.  The feast services 4-6 and comes with Prime Rib, Au Jus and Horseradish, Mashed Potatoes, Gravy, and Sweet Yeast Rolls.  The Prime Rib Feast is priced at about $125.
Cracker Barrel is also serving their regular menu on Easter Sunday; you can get on the wait list ahead of time by using the Cracker Barrel app.
Cracker Barrel also offers entrees and sides a la carte. For details visit: Cracker Barrel Easter Heat and Serve
Denny's
Denny's almost never closes and will be serving breakfast, lunch and dinner all 24 hours of Easter Sunday at most locations. For the Denny's nearest you see Denny's Locations
Looking for more Denny's specials, like their Endless Breakfast for $6.99?  Go to our EatDrinkDeals Denny's page!
Dickey's BBQ Pit
At Dickey's, you've got some options available. On Easter Sunday, and every Sunday as a matter of fact, get a free Kid's Meal with an order of $10 or more.  Use the promo code KEFOLO for an online order.  You can also get 10% off catering orders of $100 if you got a bigger group with promo code 10OFFCATERING.  Dickey's put the deals up on their promotions page.
For more info on this and other deals, like two Two Meat Plates for $24 weekly combo deals, visit our Dickey's page.
Eddie V's
Eddie V's has a dine-in brunch on Easter Sunday plus takeout or delivery dinners.
Most Eddie V's dining rooms will be open for Easter Brunch from 11 am to 2 pm. Brunch is priced at $49 for adults, $15 for children.  You can also order from the full dinner menu all day.  Easter Brunch comes with a first course of salad, Lobster Bisque or Smoked Salmon, a main course of Steak and Eggs, Lobster Quiche Florentine, or Roast Avocado and Jumbo Lump Crab, plus dessert.
For full details and to make an order, click here for the Eddie V's Easter page.
El Torito
El Torito has an all-you-can-eat Easter Brunch from 8am – 2pm on Easter Sunday. Featured are a Fajita Station, Taco Station, Made-To-Order Omelettes, and your favorite hot Mexican entrees.  Price varies by location – but includes an unlimited champagne option!  For more details see:  Easter Brunch at El Torito
Fleming's
Fleming's Prime Steakhouse has a three-course Holiday Meal on Easter weekend.  Starting at 2 pm on Saturday April 16 and 11 am on Sunday, April 17, dine in on the 3-course special featuring hand-cut Filet Mignon paired with your choice of Crab-Stuffed Shrimp or Lobster Tail Scampi.  The childrens menu features filet mignon, chicken tenders, or mac and cheese.  Easter Dinner is priced starting at for $85 for adults and $16 for children.  For more details see the Fleming's Easter Menu.
For more Fleming's deals and Happy Hour specials, go to our EatDrinkDeals Fleming's article.
Fresh Market
The Fresh Market has ready-to-cook Easter meals starting at $39.99.  Easter menu items include:
Lamb Meal for two $49.99
Ham Meal for 4 for $59.99
Ham Meal for 8-10 $89.99
Rib Boast, Beef Tenderloin, Ham, lamb and more traditional favorites are also available for purchase by the pound.
For more details visit: Fresh Market Easter Dinners
Golden Corral
Select Golden Corral restaurants will be open on regular hours on Easter Sunday. Most will offer their traditional buffet where you serve yourself, and some are serving cafeteria style, where a restaurant worker serves you.  For a list of open restaurants visit:  Golden Corral Open Restaurants.
Golden Corral also has special Easter Holiday meals for take home.  Get a holiday glazed ham meal for about $80, a 24-piece Fried Chicken meal for $60, and other take home Easter specials.
For locations and more details see the Golden Corral Home Page.
Honey Baked Ham
Honey Baked Ham has over a dozen prepared meals for Easter that they are shipping nationwide. You can get $20 off your shipped order of $100 or more when you use promo code 941954 at checkout until 11:59 PM EST on April 11. That's not all, though – you can also get $5 off your Easter Meal or Easter Bone-In Half Ham In-Store on April 12 & 13. The early bird saves the money!  Click here for your Honey Baked Ham coupons.  For the full selection of meals, click here.
IHOP
Most IHOP restaurants will be open for dining in or takeout on Easter Sunday, serving their regular menu with new menu additions like Breakfast Burritos and Bowls. For the IHOP nearest you see IHOP Locations.  Call ahead to verify holiday hours.
Click here to visit our EatDrinkDeals IHOP page and learn about the IHOP Hoppy Hour and more deals!
Joe's Crab Shack
Most Joe's Crab Shack dining rooms will be open on Easter Sunday.  Joe's also has Easter meals to-go starting at $10 per person.  Choose from these family meals:  Chicken Tenders $10 per person, Grilled Herb Chicken $10 per person, Fish and Chips $10 per person, Top Sirloin $13.75 per person, or Crab Feast $21.25 per person.  Meals come with a salad, broccoli, and your choice of French fries or mashed potatoes.
For more details visit:  Easter Sunday at Joe's Crab Shack
Kona Grill
Kona Grill is offering an Easter Brunch and Dinner with favorites like Spicy Avocado Toast, Macadamia Nut French Toast, Mix 'N Match Mimosa specials and more.  Ham dinner specials are also available for dine-in and delivery. To order, reserve, or get more details visit:   Easter at Kona Grill
For more info on other deals like Kona Grill Happy Hour, visit the EatDrinkDeals Kona Grill page.
Krispy Kreme
Krispy Kreme has some new Spring mini doughnuts for the Easter season through April 17.  Get a 16-count in a basket looking box, which includes three all-new, hand-decorated egg-shaped, shell-filled doughnuts and the return of the mini Chick Doughnut.  The new flavors are the Mini Chocolate Egg, the Mini Cake Batter Egg, and Mini Strawberries & Kreme.  The box is about $15 in most locations.
Macaroni Grill
Macaroni Grill opens early on Easter Sunday, at 11 am at most locations.  The chain will be serving from their full menu of home style Italian-American dishes.  For more details see:  Macaroni Grill Home Page.  Also, get 25% off your order of $10 or more with a Macaroni Grill coupon valid through April 17.  CLICK HERE for your Macaroni Grill Coupon.  If you're ordering online, use coupon promo code TAKE25 to get the deal.   To start an online order, click here for the Macaroni Grill website.
Visit our EatDrinkDeals Macaroni Grill page here for other specials, like BOGO coupons available Mondays and Wednesdays and their Feast For Five for $25 or Premium Feast for $50.
McCormick & Schmick's
McCormick & Schmick's will be serving a three-course Easter special priced starting at $39 on Easter Sunday.  The Easter Prix Fixe menu includes soup or salad, dessert, and a choice of entrees including Cedar Plank Roasted Salmon, Scallops Ala Linguine, Chilean Sea Bass Oscar and Filet Mignon.  For more details visit: Easter Dinner at McCormick & Schmick's
Metro Diner
Metro Diner has two options for your Easter meal this year. Both options are "heat and serve" options, meaning they will be served cold with instructions for how to heat them up properly at home. The first option includes your choice of Roasted Turkey & Cranberry Sauce or Maple Glazed Baked Ham. With whichever one you choose, you will also get mashed potatoes & gravy, green bean casserole, cornbread stuffing, and bread pudding. A plate costs $15.99.
You can also order a Roasted Turkey or Baked Ham feast, which allows you to choose between Roasted Turkey & Cranberry Sauce or Maple Glazed Baked Ham. Like the plate above, it also comes with mashed potatoes & gravy and a green beans casserole, but this plate also includes Hawaiian dinner rolls and allows you to choose between cornbread stuffing and mac & cheese. You can order as a dinner plate for $15.99, for a party of four for $59.99, or for a party of eight for $115.49. Pre-orders began March 28 and will be ongoing until April 14. Pick-up times are Friday and Saturday (April 15 &16) from 8 AM – 8 PM and Sunday, April 17, from 8 AM – 2 PM.
For more details visit:  Easter at Metro Diner
Mimi's Cafe
Mimi's Cafe has Easter Feasts for $149.99.  The feast serves 8-10 people and includes Smoked Ham with an Orange-Dijon Thyme Glaze; Whipped Mashed Potatoes; Chef-Made Gravy; Buttered Corned Bread Stuffing; Green Beans with Caramelized Onions; Spinach Salad with Strawberries; Walnuts & Feta Cheese; and Two Carrot Raisin Nut Loaves.  More details are available here on the Mimi's Cafe Easter Take-Home Page.
Oceanaire Seafood Room
Oceanaire Seafood Room has dine-in brunch on Easter Sunday or an Easter dinner takeout package.  For more details see:  Easter at Oceanaire
PDQ
PDQ is offering a free kids meal to customers who purchase a combo meal or salad on April 17 at all locations.
Here is a flyer with the offer:
The Palm
At The Palm, go upscale with a Tenderloin Dinner for 4 for $275 or 6 for $425 for to-go, with salads, sides, and desserts to go with it.  Or, you can dine in with a Chateaubriand dinner for two for $150.  The Palm posted the Easter options on their website.
Panera
Get $3 off an entree with a Panera promo code valid for online or app orders for a limited time!  Click here to start an online order on the Panera website and click Order Online at the top. At checkout, use promo code MEALDEAL22. Here's how it looks at checkout with the code:
Pei Wei
Get 2 entrees for only $15.99 with a Pei Wei coupon valid for online and app orders valid through April 17.  Click here to start an order and use promo code WEI2PEI at checkout.  Pei Wei sent this email with the code.
Popeyes
To tip off the NBA Playoffs, Popeyes has a new Most Dunkable Meal, and you can get 50% off one now through April 17 (Easter Sunday) if you order on UberEats!  The meal is a five-piece tender combo, with a side, biscuit, and a drink.  You'll get a total of five sauces, too.  Lots of dunking going on.  So, the meal will run you $5-$8 with the discount, depending on your location.  Popeye sent this press release with the news, and posted it on their social media.
Red Lobster
Normally it's just on Mondays, but you can get the Endless Shrimp deal at Red Lobster on Easter Weekend from April 15 – 17 for just $19.99!  Shrimp options are Parrot Isle Jumbo Coconut Shrimp, Walt's Favorite Shrimp, Garlic Shrimp Scampi, and Wood-Grilled Shrimp Skewers.  Valid for dine-in, to-go and delivery.  If you get the deal for to-go, you can get up to four orders of the shrimp entrees.  Red Lobster posted the news with this press release and on their social media. Make sure to ask your server for details.
Looking for more Red Lobster deals, like Endless Shrimp Mondays?  Click here to read our EatDrinkDeals Red Lobster article.
Seasons 52
Seasons 52 is hosting a three-course Easter brunch on Easter Sunday from 10 AM – 2 PM and also has a dine at home package. If you're dining in, for about $40 get a starter, entree and dessert.  Entrees include ham, French toast, Crab and Cheddar Quiche, and Shrimp and Grits.   Enjoy Mimosas, Bloody Marys, Sangria or Champagne Bellinis for $7.50 to $10.   To view the full menu visit:  Seasons 52 Easter Dining.
For takeout, Seasons 52 has an Easter Green Box to Go featuring ham, salmon or beef tenderloin with salad, sides, and mini indulgences.  Pick up chilled, heat at home and enjoy.  Prices vary, but start at $125; for more details visit: Seasons 52 Easter To Go.
Shari's Cafe
Shari's Cafe has a $14.99 Easter Meal plus Family Easter Feasts starting at $84.99. Shari's Easter specials and typical prices include:
Individual Holiday Ham Plate $14.99, Holiday Ham Feast (serves 4-6) $84.99, Ultimate Holiday Ham Feast (serves 10-12) $169.99, side of hand-carved ham $29.99, and several family-sized sides.
The chain announced the Easter promo on the Shari's Home Page.
Shoney's
Shoney's Easter Buffet will be open with an All You Can Eat feast for $14.99 per person at most locations for dine-in or to-go, with traditional options like Ham, Roast Beef and sides along with Southern Crispy Chicken, Roast Beef and some cobbler for dessert.  The buffet will be $8.99 for Kids aged 5-10 and free for Kids 4 and under.  Shoney's sent this press release with the news.  
Texas de Brazil
Texas de Brazil is opening early on Easter Sunday – 11 am at most locations – and will be serving their dinner menu all day along with specialty brunch items until 3PM.  For more details see: Easter at Texas de Brazil.
Waffle House
As they are every day, 24 hours a day, Waffle House will be open for Easter Sunday.   With a few exceptions – like hurricanes sweeping through town –  Waffle House restaurants have been open every day since 1955.  For the Waffle House nearest you, see Waffle House Home Page.
Whole Foods
Whole Foods has multiple heat and serve options for Passover and Easter, including an Easter Feast for 12 for about $300, a ham dinner for 8 for $150, and a turkey breast dinner for 4 for $75. You can also get a la carte options like a Lemon Turkey Breast for about $40 and sides like Asparagus and Potato Gratin with Gruyere.    Order by April 15 to get your feast reserved.
For links more details, see Whole Foods Easter Menu.  For Whole Foods sale items visit: Whole Foods Sales Flyer
Notes:
EatDrinkDeals includes links to restaurant websites where you can confirm the deal and find further information.  We won't post deals that cannot be verified from a source such as the restaurant website, social media account, or press release.  Also, note that sometimes you'll need to give advance notice of a day or two, so plan ahead for your Easter feast!
Email us at editor@eatdrinkdeals.com if we've missed any!