The holiday weekend has arrived!  Whether you've traveling or kicking it at home, here's the best Labor Day weekend restaurant deals, coupons and promotions going on at restaurant chains to help you save some cash.  We've got ways to save whether you're looking to dine out on the town, chill at home with some takeout, go fancy or keep it simple.
EatDrinkDeals includes links to restaurant websites where you can confirm the deal and find further information.  EatDrinkDeals does not post deals that cannot be verified from a source such as the restaurant website, social media account, or press release.
Do you want to have great deals like these emailed directly to you? Click here to sign up for our newsletter!
Have a safe and fun holiday!
Labor Day Restaurant Deals
Applebee's
Applebee's is letting you load up on all the Boneless Wings you can eat for $12.99 for a limited time!  Choose from six different flavors, like Classic Buffalo, Honey BBQ, and Garlic Parmesan.  Boneless Wings are served with coleslaw, a choice of Bleu Cheese or house-made buttermilk ranch dressing, and celery on the side.  So you can get a few veggies in there while you're going crazy on the wings.  Applebee's has the deal up front and center on its homepage.
Visit our Applebee's page here to learn about other deals, like their $5 Sips cocktails.
Baja Fresh
Get $10 off an online order of $50 or more with a Baja Fresh promo code valid through September 4. Start an online order here and use promo code LABORDAY23 at checkout. We spotted the code in this message from Baja Fresh. Note that you'll need to use your email address to create a Club Baja account for the code to work.
Bar Louie
Bar Louie is saying goodbye to summer with half-priced martinis on Labor Day, September 4. They will also feature their popular Weekend Brunch menu through the holiday weekend into Monday. That'll include special pricing on mimosas from 10 AM – 3 PM, for $2 apiece or $10 for pitchers.
Get 25% off a Family Meal with a Boston Market coupon valid through September 4. CLICK HERE for your Boston Market coupon. For online orders, use promo code 35001. Family Meals can serve 3-6 people and normally range in price from about $35 – $50. Options include Rotisserie Chicken, Baby Back Ribs, Meatloaf, and more.
Now through September 4, buy a $50 gift card from The Cheesecake Factory and get a $10 Bonus Card.  The Bonus Card is valid on a future visit from 9/5 – 9/30.  Good enough for a big 'ol slab of the best cheesecake in town!  The Cheesecake Factory put the deal up on its homepage.
Visit our Cheesecake Factory page for info on other specials, like their Happy Hour.
Chevys Fresh Mex and El Torito
Now through September 4, buy a $100 electronic gift card online from Chevys Fresh Mex and get an incredible $50 bonus card valid through December 31! For more details, go to the Chevys Gift Card page here. You can get this offer from their sister restaurant El Torito on the West Coast, too – here's their gift card page with the details. Note that the bonus card is NOT usable in the following locations: Bloomington, MN, Sioux Falls, SD, Clifton, NJ, Linden, NJ, Annapolis, MD, Hanover, MD, and St. Louis, MO, or Rio Mambo and The Rim locations.
Chili's
Chili's new margarita of the month is the September Sunrise, available every day in September for $6. The $6 margarita is made with Lunazul Reposado Tequila, triple sec, pineapple juice, grenadine, sweet & sour, and dehydrated orange pairs. It's available all month long for just $6. Chili's announced the special on its Margarita Of The Month Page.
Also, their 3 for Me meals starting at $10.99 with an appetizer, entree and drink are still going strong. Go to our Chili's page here to learn more.
Cotton Patch Cafe
Get 20% off your dine-in or online order from Cotton Patch Cafe through Labor Day. Show this social post here to your server when ordering, or use promo code LABOR20 for online orders. You can start an online order here.
Dickey's Barbecue Pit
Dickey's Barbecue Pit has several options available for you to celebrate the holiday weekend. Get $5 Pulled Pork Sandwiches on Mondays, or a free Kids Meal on Sundays!  For more info on these and other Dickey's promotions, read our Dickey's store here.
Domino's Pizza
Domino's has a large three-topping pizza deal for carryout for $7.99 each every day, plus mix and match deals at $6.99 each like medium pizzas.  Read our Domino's Pizza story here for more details.
Dunkin'
Fall is creeping closer everyday, and Dunkin' has unleashed their fall menu for the season!  Yep, lotsa pumpkin spice here.  We don't know the September rewards yet, but through August Rewards members can get a free Medium Iced Matcha Latte with purchase, and other sweet perks.
For more details on this and other Dunkin' news, check out our story here.
Freebirds World Burrito
Buy one entree and get another 50% off with a Freebirds World Burrito | Labor Day Weekend Deal 2023 promo code valid through Labor Day. Use promo code WORKIT at checkout. You can start an order and get all the details here on the Freebirds website.
Honey Baked Ham
Get $10 off a Bone-In Half Ham with a Honey Baked Ham coupon valid through September 9. Show this coupon to your cashier when ordering, or use promo code 728485 for online orders.
Huddle House will offer a free waffle with a $6 purchase on Labor Day. They're actually running this special through September 8, in honor of National Waffle Week. You can only get the free waffle for dine-in orders.
There's Happy Hour, and then there's IHOPPY Hour.  From 3 pm – 10 pm every day (and later in some locations), get $6entrees and $6 Snacks and Sides! IHOP posted the IHOPPY Hour deals on their website.
For more pancakey specials, like their new biscuit lineup and Pumpkin Spice Pancakes, go to our IHOP page here.
Get a free cup of Ice Cream with a 12 pack of cookies ordered from Insomnia Cookies. The offer is valid for both in-store and delivery orders – you can start an online order here with the deal already rung up.
Get free delivery on orders of $15 or more from Jack In The Box from September 1 – 4. Total relaxation for Labor day weekend! Jack In The Box has the details up on its homepage.
Grab free delivery when you order online from Little Caesars Pizza now through September 10 with promo code… wait for it… FREEDELIVERY. Little Caesar's has promo codes for $3 off an $18 order, plus every day Hot N Ready specials. Check our Little Caesars page here for more details.
Long John Silver's
Get $5 off an 8 piece Family Meal with a Long John Silver's coupon valid through September 4.  CLICK HERE for these Long John Silver's coupons.  For online orders, use promo code 5OFFFAM.  Click here if you want to start an online order.
Get a 10-piece nuggets at KFC for $5! Other options for the Labor Day weekend include the $20 Fill-Up Box with 12 nuggets, 4 pieces of chicken, Secret Recipe Fries, and biscuits. Check our KFC page for more details.
After a two-year hiatus, Strawberry Glaze Doughnuts will come back to Krispy Kreme for Labor Day Weekend, September 1 – 4. Get 50% off a dozen when you buy another dozen with this coupon! Show this to your cashier when you order, or use promo code STRAWBERRY for online orders. Nothing says a three day weekend like two big ol' boxes of doughnuts!
Marco's Pizza
Marco's Pizza has promo codes for deals available every day like $6.99 Medium Pizzas and $3 off Specialty Pizzas.
NEWMAG –  Large Pepperoni Magnifico Pizza for $9.99
SPECIAL3 – $3 off large specialty pizzas
HD189 – Two Medium 1-Topping Pizzas, Cheezybread and 2 Liter Soda for $21.99
MED699 – Medium 1-Topping Pizzas for $6.99 each
MOOYAH Burgers
Get 1/2 off shakes at MOOYAH during the Happy Hour Monday – Friday from 2- 5 pm through September 5.  Shakes normally are $5-$7 depending on the size you get.  Grab some fries to go with it with the savings!  MOOYAH has the info up on their website here.
Noodles & Company
Noodles & Company has a buy one, get one 50% off deal on entrees for Rewards Members from through September 4. Buy one regular-sized entree and get a second entree of equal or lesser value for 50% off. For more details or to sign up visit: Noodles & Company Rewards.
O'Charley's
Get a $50 gift card for only $35 when you buy online from the O'Charley's gift card page here through September 4. That's 30% off! They posted the offer on their social media.
O'Charley's also has college football specials Thursdays and Saturdays, $5 Pit Stop Mondays, drink specials and more deals. Check out our O'Charley's page to learn more.
On The Border
Kids eat free now through September 4 at On The Border.  Get a free Kid's Meal with adult entree purchase for the Labor Day weekend.  On The Border has the deal up on its website.
On the Border also has daily deals and happy hour specials, like Endless Enchiladas and $2 Taco Tuesdays, plus weekday Happy Hour food and drink deals.  Here's our On The Border story with more info.
Get $5 off online orders of $25 or more with an Ono Hawaiian BBQ promo code valid through September 7.  Click here to start an online order, and use promo code ALOHALDW for the discount.  Ono posted the promo code on their social accounts.
Orange Leaf Frozen Yogurt
Get $2 off froyo cups over Labor Day weekend on September 3 – 4 at Orange Leaf. Give their new Popcorn flavor a shot!
Outback Steakhouse
Kids eat free at Outback on Labor Day, September 4! Buy an adult entree and get a free Joey Meal for dine-in or to-go orders. Mention this offer from the Outback website to your server, or use promo code SMILE if you order online. If you're ordering from locations in AZ, CA, CO, NM & NV use code SMILES instead.
Outback Steakhouse also recently added new specials, including a $13.99 steak dinner combo on Wednesdays. Read up on all their other deals here.
Get 20% off all gift cards purchased online at Panera Bread now through September 5! If you're a frequent Panera visitor, or you are looking for a quick gift idea, look no further. Visit the Panera gift card page here for more details. Also, get free drinks for two months plus 10% off your orders when you join Panera Bread's Unlimited Sips Club! Check out our story here with the promo code to scoop up that discount.
Papa John's
Try out this Papa John's Coupon Code to save 25% on your regular-priced order!  You can click on the link below and your promo code should be automatically applied.  If not, you can enter it on the top of the screen of the Papa John's website as you order, or at checkout after you've filled up your cart:
Note, if you don't see the discount applied at checkout, try to enter the promo code again before entering your payment info, and make sure the discount shows up.
PDQ
Buy one Tenders or Nuggets platter and get one free from PDQ online now through September 4.  Click here to start an order, and use promo code LABORDAY at checkout. Preorders are available now with the promo code, with pickup dates from September 1-4. PDQ sent this email with the offer.
Penn Station East Coast Subs
Get any Small Philly Cheesesteak Sub for $4.99 with a Penn Station coupon valid through September 17. Show this coupon to your cashier when ordering, or use promo code PHILLY at checkout for online orders.
Pollo Campero
Get 15% off catering orders with promo code CATER2023 from Pollo Campero. Order online here to get to saving. Pollo Campero posted the code on their socials.
Popeyes
Popeyes has treated fans to its popular Ghost Pepper Wings for awhile, and now they're mixing it up with a new Sweet 'N Spicy Wings flavor for $5.99. Each six-count order of wings gets tossed in a sweet and spicy blend of chili, garlic and ginger.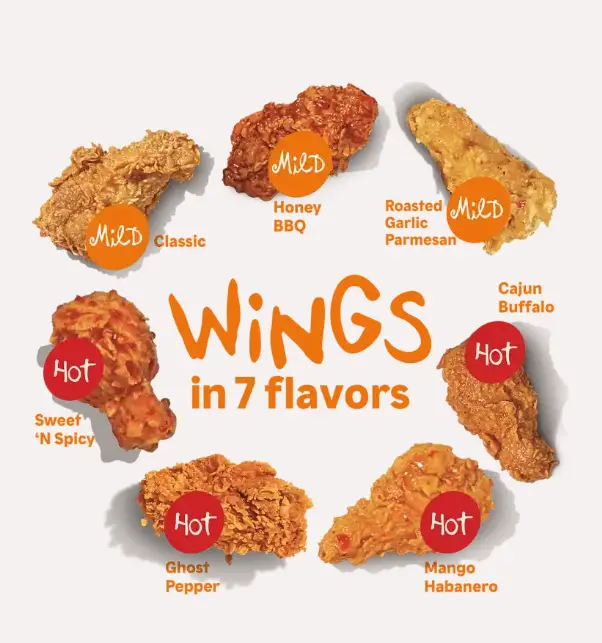 Also, The Big Box is back at Popeyes – grab 2 pieces of chicken, 2 sides, and a biscuit for $6.99. Order online or in the app and get a free small drink, too! Popeyes has the news up on its homepage.
Visit our Popeyes page here to learn about other offers and coupons.
Red Lobster
Celebrate Endless Shrimp at Red Lobster for just $20 all day, every day! Red Lobster posted the news on their homepage. Every day for just $20, mix and match your favorite shrimp dishes. You'll get a few sides, too. If you're not quite that hungry, you can try the Shrimp Your Way option. Choose just two shrimp dishes plus sides for $16, or three shrimp dishes for $18.
Get 20% off gift cards from Red Robin ordered online through September 4. You can find the details for the Labor Day weekend sale on their gift card page here. Plus, Red Robin Rewards members can get $10 off a $40 order now through September 3. Red Robin sent this email with the details. To enroll in the Red Robin Royalty Program to start earning free food, visit: Red Robin Rewards.
Red Robin also has $3 off during its weekday Happy Hours, so you could check that out on Labor Day. We've got the specifics about Happy Hour here.
Get a $0 delivery fee on orders of $15 or more, or other discounts on Tailgate Trays when you order
Slim Chickens online here
or in the app. No promo code is necessary. We spotted the news on their
social accounts
.
Smokey Bones
Kids Eat Free at Smokey Bones now through September 30! Order an adult entree for dine-in, and get a kid's meal entree, side and beverage for free, all day every day. Smokey Bones sent this press release with the offer.
Smokey Bones also has buy one, get one free specials most days of the week, lunch specials and a Sunday brunch.  Check out our story here for more details.
Subway
Buy one footlong sub and get another free with a Subway promo code valid for online or app orders!  Go to the Subway website to start an online order, and use promo code FLBOGO at checkout. The footlong of equal or lesser value will be taken off your total. Here's what it looks like when the code is applied correctly: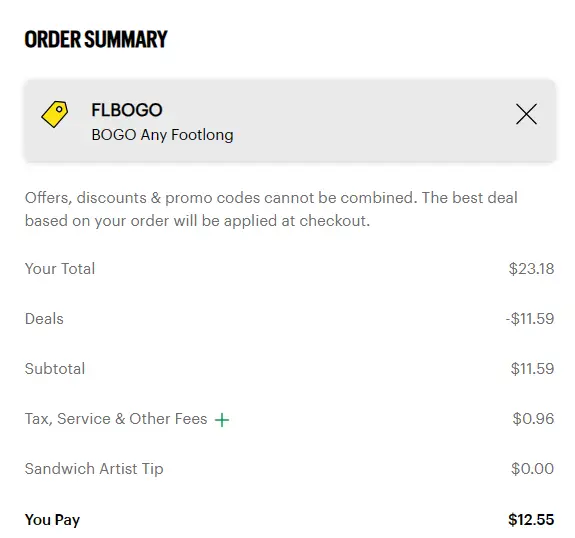 We've found some other Subway promo codes, too.  Visit our Subway Coupon and Promo Codes page here to learn more.
Get 25% off your Taco Bell breakfast up to 11 AM every day through September 4 if you order online or in the app. Taco Bell has the deal up on its homepage.
TGI Fridays
Get 25% off Family Meal Bundles and Platters with a TGI Fridays coupon code valid for online orders on Labor Day weekend from September 1 – 4.  Use promo code LABORDAY25 at checkout for the discount.  Click here to start an online order.  Family Meal Bundles typically feed 4-6 people and come in varieties like the Whiskey-Glazed Bundle, the Grilled Chicken and Ribs Bundle, and more. Party Platters feature a selection of classic TGI Fridays apps or wings that feed anywhere from 4-12 people, ribs platters, or dessert platters.
Tijuana Flats
From September 1- 3, Tijuana Flats offers a few specials for Labor Day food seekers. Get a free dueling queso starter (queso blanco and signature gold queso with chips) with purchase of a taco meal kit. Order a four-pack of margaritas for $20 or eight for $35, and you can get a $0 delivery fee (service fee still applies) for online or app orders of $30 or more.
Buy one, get one free Key Lime Pie shakes at Wayback Burgers when you order on the Wayback app, or in-restaurant. Show the offer they posted on their socials to your cashier.
Wendy's
Current Wendy's specials include a buy one, get one for $1 offer, a $5 Biggie Bag, a 4-item combo for $4, and their everyday Biggie Deals. They also have a brand new Loaded Nacho Cheeseburger. Go to our Wendy's page here and see how to save.
Which Wich
Get $10 off Wich Trays to feed a crew with a Which Wich promo code valid through September 4. Start an online order here and use code LABORDAY10 at checkout. Which Wich sent this message with the code.
White Castle
White Castle has a coupon for you on Labor Day weekend.  Buy one Single Bacon Cheese Slider and get one free with a White Castle coupon. CLICK HERE for the White Castle coupon and enjoy!